Since this nimrod not only continues to spam my email with his blustering threats, and since he is openly calling for and offering to facilitate vigilante killings of leftists in the US, it seems he needs a bit more of the attention he craves…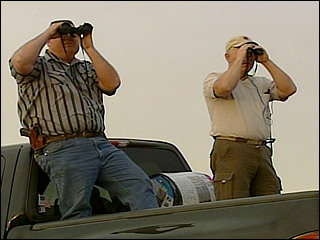 George Weener and friend, watching for the Muslim invasion
I'm not a lawyer, but I'd bet that if I posted some crazy shit like this, I'd have federal agents knocking on my door within 24 hours. Feel free to circulate this in order to give George Weener the maximum possible visibility. Now who says I'm not tolerant of right-wing views?
Hot off the press… here's Georgy!
Treason in Wartime
By George M Weinert V
Chicago, Illinois Monday, August 29, 2005
The writer has been an internet consultant and programmer for 25 years and in that time has witnessed about anything and everything you can imagine – including first degree murder so the insanity of the Internet comes as no shock. Compared to the early days back in 1980, when the "BBS" phenomena had just been born (in Good 'old Chicago – Ward and Randy's in Elmhurst, IL in 1977 – mine was Publisher Information Service – 1984-1997) it's somewhat more mundane now and at least the cops don't laugh at you when a serious crime is reported but the nature of the beast determines that much goes on beneath the radar. As a SYSOP of 17 years the manner in which certain sites are being operated is truly disturbing and since it affects our national security must be exposed.
The War on Terror and its bastard stepchild, the War in Iraq are the first in world history that are being fought on line. Though the Internet was alive and quite active in 1991 for those of us who were pros, most folks had no idea at all that millions of computers were connected world wide so the Nintendo War and its presentation were largely in the grip of the now lethargic former power of the mainstream media. These battles are actively being waged on line daily by official government agencies, private security firms and citizen militias on our side and official Arab/Islamic sites and a rag-tag collection of Muslim queers with laptops on the other.
Internet Gurus and knowing pundits may find error in this, but the Islamic/Arab sites, groups and communities did not become a viable factor on line before 1997 or so at which time they began to multiply like a malignant virus. In a few years, the Muslim and Arab web presence had become huge and since their sheer size attracted advertising revenues the content was not too closely regulated. Though the Islamic proselytizing and Arab propaganda were omnipresent, the true danger posed by Islamist on line did not really become obvious until the Daniel Pearle video was posted. The heinous atrocities of 09/11/2001 were largely facilitated by the ease with which the Islamic Terrorist were able to use the American hosted and pioneered Internet to communicate and plan their mass murder and the dangers were finally recognized by the Feds.
In the years 2000-2002 the author became aware of the Official Iraq News Agency Web Site that served as an online mouthpiece for the propaganda and lies of Hussein's Ba'ath party and as a conduit for the Great Leader's profound insights into his sacred place in history and the Evils of the United States. It was a blast to read, since Saddam's letters to his people and the world were invariably riddled with spelling, grammatical and typographical errors – odd for a dictator with billions at his disposal. As a dutiful educator, this writer used to make the needed corrections and send them back with some humorous comments on the obvious Arab incompetence and natural stupidity. The Iraqis did not think it was very funny and began a search for this pedagogue with the intent of murder – they failed but soon had some lumpy Arab broad with big melons sending nude photos with what appeared to be lewd suggestions in Arabic. The old site was http://www.uruknet.net/ which was hosted in Jordan but mysteriously vanished a few days into the war in 2003.
Approximately a year ago, a similar site appeared at http://uruknet.info/ which was obviously being operated by some of the same Ba'athist goons that had run the earlier site for Hussein – minus his learning errors of course, and bereft of the additional wisdom of Tarik Aziz. The writer publicized this and forwarded the information to Http://discoverthenetwork.org/ but David Horrowitz never even said thanks, turned the info over to some of his own writers, and covered the story as his own – then his learned and Christian webmaster promptly deleted the logon of this author five times – real nice guys eh?
Sites like http://uruknet.info/ are inevitable in a war of ideas that is being waged largely on line since the propaganda of http://cair-net.org/, http://RevivingIslam.com/, http://islamicawakening.com/, http://www.jihadunspun.net/, http://Khilafah.com/ and even the mildly disguised anti-American propaganda of http://english.aljazeera.net/ are inevitable. What is not inevitable and truly alarming is much of the content of this website run by the compatriots of the men who are killing US Soldiers in Iraq since much of the content is WRITTEN BY AMERICAN CITIZENS LIVING IN THE USA!
All of the main posts at http://uruknet.info/ list the origin of the 'incoming page' in this or a similar manner:
:: Article nr. 15019 sent on 24-aug-2005 22:39 ECT
:: The address of this page is : www.uruknet.info?p=15019
:: The incoming address of this article is :
www.dissidentvoice.org/Aug05/Sanders0824.htm
Many of these 'essays' originate at http://www.counterpunch.org/ and http://www.dissidentvoice.org/
As well as other radical left wing web sites. Here is the issue:
THESE ESSAYS ARE BEING USED AS PROPAGANDA BY OUR ENEMIES – THE SAME MEN WHO ARE KILLING US TROOPS IN IRAQ – THE BA'ATHIST TERRORISTS.
One can postulate that these American leftist sites may not have been aware of the use of their diatribes BY OUR MORTAL ENEMIES but since this has gone on for many months, they surely know of it now and thus share in the culpability for the continuing death of Americans. If the truth be know, there lefties are glad to see our brave troops die since they view our enemies as good and the USA AS EVIL. The disgusting part is that there same liberals queers don't have the guts to directly confront US troops or conservatives with baseball bats since they know they would get their sissy boy arses kicked so they conceal their dedicated effort to ensure the defeat of the United States of America.
The only conclusion is that the folks who operate http://www.counterpunch.org/ and http://www.dissidentvoice.org/ As well as other radical left wing web sites are thus:
GIVING DIRECT AND REAL AID AND COMFORT TO THE ENEMY -
THIS IS SEDITION IN WARTIME AND IS TANTAMOUNT TO HIGH TREASON!
Unfortunately, the government does not seem to care since this continues unabated and is killing US Troops so the true American Patriot has only one choice:
FIND THE OPERATORS of http://www.counterpunch.org/ and http://www.dissidentvoice.org/ As well as other radical left wing web sites who are GIVING AID AND COMFORT TO THE ENEMY AND LET THEM FACE A CITIZEN FIRING SQUAD – EXECUTE THE BASTARDS!
THESE DIRTY BASTARDS ARE THE ENEMY – THE ENEMY WITHIN -
IT'S TIME TO SHOW THESE TRAITORS WHAT HAPPENS TO ENEMIES OF THE USA!
Dissent is one thing – TREASON IN WARTIME IS PUNISHABLE BY A FIRING SQUAD!
SO LET'S BRING AMERICAN JUSTICE TO THESE ROTTEN BASTARDS NOW!
We'll soon be providing NAMES OF THESE TRAITORS IN THE NEXT FEW DAYS SO CLEAN AND LOAD YOUR GUNS -
THERE DIRTY BASTARDS ARE KILLING US TROOPS AND WILL PAY THE PRICE!
Praise the Lord and God Bless America,
Zionist/Infidel/Neocon/Crusader/Jew/Kafir
George M Weinert V
http://www.americanjihad.blogspot.com/ – American Jihad Blog
http://www.livejournal.com/~americanjihad/ – American Jihad Journal
http://www.valleyofdeath.blogspot.com/ – The Valley of Death Blog
http://queerjihad.blogspot.com – Queer Muslims
http://groups.msn.com/americanjihad – American Jihad MSN
http://groups-beta.google.com/group/AmericanJihad/ – American Jihad USENET
[ posted by George M Weinert V @ 8/30/2005 11:40:00 AM ] [ Comments ]