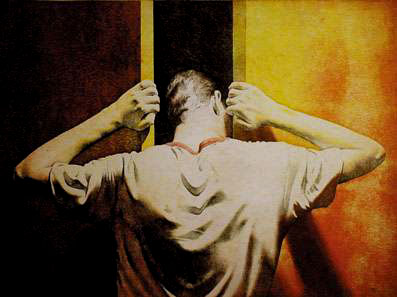 "The late-nineteenth-century shift to a consumer economy provoked a more widespread acceptance of pleasure, self-gratification, and personal satisfaction that easily translated into the province of sex… this cultural-ideological process was overdetermined by the logic of the commodity, a logic that binds ways of knowing and forms of identity to changes in the relations of production… relationships that include forms of consciousness that are inadequate to new demands of production and consumption… the recruitment of women into the workforce and consumer culture and the gradual unhinging of sexuality from its procreative function as regulated by the family's patriarchal gender system. One of the most signficant displacements was the conjuncture of rationalized production with the engineering of desire inducement." (Profit and Pleasure)
There is a connection between how society is organized and how the individual eperiences desire — all forms of desire, including sexual desire. One of the impediments to understanding this is our devotion to one of those dualisms discussed in the first installment — public vs. private. With regard to sexual matters, it is important to point out as an historical matter that notions of privacy are fairly recent — number one — and that the notion of privacy in the household and sexual matters grew out of the public-private dichtomy that protected a man's right to control his wife and children as he saw fit in his own home. Nancy Cott has written a very good book on the history of marriage in the United States that covers much of this, called Public Vows.
My point is that even the value of privacy as a right is a fairly recent social construction — not something bewstowed on us by nature. And I am not arguing that we should surrender the "right to privacy." That is a red herring.
Our mental separation of public from private serves to separate our experience of desire — including and especailly sexual desire — from its social determinants, reinforcing the idea that became popular through both pyschoanalysis and the medicalization of human behaviors (using medical notions to define "normal") that sexuality is a "drive." Not only the notion that sex is a "drive," which has never been scientifically described, by the way, but that this drive is structured by mysterious forces originating in our (you choose) soul, mind, genes… This is basically an epistemological issue.
It has to do with HOW we "know" about sex. It is neither natural nor strictly socially constructed. We exist as bodies, as sexual bodies with all manner of potentialities for sexual behavior, and we are socialized into the way we connect physical pleasure with cues, symbols, and meanings… and the way we are attracted to others as "objects" of ourselves as sexual "subjects." Or — in different contexts — how we are attracted to other sexual subjects.
With the development of US imperialism — and I'll be brief on this, since it is a slight excursion — the US became more and more a consumer society. The cycle of capital worldwide cannot be completed without the capitalist core countries absorbing the bulk of the commodities produced worldwide. When necessities are only a fraction of the total commodity pool, then non-essential consumer goods have to be sold, and when the profit rate begins to fall on those, then additional demand must be created for new consumer goods. Demand-creation is the role of the advertising industry. And the dominant ideology in a society where consumption is critical becomes an ideology of consumption-as-the-highest-good — . In the United States, we have all been relentlessly indoctrnated with this ideology.
That is why the American family — in the abstract — is not a production unit as it is in a peasant economy, for example. Our families are consumption units. And for many years since the end of World War II, women in the family have been indoctrinated into the dual-role of housewife — both sex-object and consumer — in addition to traditional child-rearing roles and the increasing necessity for women to enter the waged work force.
Watch daytime television — which is still largely tailored to the "housewife" — and what you see are dramatized instructions on the roles of women in male-female relationships and as family members (competing with other women — usually for males — a disruption of social solidarity more effective than union busting), alternated with ads for consumer goods — many of which appeal to the woman as household consumer (cleaning products and the like) and as a sex-object (cosmetics, weight-loss schemes, etc.).
While there is a sexual division among consumer goods that both builds on and reproduces normative roles for men and women, both sexes are bombarded with advertising for consumer goods — many of which implicitly promise, by the way, to enhance sex appeal *constructed* according to male and female behavioral expectations… man the sexually driven aggressor, woman the coquettish siren who needs (choose) protection/a good fucking/a reliable provider.
Sexual desire is NOT private. It is constructed socially, and it is constructed in ways that have real consequences. It has consequences, because sexuality is not merely an attraction, but a highly complex set of sexual codes and symbols that structure the behavior of men and women all the time, not merely in sexual courtships.
Just in the way of providing ONE example of many — why do women shave their legs, armpits, and more and more their pubic hair? What are the implications of this practice? It is NOT universal, and it is a recent development in history. Yet women are under intense social pressure to conform to this practice, and men are even indoctrinated to be "turned off" sexually by women who fail to conform to it.
The most vulnerable, compliant, and dependent population are children. Children serve as a rationalizing metaphor in almost all systems of domination. The slaves are "like children." The natives are "like children." they "need guidance, and a strong hand." Men are conditioned to experience sexual desire for women who are vulnerable, compliant, and dependent. Hairless, doll-like, infantilized women are more desirable, and women KNOW it.
Is this desire real? Yes. Are women also socialized to experience desire for men who exhibit intransigent, domineering, potentially violent characteristics? Yes. is the desire real? Yes. Are these norms in operation as part of the experience of sexual excitement? Yes. Do these norms and these ways of experiencing sexual pleasure have social and political implications? Yes!!!
Does the notion that desire is a "private" matter grant sexual behavior a certain immunity from being interrogated and theorized in conjunction with analyzing gender as a system of power? You bet. That is exactly why the question of "privacy" is often deployed against any critique of patriarchy.
Is this the same thing as the reactionary attempt to rein in consumerist sexualities to protect a static and retrograde definnition of the family? No! Victorian notions of sex, which are today associated with religious fundamentalism, are based on the idealizaton of women as non-sexual beings, and the impulse to overthrow that idea is liberatory.
But much of the so-called sexual revolution did not liberate women from patriarchal relations. It recoded them to give progressive men greater access to the bodies of progressive women without fundamentally challenging patriarchy as a gendered system of power. The radical critique of anything-goes sex is not the same as that of the religious right — though certain libertarian demagogues constantly attempt to conflate the two. It is the critique that was laid out by Adrienne Rich in "Compulsory Heterosexuality."
The experience of desire and sexual pleasure is not sinful, but it is also not liberatory in and of itself. Orgasms are not spiritual epiphanies. They are not "releases" of some machine-like pressure. A rapist can experience an orgasm.
Desire does not and should not have any immunity from a social critique.
The idea of sex and sexual desire as being directed at a certain kind of sexual-object, or even a variety of sexual-objects, is a consumerist idea. it is an idea that we have a "right to choose" from various brands. It also objectifies human beings.
The whole notion of heterosexual is required to define the term homosexual… or bisexual. But how is it that we arrived at this point in history where we define a sexual "identity" based on a reified sexual object? I'm attracted to "women." I'm attracted to "men." And, of course, these selections can become for more specialized and fetishized. But they are still essentially objectifications… the aiming of desire at a particular KIND of object.
There seems precious little analysis these days of how much privilege is exercised in making these kinds of choices — class privilege and imperial privilege. We have not spent much time reflecting on the consumerism woven through this whole construction of desire, and even less time thinking about how these construction articulate with the eoncomic and gendered systems of power around which society is organized.
Metanarratives like these are, after all, off limits. We cannot try to understand the social relations inhering in the commodities at the department store, only the "choices" we make among them. We cannot try to understand the social relations inhering in how we desire, only what our selection of desiring "identities" might be.
Just some stuff to think about… before we begin to look at the *set* of social-behavioral expectations that are associated with male-ness and female-ness — that is, masculinity and femininity.