The People's Hurricane Relief Fund & Oversight Coalition (PHRF) announces the opening of two Communication/Relief Centers!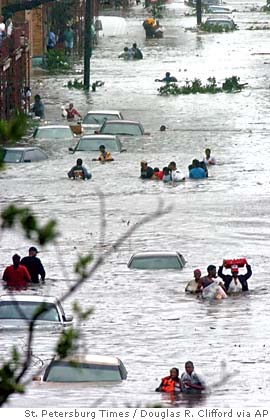 Jackson, MS Communication Center
253 Pine Hollow Circle
Jackson, MS 39212
601.371.4792
New Orleans, LA Communication/Relief Centers
Mail (which must be the size of an UPS or Fedex Envelope) can be sent to:
Mayaba Liebenthal
1000 Bourbon Street
New Orleans, LA 70116
Call for Volunteers: We need volunteers immediately, particularly people of color, to come down to New Orleans to help us set up the Communication/Relief Centers. The initial work will involve cleaning the spaces so they are available for the community and cleaning the surrounding neighborhoods. If you are available, please email us at volunteer@communitylaborunited.net.
Call for Supplies: To provide adequate relief for folks in New Orleans, the Communication/Relief Center needs the below listed items. If you are able to donate any of these things, you can mail them to Jackson and they will be transported to New Orleans. If you want to donate money to purchase some of these items, you can make the donation to the Vanguard Public Foundation and earmark the donation for certain supplies. Donation information can be found on the website.
Cleaning Supplies:
Bleach
Sponges
Mops
Brooms
High Pressure Hoses
Scrub Brushes
Anti-bacterial soap
Anti-bacterial wipes
Spray bottles
Buckets
Paper towels
Towels
Shovels
Rakes
Trash Bags
Storage Containers
Water
Household Cleaning Supplies:
Anti-bacteria kitchen spray
Bathroom cleanser/spray
Toilet bowl cleaner
Disinfectant spray
Pine Oil
Water filters
Temporary Housing Items:
Sleeping Bags
Tents
Air mattress
Blankets
Protective Gear includes:
Respirators
Respirator refills
Rubber gloves
Latex gloves
Work gloves
Kerchiefs
Dusk masks
Rubber boots
Bug spray
Mosquito nets
Goggles
Flashlights
Batteries
Tools include:
Hammers
Nails
Screws
Tarp
Crowbars
Prybars
Hacksaws
Handsaws
Chainsaw
Plywood Extension cords
Screwdrivers
Wrenches
Publicity Material:
T-shirts
Door Knockers
Brochures
Posters
Hats