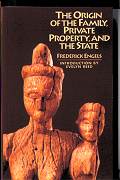 That got people's attention. But I'm serious.
I have never been at anything done by socialists that purported to address the issue of gendered power that did not drag out Frederick Engels' book, "The Origin of the Family, Private Property and the State." It is used at everything related to gender, and almost exclusively in conjunction with material written about gendered power by other Marxists — some of them women. (Feminists not explicitly emerging from that tradition are suspect, and therefore excluded as potentially unclean influences.)
The question then is why does this particular volume have such wieght? It is out of date. It was published before the publication of "The Origin of the Species." [THIS IS NOT CORRECT - IT WAS PUBLISHED AFTER OOTS, but it is still 131 years ago! -SG] It was predicated on the flawed findings of one proto-anthropologist, Lewis Morgan, who researched the Iroquois Nation in the US after joining an "Iroquois" fraternity.
"Morgan… undertook a study of the Iroquois League in order to duplicate its structure in a secret organization he had joined that came to be called the Grand Order of the Iroquois or, alternatively, the New Confederacy of the Iroquois. Fraternal organizations using Indian custom as symbols have been common in U.S. history." (from "Lewis H. Morgan and His Contemporaries" [originally published in American Anthropologist, 94:357-375, 1992], by Elisabeth Tooker, Temple University)
There is nothing wrong with Engels using Morgan's work to do a bit of theorizing that was, by any account, ahead of its time. What is odd is that we still have people using this as if it were somehow applicable to the study of gendered power now, instead of a scholastic artifact. Morgan's work has been proven wrong on many accounts; but the real problem is that Engels' own account (which was heavily cribbed from his intellectual partner, Karl Marx, too) is that it simply does not survive any critical review in the light of either feminist studies OR the basic tenets of Marxism itself. I will let someone else explain that further down.
The reason, I believe, that this hoary tome is flopped down on the table in "gender" studies by Marxists is to lay claim to the "woman question" with one of the Church of Class icons. It is a kind of catechism that "proves" gender to be a secondary contradiction to class. The rule of men is an outgrowth, according to Engels — who has not the slightest evidence to demonstrate this — of "property."
This is an immensely sectarian impulse, born of the transformation of Marxism from a method of inquiry and struggle into a timeless doctrine. It is saying, "We thought of it first, therefore we have the answers." Or, as Heidi Hartmann and Amy Bridges caustically remarked, "Marxism and feminism are one and that one is Marxism."
Before anyone gets their underwear in a wad over what I'm saying, I am on record as being a Marxist. I seek the reconciliation of Marxism and feminism, as I have stated more than once. But that means we have to be shriven of our sins, and there are some gender sins there.
One argument between Marxists and radical feminists has revolved around the question of whether economic class preceded male supremacy, or vice versa. Somehow, which "came first" is a matter of grave importance in determining priorities for political action now (a non sequitur, imo).
But I put the blame on Marxists, who relegated the question of women's oppression to a secondary contradiction, a petit bourgeois digression, a "woman question," and who now squirm over the not-too-distant leftist past where their struggle was framed in a masculine idiom and their homophobia was legendary. Marxism as a movement tolerated only those women whose critique of male power was exclusively through the lens of class defined as relation to the means of production — an economistic reading that never dealt with men as men oppressing women as women. That's why it is nearly impossible to find a trenchant Marxist anlaysis of the questions of domestic abuse and rape, and an utter reliance on liberal tenets to describe and critique prostitution and pornography.
Radical feminists made the counter-argument that gender trumps class as a way of bending the stick back. And, ignoring the above non sequitur, rad-fems won the argument. Marxists wanted to represent male supremacy as an aspect of capitalism, and one that would disappear with the disappearance of capitalism. But what radical feminists pointed out — accurately — is that capitalism is but one form of (economic) class society within a much longer and consistent history of male power.
Does that mean that gender, and not class, is the primary contradiction? No. In fact, and I've said this repeatedly, Economic class and the evolving forms of gendered power are only separable as analytic categories. But the analysis needed to happen.
The reason we need to abandon Engels in the study of gender is that he and Marx were both WRONG on the whole question. Wrong. Incorrect. Insupportable. And if we use their work to study gender now, we will continue to be wrong.
Marx and Engels naturalized women.
I turn now to Catharine MacKinnon, who along with Andrea Dworkin, has been effectively stalinized (demonized) off the Left's stage (mostly because of their critique of pornography), with extensive quotes from her book Toward a Feminist Theory of the State." While white American radical feminists are not above critique, that is not my purpose here. The best critiques of radical feminism have come from inside feminism, from Black, Latina, and so-called Third World feminists — and radical feminists have embraced, not fled from, these critiques. Marxists, for the most part, have evaded answering the rad-fem challenge — one that was offered in a comradely way.
"To Marx, women were defined by nature, not by society. To him, sex was within that 'material substratum' that was not subject to social analysis, making explicit references to women or sex largely peirpheral of parenthetical." (p 13)
[MacKinnon's footnote: "This chapter does not address the ways in which Marx's theories of social life are, are not, or can be made applicable to women's experience or sueful for women's liberation. It addresses what Marx and Engles explicitly said about women, women's status, and women's condition."]
"Engels, by contrast, considered women's status a social phenomenon that needed explanation. He just failed to explain it. Expanding on Marx's few suggestive comments, Engels tried to explain women's subordination within a theory of the historical development of the family in the context of class relations. Beneath Engels veneer of dialectical dynamism lies a static, positivistic materialism that reifies woman socially to such an extent that her status might as well have been considered natrually determined. Marx and Engels each take for granted crucial features of relations between the sexes: Marx becasue women is nature and nature is given, and Engels because woman is the family and he is largely uncritical of woman's work and sexual role within it." (p 13)
MacKinnon then goes on to explain.
"Marx's theories of the division of labor and the social relations of production under capitalism were at the core of his theory of social life." (p 14)
It is legitimate to argue, I think, that Marx and Engels work embodied most completely in "Capital" never laid claim to omniscience. They, in fact, disaggregated the English factory from the larger global context as a kind of laboratory experiment. They also disaggregated the production of value at the point of production from the world system, on one hand, and the family on the other. This kind of analytical disembodiment is useful for the study of many phenomena. But their commentary on women and the family does not support the notion that they were agnostic on these issues, and Engels' later work – OFPPS – made an explicit attempt to pull gender inside the framework developed in "Capital." So we cannot get away with saying that these two great thinkers cannot be held accountable for what they did NOT do. There errors on gender, on the other hand, do not automatically imply that their critique of political economy is wrong… only that it is incomplete.
"In this context, Marx offered the analysis that differences 'inthe sexual act' were the original division of labor. 'With [the increase of needs, productivity, population] there develops the division of labor, which was originally nothing but the division of laobr in the sexual act, then that division of labor that developes spontaneously or *naturally* by firtue of natural predisposition (e.g. physical strength), needs, accidents, etc. etc.' [from The German Ideology]"
I will now break McKinnon's follow-oncommentary down to individual sentences for emphasis of each point.
"The reproductive difference of function between women and men apparently constitutes a division of labor."
An interesting idea, no?
"It is unclear whether this original 'division' then extends to become other divisions, or whether this original 'division' is a primary or cardinal example that other division then replicate or parallel or pattern themselves after.
"Marx accounts for neither the viewthat the gender difference of function in reproduciton is more 'original' than other differences of function that do not fall along gender lines; nor the view that reproduction is a species of labor; nor the appropriateness or necessity of the extension or duplication of this division throughout society.
"But then the gender division is not his subject; it is merely the 'origin' of his real subject, the class division.
"Still one wonders why other differences of function do not constitute or underlie a division of labor, but sex does.
"When discussing the division of labor under capitalism, Marx sees the question of which individual gets which task, or becomes a member of which class, as originally an accident that then becomes hisotrically fixed: an "accidental repartition gets repeated, develops advantages of its own, and gradually ossifies into a systematic division of labor" [from Capital, Vol I]
Interjecting again, here MacKinnon is setting up the debate about which came first — gendered power or economic class power. I would argue that as time goes by, this becomes more and more an academic issue given the changes that are wrought in social systems. But, as in many arguments, especially about gender, the rationalization for existing power becomes Nature, which is then "supported" by an appeal to the origins of power in some version of "history." Had Marxism abandoned Engels' history-version arguments when they were transcended by more sophisticated treatments of gender by feminists — as we should have — and had we dealt honestly with the contradictions in Marx-Engels between gender and the treatment of class, feminists would not have been obliged to dive back into the speculative archeology/anthropology of pre-history to show that gendered powr may not only have preceded class power, it may have been the model for class power. The scholastic retreat into pre-history, in my own opinion, was a MALE reaction every bit as much as a Marxist one, to "prove" that class trumps gender. So my criticism of this history-version method of argument is directed at Marxism, because we started it.
MacKinnon again:
"[According to Marx] Which sex gets which task is first a matter of biology and remains so throughout economic changes.
"Disussing woman's work in the home, Marx states: 'The distribution of the work within the family, and the regulation of the labor-time of the several memebers, depend as well upon the differences of age and sex as upon natural conditions… Within a family… there springs up naturally a division of labor, caused by difference of sex and age, a division that is consequently based on a purely physical foundation.'" [from Capital, Vol I]
Weeeellll!!! A PURELY PHYSICAL FOUNDATION?!?!?! I emphasize this for three reasons. (1) It was written by the older Marx as part of Capital — so there is no excuse that it was part of the more Hegelian younger Marx or whatever; (2) this becomes the starting point fo Engels treatment of gender in OFPPS; and (3) neither Marx nor Engels would have stood for such nonsensein any treatment of class. In fact, their entire body of work, it might be argued, is a refutation of the "naturalization" of economic class. Catharine MacKinnon, in her critique of Marx and Engels, is USING the Marxist method to critique Marxism's blind spot on gender! That method is the de-naturalization of social relations.
Continuing with MacKinnon:
"Because women's role was naturally defined, Marx's view of the relaitonship of nature t0 labor is instructive. Nature's produce os 'spontaneous.' Society produces through the human activity of work: 'material wealth that is not the spontaneous product of Nature, must invariably owe [its] existence to a special productive activity, exercised with a defininte aim, an activity that appropriates particular nature-given materials to particular human wants.'" [from Capital, Vol I] (MacKinnon, p 15)
Pay attention here, as MacKinnon breaks this down.
"Nature's forms change naturally or not at all.
"Labor's organization is social and is therefore subject to human intervention. 'If we take away the useful labor expended upon them, a material substratum is always left, which is furnished by nature without the help of man [!]. The latter can work only as Nature does, that is by changing the form of matter. Nay more, in this work of changing the form he [man] is constantly helped by natural forces. We see, then, that labour is not the only source of material wealth, of the use-values produced by labour. As William Petty puts it, labour is the father and the earth is it's mother.'" [from Capital, Vol I] (MacKinnon, p 15)
Marxists who dismiss either the implications of Marx's claim that gender roles are naturally defined or the overt gendered reference here as historical artifacts are guilty of intellectual dishonesty.
When asked during an interview what he most admired in men and women, Marx replied "strength" and "weakness" respectively. This is not an oversight. Marx and less-so Engels were still captured inside the gender categories of their day. That is not to say that this dismisses the body of their work. Obviously, that's absurd, and MacKinnon's and other radical feminist's engagement with Marxism demonstrates the power and importance of Marxism.
The point is, on the question of gender, Marx and Engels — including the OFPPS — have been bypassed by history and trasncended by radical, (sometimes) socialist, Black, and third-world feminism. It is an abiding curiosity to me that we Marxists are not at all averse to the extensions and modifications of Marxist conclusions, using our method, by Fanon, or Gramsci, or Samir Amin (or even Luxemburg, who herslef never deviated from the Engels doctrine on gender)… but that there has been a perennial Marxist hostility to feminism and its challenges.
Anyone who asks the question about Marxist meetings, listservs, journals, et al, "Why are men still predominating in these discussions?" is either treated like someone who farts at the party, or presented with one tortured explanation after another. The fact is, in my opinion, the account of gender that is given by Marxism is inadequate to reflect the lived experience of gender by women (and queer folk, too, for that matter), and the tone of these discussions is frequently (and un-self-critically) masculine (often even macho).
MacKinnon:
"Mother/woman is, is nature [no typo here]; father/man works, is social. The creative, active, transformative process of work is identified with the male, while the female is identified with the matter to be worked upon and transformed. To the extent that man's relation to nature has, for Marx, a social aspect — and it does — his relation to woman will have a social aspect. This may be the meaning of Marx's statement 'The production of life, both of one's own labor and of fresh life in procreation, now appears as a double relationship: on the one hand as a natural, on the other as a social relationship.' [from The German Ideology] (MacKinnon, p 15)
MacKinnon then goes on to give a long list of examples of Marx's naturalization of women, and his failure to am a critical eye at the domination of women as women by men as men. I want to again say that MacKinnon's book is in the must-read category. That's not saying it is omniscient or infallible. But for anyone who wants to study the relationship between feminism and Marxism, especially as it relates to the State, this book is essential.
On to Engels.
MacKinnon: "Whatever one can say about Marx's [theoretical] treatment of women, his first failing and best defense are that the problems of women concerned him only in passing. Friedrich Engels can be neither so accused nor excused. His 'Origin of the Family, Private Property and the State' is the seminal marxist attempt to understand and explain women's subordination. The work has been widely criticized, mostly for its data, but its approach has been influential. Often through Lenin, who adopted many of its essentials, the approach and direction of Engels' reasoning, if not all of its specifics, have become orthodox marxism on 'the woman question.'
"To Engels, women are oppressed as a group through the specific form of the family in class society. In pre-class sexually egalitarian social orders, labor was divided by sex [according to Marx and Engels]. Not until the rise of private property, and with it class society, did that division become hierarchical." (p 19)
MAJOR point here: Not UNTIL the rise of class, claims Engels — and this is the very basis of his history-version argument — did gender become heirarchical (the preponderance of anthropological evidence now suggests exactly the opposite). The implication being, class predates gender as a system of social power, ergo, class trumps gender as a system of social power (a non sequitur). Gender is effectively swallowed up inside class. This becomes the basis for later referring to gendered power as a "secondary" contradiction, and the promise (betrayed serially) that women would be liberated within socialism.
Engels supports this fallacious reasoning with the now-discredited data and conclusions of Morgan on the Iroquois, with which Engels attempts to fit a gender-stage into the eurocentric "stages" of Marxism… which were "savagery (primitive communism)," triple-stage "barbarism," slavery, feudalism, and capitalism.
"Before… 'civilization,' Engels argued, labor was divided by sex within the clan, often with women in domestic roles, but woman's social power was equal to or greater than man's. In pairing marriage, the family form which preceded monogamy, woman was supreme in the household, and lineage was reckoned according to 'mother right.' With the rise of private property, the unity of the clan dissolved into antagonistic classes and isolated family units. As production shifted out of the household, leaving women behind in it, and more private wealth accumulated in men's hands, lineage came to be traced by 'father right,' marking what Engels called 'the world historical defeat of the female sex.'" (MacKinnon, p 22)
End Part One