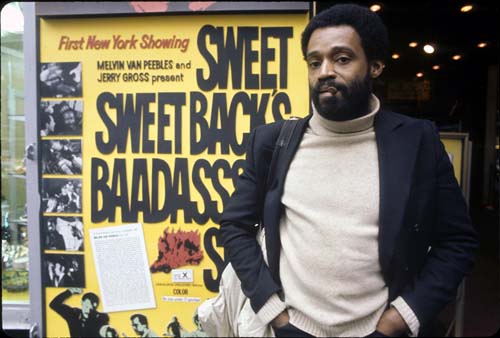 The film opens with a series of clips of typical overtly racist "humour" in pre-war Hollywood movies, both colour and black&white. Van Peebles' gravelly voice-over, relaxed and cynical, comes in several excruciating minutes after the clips begin… with the understated remark, "Funny, huh?" As an old clip of the traditional "darky quivering with fear" fills the screen, he asks, "Why is he so scared? Why are we always so scared?" — then cuts to stills of a lynching: "Wouldn't you be?". He invites the viewer to "take those rose coloured glasses off, and I'll loan you a special pair of coloured folks' shoes. Let's see how they feel to you. Come on! take a little stroll with me…" A stroll, that is, through the history of Hollywood and racism, which in just a few opening minutes he has placed in historical context. It's quite a show.
Van Peebles remembers that the first time he realised that movies were "messing with my mind" was when he was about 12 years old, about the end of WWII. He goes on to reminisce about the movie theatre in his Chicago ghetto, and leaving the theatre with a feeling of shame — shamed by the relentless racism of major-distribution, white-controlled movies that were the only "peephole onto the world outside my ghetto." The movies (then as now), taught young people how to be adults, how to court, how to kiss, how to be heroes and villains, how to live. But the Black people in the movies bore no resemblance to the real Black people in his own neighbourhood — women like 'regal queens,' he recalls, not the Mammies of the white imagination.
People like to blame Hollywood racism on D W Griffith, van Peebles recalls scornfully — but he was by no means an egregious case. It was endemic. It was normal. It was a "legitimate" and commonplace source of humour and drama in American film. Yolanda Carrington has recently dug up and commented on a typical product of the last days of the Hollywood racism-agogo era, a wartime propaganda cartoon with enough ideological content to keep a department full of sociology grad students busy for a year. Alas, it was no more an isolated case than 'Birth of a Nation' decades earlier. White supremacy was a staple of Hollywood "entertainment" from the first days of cinema. And still is.
Peebles is interviewed either on location in Chicago or on an artful set made to replicate the space under a bridge over the river — he wanders around a trashcan fire, dressed in "street person clothes" as he delivers his measured, scholarly, and sarcastic indictment of Hollywood and all its works. His own story as a movie-going boy in Chicago merges with the story of racism in Hollywood at the end of WWII as "the New Negro" era in American film begins. In order to realise full wartime mobilisation, the US had to draw Blacks and women into the higher-paid artisan and technical workforce (and into the armed forces); also, as van Peebles wryly notes, "Hitler had given racism a bad name" and the US after the war had a moment of needing to live up to its own wartime propaganda about "America the land of democracy and equality." The crude and blatant racism of the pre-war movie business gave way to the "New Negro Film" — crafted to shed light on "The Negro Problem" — which as van Peebles points out, seems a lot more like a White People Problem.
He gives a quick tour of the genre and its clichés, concluding that the racism had merely become more subtle ("the insults had just gone underground") and perhaps even more dangerous. He contrasts the white-owned and white-authored New Negro films with the 50 year history of all-Black American cinema — movies made on shoestring budgets outside the Hollywood machine, and shown in "coloured only" theatres throughout the segregated South. They were hardly revolutionary cinema, but Black audiences were grateful for any cinema that was less than nonstop, relentless insult. White supremacy was internalised by the Black film-makers even in their independent efforts: good guys were always lighter skinned than bad guys (and from the clips, beautiful leading ladies seem to be consistently lighter-skinned than leading men). Nevertheless, as compared to the drek that whites in Hollywood were cranking out, they were a wonderful alternative — a not-so-brief period of separatist Black film culture — fifty years of it — now mostly forgotten.
Ironically the end of segregation closed down the market for these Black-only films, as they did not command the mass appeal to integrated audiences that would justify their distribution by the cinema chain owners. Black viewers were not fooled by the New Negro genre from white-supremacist Hollywood, either. Suddenly, as van Peebles recalls, Black people disappeared from US film: we went, in his words, "from the New Negro era to the No Negro era." Hollywood, as he puts it, dismissed American Black theatregoers as a bunch of "oversensitive" ungrateful whiners, and abandoned the audience entirely. Acting opportunities for Black actors were reduced to bone-in-nose spear-carrying and waiting on tables (van Peebles' film clip montage here is brilliant).
Popular Black actors and musicians could also be given cameo parts in mainstream white pictures — but only if their performances were incidental to the plot; that way, the "offending" sequences could be omitted from versions of the film shipped to Southern theatres. A telling example of this racial censorship is provided: two versions of the same sequence, one of which is edited to eliminated all visuals of Lena Horne whose performance of "Paper Doll" is featured on the soundtrack.
Black comedians, dancers, and musicians could break into Hollywood film, but always at the risk of having their best material stolen by directors and given to white performers. In movie after movie, white actors are shown walking casually into a culturally Black milieu or event and immediately dancing, singing, etc. "even better than" the Black folks. Culture theft was the bread and butter of interracial scenes in mainstream cinema, even as it was also the practise of mainstream cinema in its real-life business dealings. But still, Black musicians appearing in white movies had more dignity than almost any other Black actors.
Black audiences in his neighbourhood, he recalls, would make the projectionist run the scene in 'Casablanca' where Sam "plays it again", over and over: he was perhaps the only Black character in film of that era who wasn't kissing ass on screen, and the audiences were desperate to relive his few magic minutes of humanity and dignity.
But then the producers and distributors discovered a new trick. That desperate hunger to see the Black community reflected in mediated reality could be exploited! If they cast just one or two Black men as part of the "team" of good guys in an action flick, Black audiences would flock to the movies that also appealed to whites. A new formula was born: the token Black male hero who "proves himself" (and possibly serves as theme material for a little homily on tolerance), usually getting killed about halfway through the plot.
The civil rights movement was heating up, but Hollywood ignored it as long as possible. Finally, forced to reflect some version of the upheaval in American culture, Hollywood offered what the whiteman was always convinced Black men were secretly after the whole time: intermarriage. "Guess Who's Coming to Dinner" dared to violate the ultimate kapu of white male supremacy. But it did so with a not-so-subtle slap in the face; as van Peebles wearily points out, Sidney Poitier's character in the flick is a paragon, a scientist, a Nobel Prize nominee — which barely makes him an eligible mate for an ordinary blonde girl from an ordinary upper-class American family. Her whiteness makes her the equal — regardless of all other qualifications — of the most distinguished, scholarly, famous and generally impeccable man, so long as he's Black. This kind of second-level racist meme lurks in all of WhiteHollywood's attempts to make "liberal" race movies, as van Peebles demonstrates by deft use of archival material.
As it became clear that Black militancy was not going away any time soon, Hollywood at last hired three Black directors. One was van Peebles. The white establishment sabotaged their work, as he recalls — mostly by underfunding and interference. Nevertheless he managed to make 'Sweet Sweetback', an openly political film, and to everyone's surprise it was a box office hit. It was also a hit with Black militants; the BPP used it as a training film! When told to submit the film to all all-white ratings jury, van Peebles refused; the film was then given a default classification of X (hence the title of his documentary).
Hollywood moved quickly to neutralise his achievement by commodifying the "Black Action Hero" genre as Blaxploitation. Black film-makers, van Peebles says, to this day still know that they are more likely to get funding the lower the income level of the characters in their script (and the more violent the action). A series of apolitical Blaxploitation flicks — with ever-declining funding and production values — saturated the market and rapidly killed the genre. Even though the cost of making movies has been reduced enormously by modern technology, Black film makers still struggle with the gatekeepers of the distribution system, and truly independent Black film-making has a hard time finding any substantial audience. [This documentary was made before the era of cheap DVD short-run replication and the explosion of independent video releases, both streaming and DVD. It would be interesting to know what van Peebles sees as the future of Black film making in this new distribution environment.]
Notably, 'Classified X' is a television documentary produced with partial support from European cine/television networks. It seems likely that van Peebles would not have obtained sufficient funding to make the documentary within the US media establishment.
I first saw this documentary some years ago and was much impressed (and enlightened) by it. It has remained a favourite ever since. Though it seems to be mostly directed at clueless whitefolks, I suspect that many Black Americans might be surprised to learn (a) of the shamelessness and depths of viciousness of pre-war racism in US cinema, and (b) of the brief flourishing of all-Black cinema and the archive of "lost" films it produced.
A radical feminist watching the documentary cannot, I think, fail to make the connection with gross sexism in contemporary cinema, and particularly the connection between the grotesque misogyny and racism still tolerated in pornography, and the grotesque racism of pre-war white cinema. It's maddening to see how "obviously" awful the pre-war racist cartoons and movies are, and to know that millions of good liberals are still defending misogynist drek that is just as blatant, just as obvious, and just as hateful. Van Peebles tips his hat to feminism very briefly when he notes that conditions for women in Hollywood were rough, and Black actresses were pretty much at the bottom of the pecking order. But alas, he does not develop any substantial analysis of parallels and differences between racism and sexism in movies, or how they are interfused and mutually catalytic.
I highly recommend this film even to those who are familiar with racism in Hollywood; the variety and quality of the archival footage are wonderful, and van Peebles' editing is graceful and ironic. Although I've summarised or quoted many of its main points here, the impact of the narrative and the historical footage is stunning — plain text can't begin to convey it. The DVD release would make an excellent teaching tool for high school or college level courses, or a "living room screening" for consciousness-raising and media activism groups. It is also an interesting enough film for any politically-engaged person to watch more than once for personal enjoyment and education. Van Peeble's narrative is elegantly written, deeply informed, and delivered with a laid-back, weary sarcasm that cannot fail to engage the viewer; despite the often-grim subject matter he brings to it an attitude of durable resistance and defiance which makes this film another example of cinéma altermondialiste, strengthening and invigorating rather than despair-inducing.