HILLARY'S BONES
"Why has there never been a coup in Washington DC?"

"There's no US Embassy there."

-Latin American joke
Introduction to a Different Story

This is a story, based on some facts… different than the stories we hear from the media.  Facts can be arranged to make a story.  The media had one story.  This is another.
On June 28th, 2009, President Manuel Zelaya of Honduras was dragged out of bed in his pajamas by Honduran soldiers, bound and beaten , flown out of Honduras using the US military's Soto Cano airfield, and sent into exile. There was immediate and universal condemnation of the coup, including from the United States. President Barack Obama condemned the coup. So did Secretary of State Hillary Clinton. The story faded from the news. The Hondurans had some kind of election. Everything is okay now.
That is the general impression, among people in the US, of what happened, at least for those North Americans who may know where Honduras is.
This story is different, different than that story.
In this story, a powerful public/private alliance, which included the government of the United States of America, not only had prior knowledge of the coup, it was deeply involved in the planning and execution of it. The head of the principle government agency involved in this coup d'etat was Secretary of State Hillary Clinton.
Coming of age in mafia-speak, they say a real thug "makes his bones" with his first murder. Hillary made her coup-bones in Honduras. And that included a lot of murders.
To tell this story, we will need two other stories as mirrors, or analogs. Those are the stories of the two previous coups with US State Department involvement – the 2002 failed coup against President Chavez's government in Venezuela, and the 2004 successful coup against President Aristide's government in Haiti.
The story has a cast of characters that revolve through a cast of institutions. It has a weirdly named theme called neoliberalism, and a plot embedded in a Latin American setting.
*
As with all good stories, there are stories within stories. Behind this story of a coup d'etat against an elected government in Honduras is the story of other recent coups and how the same people in the United States who are associated with the coup in 2009 seem to be a constant over time.
The story within that story is that this is a decidedly Republican coup apparatus, directed by Democratic Secretary of State Hillary Clinton in the service of Democratic President Barack Obama.
The details are important, but so is the more essential dynamic of Great People, whose ruthlessness and narcissism is made whole in the misery of unseen and uncounted others.
Martin Buber, writing in Good and Evil, makes the point that with the knowledge of the good comes the capacity for evil. And he centers his assertion on the unique capacity of humans, differentiating themselves now from other creatures, to lie. The lie is the servant of power; and power is what breaks the proper covenant between human beings.
This is a story about that big topic. It is about lies and power. The names and circumstances change, but this story has been around a long time.
Background – Neoliberalism
What is neoliberalism and why should we care? We're talking about a coup, right?
Answer: The coup in Honduras is the visible top of an iceberg. Neoliberalism is the much larger mass holding the visible part out of the water.
The L-Word
Neoliberalism is not the central thesis of this blog-book. Describing it is, however, necessary to discern the motives of the US government and of the international business class that has the greatest influence on it.
Unraveling a coup d'etat is like a detective story. The first thing the detective has to figure out in a detective story is "where am I? How do things generally work around here?"
Like detective stories, coups happen in settings, and not just physical settings, but places that operate by their own internal logics. In a good P. D. James novel (a redundant phrase in my opinion), her main character has to first figure out the social hieroglyphic that operates under the surface and really moves the plot along. Our setting is neoliberalism.
The term "neoliberalism" is not common among Americans, but it is well known and well-understood outside the United States. It confuses people from the US because the popular understanding of the word "liberal" is one half of the way we are taught to think about politics. Our political world is embodied in the "liberal vs. conservative" dipole, which in political discourse represents a very narrow range.
Neoliberalism is the wider range that contains both. The "liberal" in neoliberal actually includes both conservatives and liberals as we commonly understand them.
This word began with a different inflection than we give it in popular culture, and the term neoliberal is based on that old definition, not the popular one we have today. Just bear in mind as you read, "liberal" here is very close to what you think of popularly as "conservative," and it makes more sense.
The "neo," or "new" affixed to the word refers to a political and economic practice that took root with the Reagan administration and has continued through both Republican and Democratic administrations ever since. Philip Cerny explains:
Originally a label for a new form of nationally rooted transatlantic conservatism in the late 1970s and 1980s, neoliberalism was at first embodied primarily in the politics of Prime Minister Margaret Thatcher and the Conservative Party in the United Kingdom (UK) and of President Ronald Reagan and the Republican Party in the United States (US). It has often been seen as a revival of what has sometimes been called "classical liberalism" or "19th century liberalism" – i.e., a return to purer laissez faire principles and the ideology (and economic theory) of the self regulating market. However, this is an oversimplification. Neoliberalism in its varieties, "free market conservative, neoliberal structuralist and neoliberal regulationist," paradoxically includes an active role for the state in designing, promoting and guaranteeing the free and efficient operation of the market – a kind of imposed laissez faire somewhat analogous to Rousseau's image of people being "forced to be free."
Cerny goes on to make the key distinction between classical liberalism's assumptions and those of neoliberalism.
Unlike classical liberalism, however, it is not assumed that markets necessarily work in an efficient, spontaneous and automatic – self-regulating – manner unless they are strongly embedded in premarket rules, institutions and politics.
These "pre-market" rules, institutions, and politics are the carriers of neoliberalism, and they have a character that is historically unique. Let's look at what this neoliberal social architecture is and what it has managed to accomplish in the service of power.
*
The Mobile Redistribution of Accountability Trick
Neoliberal theology asserts the primacy of the private, the value of small government; but neoliberal practice has been massively subsidized and legally protected from public accountability by the state. Without the state's affirmative actions on behalf of the international business class, the system would collapse. Fast. Begin by thinking about how many battle groups from the US Navy are required to ensure the flow of fossil hydrocarbons into the industrialized metropolis, and you can extrapolate from there.
One of the key advantages of the public-private partnership that is neoliberalism is insulated from accountability to those below those institutions on the social hierarchy. The boundaries are blurred, via contracts and memoranda of understanding, between the US public sector – with its administrative apparatus, and its military and intelligence establishment with their vast budgets – and the private sector, composed of publicly funded "non-governmental organizations" (NGOs), think tanks, foundations, and an army of horizontally-integrated perception managers. Those perception managers have mass media as a conformity-producing web of influence that reaches right into the living rooms of a US culture that has 2.24 television sets, running an average of six hours and 47 minutes a day, 2,476 hours a year. To appreciate the latent power of television, realize that the average college class has a student in tow for three hours a week.
In terms of how the top of the pyramid relates to the base, this public-private alliance has the force of law in addition to a mobile redistribution of accountability. The people on the bottom are excluded from knowing who is the author of anything.
We will see this mobile redistribution of accountability in action with the Honduran coup d'etat. The transnational public-private alliance that authored the coup used this accountability shuffle to checkmate Zelaya and feint past the Organization of American States (OAS). This shell-game of accountability provides a coup alliance with enormous tactical agility. Bear this mobile accountability in mind as you read about the coup itself, in its (a) preparatory phase, its (b) execution phase, and its (c) consolidation phase.
Who's on First?
The various citations for this essay are available for truly in-depth study, but for our purposes, the essential points of neoliberal policy are:
(1) to reduce obstacles to the penetration of other nations' trade and capital markets and lock them when possible into debt-dependency,
(2) to establish and enforce neoliberal orthodoxy as the organizing principle of the state,
(3) to minimize "outcome-oriented" state intervention, e.g., poverty reduction, and stress state regulation that encourages economic "growth," and
(4) to shift emphasis from government (identifiable and therefore subject to account) to governance (control is exercised by a meshwork of public and private agencies, under a regulatory regime, which become less identifiable, i.e., less targetable from below for accountability).
Who benefits from this often impenetrable regulatory regime? From 1983 until 2007, according to a study by sociologist G. William Dumhoff, net worth distribution between the wealthiest quintile (20%) of the population and the other four quintiles combined (80%), changed from 81.3% of the wealth held by the top quintile to 85.1 percent of the wealth. In the same period, the bottom 80% went from holding 18.7% of the wealth to 15%.
Neoliberalism has effected a net transfer of wealth upward, beginning in the late 70s and early 80s. The transfer of wealth from poor countries to rich ones has been even more accelerated. Neoliberalism is the current system to achieve continuity of elite, and imperial, power.  But imperial power has always had a core-periphery dynamic, that is, a powerful core — a nation or alliance of nations — that rely on the exploitation of peripheries to maintain their dominance.
Core nation elites value stability, and sharing some of the surplus from exploitations abroad with one's domestic political base is one way a domestic population is invested in an unequal core-periphery dynamic. A measure of shared imperial privilege across class lines consolidates the core's political base. It was that way in imperial Rome. It is that way today.  An average American — even though well down on the champagne glass as it represents the US population — still consumes vastly more than the average Nigerian or Azerbaijani or Peruvian.  They are awarded a share of imperial privilege as a hedge against social unrest.
David Harvey and others note that neoliberalism has effected an enormous transfer of wealth. That fact is necessary but not sufficient to understand the actual character of neoliberalism. Neoliberalism did not emerge as a plot to take from the poor and give to the rich, even though it accomplished this to a remarkable degree. Neoliberalism emerged in response to a deep secular crisis of capitalism, first with the stagflation of the 70s, followed by the Latin American debt crisis of the 80s, followed by the serial catastrophes of the 90s – with Latin America, East Asia, Turkey, Russia – and culminating in the 2000s, with the dotcom bust and the magical exploding real estate bubble that hasn't finished with us yet. Neoliberalism is embedded in crisis.
Neoloiberalism, for all its triumphal rhetoric about "the end of history" and "there is no alternative," has actually been a protracted period of capitalist crisis management.
What the United States has managed to do, again and again, is to use its existing power to export its own crises abroad. It has done this by increasing the extraction from peripheral societies – benefiting from extremely unequal exchange – and by exporting everything from price inflation to toxic waste to war back to that same periphery.
There is more than mere individual greed at work. The US business class' very survival depends on maintaining stability in the imperial cores. The harsh truth for the American business class, however, is that the serial cures for their structural crisis have simply delayed the inevitable and exacerbated the disease.
In Honduras, the attempt to impose stability (after intentionally destabilizing the country) has met with greater social instability than Honduras has experienced in decades, even though we rarely see images of the liberationist movement that has risen in response to the 2009 coup, particularly in the United States.
Images like these are disruptive to the cover story for the coup; and concealment of motives is as essential to a successful coup as guns and money.
The Neoliberal Theology
Two aspects of neoliberalism comprise the background for the coups: its ideology and its practice. Ideology first.
The ideology is the sum of the public arguments in defense of the practice, and the repetition of those arguments until they appear axiomatic.
Ideology is defined as "an orientation that characterizes the thinking of a group or nation," but the main thing to remember is that successful ideology appears as mere common sense. The claims of ideology are not fashioned to represent actual practices. The purpose of ideology – if public understanding of the practice is likely to engender resistance to power – is to simultaneously conceal that power and ensure that same concealed power's day-to-day reproduction.
For example, when freedom is defined as a monetary consumer choice, this unquestioned premise conceals the power of the ultimate-winners in this transaction (Wal-Mart, for example, or Chevron) when you exercise this "choice," and suggests that buying ("choosing") something is actually a meaningful exercise of personal liberty and empowerment – which encourages people to continue with the same consumption patterns, ensuring the continued power of the ultimate-winners.
The H-Word
The dominant ideology is "hegemonic," meaning that most people have so internalized the basic assumptions of the ideology that they are seen as "common sense," placing those assumptions beyond our critical attention. Hegemonic ideas and practices are embedded in culture. Successful ideology is hegemonic ideology. The actual rules no longer require external persuasion or force; they have been extensively internalized by most people as "the way things are."
Neoliberal arguments, because they are hegemonic, sound very familiar. They are about the hidden hand of the market, and how it shakes society out into a just meritocracy. "Free market" is a kind of benevolent god that we ought to thank for its abundance. And neoliberalism discursively constructs itself as inevitable. Maggie Thatcher's favored claim, "There is no alternative." The TINA-fallacy.
Ideological givens are then available to support propaganda – and propaganda is a weapon during military-political operations, like coups d'etat. Propaganda is one weapon in a coordinated attack, and not as representative of any species of truth. Truth is incidental to public pronouncements by governments and institutions. The purpose of official public pronouncements is not representative, but persuasive.
See What They Say – Hear What They Want
President Bush's suggestions that Iraq was behind the World Trade Center attacks of 2001 was not designed to convey a reality, but to gain either approval or acquiescence from the public for a war. When Secretary of State Hillary Clinton denounced the coup in Honduras, she did so without calling it a coup. This was to ensure that the ultimate outcome – President Manuel Zelaya's removal – would not be seen as consolidation of the coup (and calling it a coup would trigger the law to cut off US aid to Honduras).
She publicly promised Zelaya that he would be returned to office. This bought time until the coup-makers could finesse the idea of a post-coup election (without Zelaya) was tantamount to "reconciliation and re-commitment to democratic values."
The public pronouncement was designed to have an effect different from representation of truth. That is why it is a mistake – in basic logic – to give public officials and business people and institutional spokespersons, the presumption of credibility. Yet this is precisely what mass media do with those pronouncements. In order to understand what these pronouncements mean, one has to – like a P.D. James detective – get at the motives.

Isis Obed Murillo, 19, killed by Hondurans soldiers
Key point to remember: When you read or hear public pronouncements by public figures, look at what the words are intended to accomplish. Do not presume they are telling the truth. These pronouncements are crafted in order to gain support for or acquiescence to an agenda.
What's the Motive?
I find it remarkable that nobody has pointed out that Adam Smith did not say what neoliberals repeat when they count him as their patron saint. His aim, like that of subsequent classical reformers, was to free society from privatized land rent, monopoly rents, and financial interest and fees.

-Michael Hudson
Practically, neoliberalism has been the construction of a transnational capitalist alliance – with the US first among equals. Politically and economically, it is a world system now, under the direction of the United States, and based on a combination of the size of the US economy, US military power and disposition, and the dominant position of the US currency in world markets.
In terms of practical emphasis, neoliberal policies have been developed to facilitate interpenetration of national markets. This seems superficially fair until one compares the size of many local enterprises abroad and their capital markets with the size of the transnational corporations that are seeking entry into those markets.
Honduras' entire GDP for 2009 was $13.34 billion. AT&T's revenues from 2005 were $69.4 billion. Hondurans will not be buying out AT&T.  AT&T, as we will see, did have its eye on Honduras, however.
So the abstract equality between actors in this rules-based regime recalls Anatole France's acerbic observation, "The law in its majestic equality forbids rich as well as poor from begging in the streets, sleeping under bridges, and stealing bread."
*
Thomas Carlyle called economics "the dismal science." Dismal is right, and our next subject is as dismal as it is significant. To ""dismal" we might add the adjective "wrong," since economists have never accurately described what happened in the past, what is happening now, or guessed what might happen in the future. This is science's purview, and whatever economics is, it is not science. And as dismal and misleading as the topic can be, we have to go there. Because money is at the heart of the whole system.
Neoliberalism is a now the world-system.
World system (definition): a historical and sociological approach to political economy with a belief in the importance of interdependency and the global systemic structure and connected processes.

-Paul Imgram
Emphasis on interdependency – all nations now depend on the same system to some degree – and that system's constituent processes. So as we read along about neoliberalism, we are adopting a framework for analysis that says stay alert for two actors being dependent on each other in different and very unequal ways, and stay alert for things that connect people, places, institutions, and actions on a world stage.
Begin by thinking of the global political economy (a different term than "economics") as a great meshwork of lines of communication along which which things, people, value, and power move.  In this meshwork, as in the webs of some spiders, there is a hub, like the hub on the spokes of a bicycle wheel.
The financial "hub" for the neoliberal world system is Wall Street. All lines go through that hub. And Wall Street eats what it catches. This dominant financial regime is at Wall Street, New York, instead of Tokyo or Paris, because the United States – a territorial political entity – is where the power comes from. This is a nation with an almost $15 trillion annual GDP, and a more expensive military than all the other militaries in the world combined, and bases in a thousand places around the world, spread over 156 nations.
The dollar is the national currency of this behemoth.
The current system combines the power of the United States, and its currency, the dollar, with the power of Wall Street as a transnational actor. The direction this partnership has taken is commonly called "globalization." A more accurate term might be "global financialization," about which we'll go into more detail.
The late Peter Gowan, in his book The Globalization Gamble, refers to the current system as the Dollar-Wall Street Regime. We will use that shorthand the same way he did: to mean the managerial activities of the world system as it is right now.

Peter Gowan
[A] New Wall Street System has emerged in the US during this period [the last three decades], producing new actors, new practices and new dynamics. The resulting financial structure-cum-agents has been the driving force behind the present crisis. En route, it proved spectacularly successful for the richest groups in the US: the financial sector constituted by far the most profitable component of the American and British economies and their most important 'export' earner. In 2006, no less than 40 per cent of American corporate profits accrued to the financial sector.
The twin-pillars of this financial regime are:
(1) Wall Street's global dominance in financial markets, and
(2) the hegemonic position of the US dollar, which allows the US – who holds the most dollars – to run up debts to other countries which is has neither the ability nor the intention of paying.
Wall Street attacks other nation's currencies as part of this managerial practice, and those attacks have proven catastrophic. Crashing an economy is a powerful message.
*
Central banks abroad need to hold dollar-denominated assets as currency reserves. These reserves give the central banks dollars to buy back their own currency if is endangered. Central banks now hold dollar reserves to defend themselves from future speculative attacks on their own currencies.
This effectively ties them to the strength of the dollar. If they sell their dollars down, they wipe out the purchasing power of their own central bank reserves; and when the US decides periodically, which it does, to strategically devalue the dollar, the US can wipe out a significant fraction of the purchasing power of its own debt. All other nations can do then is sit on the sidelines and fume.
Neoliberalism should not be seen metaphorically as a conscious, self-interested being. It is a self-organized, and supra-intentional system in which its own leaders are obliged to seek its perpetuation. To grasp it, we need several handles: historical development, ideology, institutions, enforcement methods, financialization and volatility, military action, "dollar hegemony," food dependency, and a host of others. Several good books are available on the topic. Since ours is a brief background account, we will focus on the constant: motive.
Who is motivated to do what?
When I was in the army, there was one part of an operations order that superseded all others, because it conveyed – apart from the planning minutiae – the commander's intent. That sub-subparagraph is called "desired end state." It meant, regardless of how wrong the rest of our plans are, and no matter how many contingencies change everything about how we are to get this done, this is what we want to make into a fact on the ground. We will occupy this coordinate, these people will be dead, we will collect this specific information, or that bridge will no longer be passable. It is that goal, that desired end state, which serves as the magnetic-north to which all compasses then point.
This is the constant, and therefore the key category: motive. The rest of the categories revolve around that constant.
The motive behind neoliberalism is perpetuation of ruling class power and American international power, and the mechanics are fourfold: capture competitor nations in an American-dominated system, exploit the markets of weaker nations, ensure net flows of wealth from peripheral nations to sustain US consumption, and lock peripheral nations into debt and dependency as leverage to control how they do business.
If this is the what, then history can help us to infer the why as well.
Neoliberalism – A Short History
The notion that a great expansion of the size of 'capital markets' is a symptom of positive trends in capitalist production is as false as imagining that a vast expansion of the insurance industry is a sign that the world is becoming a safer place.

-Peter Gowan
In the Beginning…
Even in its embryonic form as far back as Nixon, neoliberalism has been formed by crisis. Michael Hudson's book, Super Imperialism: The Origins and Fundamentals of U.S. World Dominance, described by its author as a book on financial history, is a fine and detailed account of this process, which we will necessarily abbreviate here.
After World War II, US economic production rose exponentially; and by the early 70s had run headlong into a general crisis of overproduction, or "over-capacity," exacerbated by US spending on the war in Vietnam. Overproduction is when competitive pressure outruns demand and creates an overshoot of goods, that then accumulate dust in warehouses.
In addition to this crisis, structural contradictions in the ever-more-international economy received a catalytic shock in 1973 with an OPEC oil embargo.
The Nixon administration responded to the encroaching crisis by dropping the gold-standard, to which all currency was pegged via the dollar, then dropping the fixed currency exchange rates developed during the New Deal to prevent market volatility. This freed him for a strategic devaluation of the dollar that effectively wiped out purchasing power owed as debt to creditors abroad. Nixon effectively exported the crisis-restructuring burden onto its own creditors.
The burden was shifted off of the US state and US financial institutions, not off the US people. The US population suffered unemployment and stagflation. From the 70s through the early 80s, business cycles became unpredictable, industrial production dropped, and unemployment grew, lighting a fire under the Reagan administration to seize its first opportunity to restructure its way out.
Reagan was able to do just that, because the stage had been set by President Richard Milhouse Nixon.
The Nixon Hat Trick
Hey Rocky, wanna see me pull a rabbit out of a hat?

-Bullwinkle the Moose
President Nixon inherited an international system of finance that was constitutionally based on a monetary agreement from the Bretton Woods conference during World War II. That agreement was that the dollar would be backed by gold – that gold to be valued at US$32 a Troy ounce – and that all other currencies around the world would exchange with that dollar at a fixed exchange rate. If there were ten pesos to the dollar, then there were always ten pesos to the dollar. No fluctuations, except by a deliberative process of revaluation. So Nixon released other currencies to float in a hostile sea. And he quit backing dollars with gold. Creditors couldn't get gold anymore. They had to take more fiat dollars, or nothing.
The fixed exchange and gold standard prevented speculation in currency markets, which the Keynesians believed – rightly, as it turned out – opens the door to dangerous, unpredictable and even international destabilizations.
Nixon took stock of his situation, looked at what he owed in external debt, and factored in that the now hegemonic dollar is uniquely immunized in a speculative currency market. So he unilaterally abrogated the whole system, daring not his enemies but his allies to retaliate… but all of them had invested in the dollar themselves, alas, and they were forced to accept Nixon's terms.
This created what some now call the Treasury-bond system of international finance.
What is a Treasury Bond?
[After WWII] it fell to the American state to take responsibility for making international capitalism viable again after 1945, with the fixed exchange rate for its dollar established at Bretton Woods providing the sole global currency intermediary for gold. When it proved by the 1960s that those who held US dollar would have to suffer a devaluation of their funds through inflation, the fiction of a continuing gold standard was abandoned. The world's financial system was now explicitly based on the dollar as American-made 'fiat money', backed by an iron clad guarantee against default of US Treasury bonds which were now treated as 'good as gold'. Today's global financial order has been founded on this; and this is why US Treasury bonds are the fundamental basis from which calculations of value of all forms of financial instruments begin.
A Treasury Bond is a note from the US Treasury that says you loaned the United States some money, and that you can redeem the mature bond's value plus a royalty, i.e., interest. You don't have to redeem it at maturity. You can hold onto it, and the US will pay you back whenever you like. If you have $10,000 in bonds, then x-years from now you can cash it for your ten-grand-plus.
Let's say then, you are very heavily invested in these instruments, when you come to realize that your debtor has taken so many loans, from so many people, that the loans are impossible to pay back. And any attempt to sell off the bonds could trigger a drastic devaluation. That is precisely the situation the world finds itself in now.  Many nations hold T-Bills, and all know that if asked to redeem them the United States Treasury does not have the funds to pay back these loans and their interest.
As the saying goes, "If you owe the bank a thousand dollars, you have a problem; if you owe the bank a million dollars, the bank has the problem."
The T-Bill system worked. No one dares demand repayment of US debt for fear they will instigate a dramatic devaluation of the dollar that would wipe out their own central bank reserves.
After Nixon's gamble, all that was needed was the consolidation of a public-private partnership to oversee the newly emerging system. Wall Street went through the breach.
[T]he US government could, alone among governments, move the exchange price of the dollar against other currencies by huge amounts without suffering the economic consequences that would face other states which attempted to do the same.

And … the Nixon administration decided to try to ensure that international financial relations should be taken out of the control of state Central Banks and should be increasingly centered upon private financial operators. It sought to achieve this goal through exploiting US control over international oil supplies. It is still widely believed that the sharp and steep increase in oil prices in 1973 was carried out by the Gulf states as part of an anti-Israel and anti-US policy connected to the Yom Kippur war. Yet as we now know, the oil price rises were the result of US influence on the oil states and they were arranged in part as an exercise in economic statecraft directed against America's 'allies' in Western Europe and Japan. And another dimension of the Nixon administration's policy on oil price rises was to give a new role, through them, to the US private banks in international financial relations.

-Gowan, The Global Gamble, p 14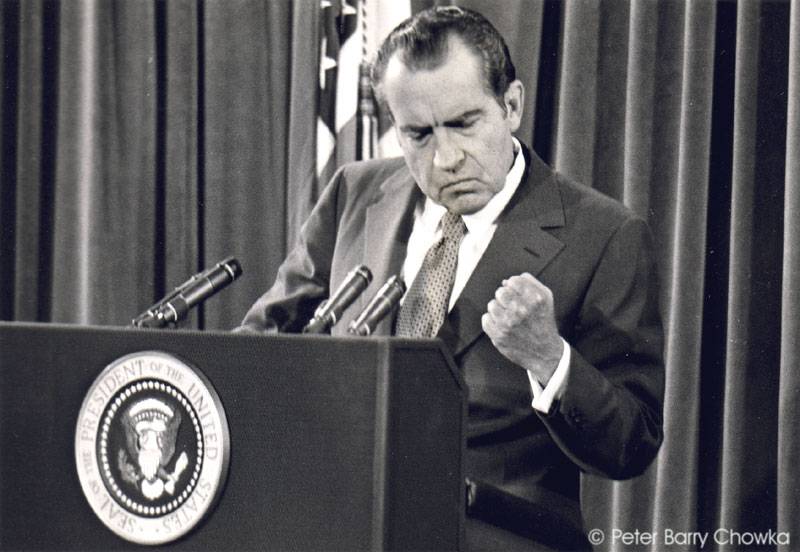 Gowan concludes, "Nixon gave Washington more leverage than ever at a time when American relative economic weight in the capitalist world had substantially declined and at a time when the productive systems of the advanced capitalist economies were entering a long period of stagnation." Nixon learned how to "break out of a set of institutionalized arrangements which limited US dominance in international monetary politics in order to establish a new regime which would give it monocratic power over international monetary affairs" (Gowan 1999: 19).
He turned his greatest weakness into his greatest strength.
Nixon had calculated that dollar hegemony as a global system was "too big to fail" for the rest of the world, and the rest of the world backed down. We had now entered the stage of debtor-imperialism. The world's biggest debtor is the world's leader.
Richard Nixon pulled a rabbit out of the hat.
'The Bankers' Dilemma' or, 'How much is a trillion?'
If you owe the bank a thousand dollars, you have a problem; if you owe the bank a million dollars, the bank has the problem. In Treasury bonds alone, the US now owes foreign banks $3.7505 trillion. With a T.
$10,000 in $100 bills is one-half inch thick. One million dollars in hundreds fits in a grocery sack. One billion requires a double-stacked forklift pallet. One trillion requires 1,000 double stacked forklift pallets. Or as David Schwartz explains:
One million seconds comes out to be about 11½ days. A billion seconds is 32 years. And a trillion seconds is 32,000 years. I like to say that I have a pretty good idea what I'll be doing a million seconds from now, no idea what I'll be doing a billion seconds from now, and an excellent idea of what I'll be doing a trillion seconds from now.

The little person on the left gives you scale. This is the $100′s stacked to a trillion.
Foreign banks have a big problem. What can they say? Pay us back, or else? Or else what?
This abandonment of gold and fixed exchange rates opened the way for the elimination of New Deal restrictions on financial speculators. Nixon followed up with a series of strategic devaluations of the dollar that wiped billions of dollars of US foreign debt off the books in Germany and Japan, both of whom had to sit by and fume helplessly.
Political scientist Eric Helleiner noted that "…the basis of American hegemony was being shifted from one of direct power over other states to a more market-based or 'structural' form of power." The structure was tidily summed up by economist Henry C. K. Liu: "The United States makes dollars. The rest of the world has to make things to get dollars." Liu called this "dollar hegemony."
Without fixed exchange rates, the non-dominant currencies are vulnerable to speculative attacks. To defend themselves, other countries' central banks must hold dollar assets in reserve (to buy their own currencies if they are being sold down by speculators). These "reserves" are largely US Treasury bonds, loans to the United States.
If the People's Republic of China holds $877.5 billion in US debt (which it does), and if the US dollar is devalued by 50% in a run on the currency, China can lose more than $438 billion. So the idea – promoted by some alarmists – that China can wreck the US economy by starting a sell-off on dollars is technically possible, but suicidal for China. Not only would it lose the purchasing power in its reserve, it would wipe out its biggest export customer, to which (exporting) the whole Chinese economy has been bent.
Other currencies, however, are more vulnerable to speculative runs, and this is exactly what happened.
The Financial Full-Nelson
Nixon's legacy empowered Ronald Reagan a decade later to build the monetary system on a foundation laid with the coup against the Allende government in Chile in 1973, after which General Pinochet enthusiastically implemented economic restructuring in accordance with Washington's wishes. One could say that Latin America was the lab where neoliberalism was tested.
The debt-leverage system set the stage for taking advantage of crises generated by currency speculation. When foreign currencies crash in the metastasized speculative market (and they can be crashed intentionally as they were in Asia in the 90s), nations are thrown into a maelstrom of instability – including hunger, the most volatile phenomenon of all. The lifeline to these nations' government's are massive loans in US dollars.
Lenders do not lend out of altruism. There is a payback plan (and it's called "structural adjustment").
The Dollar-Wall Street nexus can manipulate these emergencies to penetrate markets throughout the world, using the IMF as a lever with its conditional emergency loans. This "technique" was pioneered by the Reagan administration in response to the Mexican currency crisis of 1982.
Wikipedia:
The Latin American debt crisis was a financial crisis that occurred in the early 1980s (and for some countries starting in the 1970s), often known as the "lost decade", when Latin American countries reached a point where their foreign debt exceeded their earning power and they were not able to repay it.
August 1982, the Mexican government announced that it was unable to pay its external debt to private US financial institutions. During the renegotiation of payments, the US-dominated International Monetary Fund (IMF) granted rescue loans on the condition that Mexico's domestic economy (and the other Latin American nations swept into the current) be opened up ("liberalized") to foreign (read: US) investment (read: takeover). All for a debt taken to cover another debt to the same institutions. In day-to-day life, this is called loan-sharking.
These loans were a contingent solution, principally to ensure Wall Street was made whole, but the Reagan administration and Wall Street had stumbled into a new method of debt-leverage that took advantage of crisis in the periphery to drain additional value from foreign domestic economies into US businesses and financial institutions.
A condition of the loan is the payback plan, wherein local governments were responsible to force their own populations (and environments) to bear the burden for repaying the loans – higher, more regressive taxes, the elimination of social programs, and the suppression of unions and environmental regulations. These measures were named "structural adjustment programs" (SAP) by the IMF.
SAPs became the new norm.
Virtually all developing countries—particularly in Latin America and Africa, and increasingly in the transition countries of east and central Europe—have implemented or are in the process of acceding to SAPs.
These IMF SAPs are in effect a loan-sharking operation against almost 70 poor nations. IMF loans are denominated in US dollars, and have inexorably grown into larger and larger fractions of the national outlays of peripheral economies. This obligation – in the face of a crushing international economic sanction threat – to service burgeoning external debts using US dollars is precisely why these national economies are pressured to almost wholly export to the US – now the world consumer of last instance.
The Dollar-Wall Street Regime
Peter Gowan refers to the financial institutionalization of neoliberalism as the Dollar-Wall Street Regime.
[I]t is important to note how the two poles of this system — the Dollar and Wall Street — have re-enforced each other. First we can see how the new centrality of the dollar turned people towards Wall Street for finance. Because the dollar has been the dominant world currency, the great majority of states would want to hold the great bulk of their foreign currency reserves in dollars, placing them within the American financial system (or in London). Similarly, because many central commodities in the world economy were priced in and traded for dollars, those trading in such commodities would wish to raise their trade finance in New York and London.

-Gowan, p 19
The dollar's role was expanded across the world stage as something far more than currency, because it consumed the lion's share of international financial markets. The sheer size of the US economy and consequent immunity of Wall Street meant that for any world actor investing a lot of dollars, Wall Street was the default.
In this way, the strength of Wall Street has re-enforced the dominance of the dollar as an international currency.

-Gowan, p 19
The Bipartisan Consensus
Through all the gyrations of American policies for the world economy, the DWSR has remained firmly in place, constantly reproducing itself. In 1995 the dollar still remained overwhelmingly the dominant world currency: it comprised 61.5% of all central bank foreign exchange reserves; it was the currency in which 76.8% of all international bank loans were denominated, in which 39.5% of all international bond issues were denominated, and 44.3% of all Eurocurrency deposits; the dollar also served as the invoicing currency for 47.6% of world trade and was one of the two currencies in 83% of all foreign exchange transactions. And if intra-European transactions were eliminated from these figures, the dollar's dominance over all other transactions in the categories listed above becomes overwhelming.

-Gowan, p. 20
Financial regimes require political regimes, and vice versa. Contrary to the IMF and World Bank hype about the rising tide that would lift everyone's craft, the results in the peripheral nations were greater dependency, less self-determination, increased rural landlessness and urban poverty, and greater political repression.
Even today, in countries that are trying to gain self-determination, the structural web of neoliberalism continues to trap them. Subsistence and local agriculture are the keys to independence, but with dollar hegemony as a world system, agriculture has been transformed from subsistence and local production using smallholders, into far-flung monoculture plantations held by the rich, and worked by displaced peasants for wages. The product is for export, to get dollars for the international market, not for local consumption.
In Haiti's Artibonnite Valley, there is capacity for growing enough rice to feed the whole country. Instead, it is exported for dollars, and subsidized US rice is sold to displaced Haitians who, living in the city, have no access to their own subsistence.
The surplus peasantry – moved off the land by various enclosures – has moved into the sprawling, dangerously constructed slums of the cities, where some can be employed in sweat shops, and the rest are part of the "informal" economy – resulting in structured antagonisms with the authorities.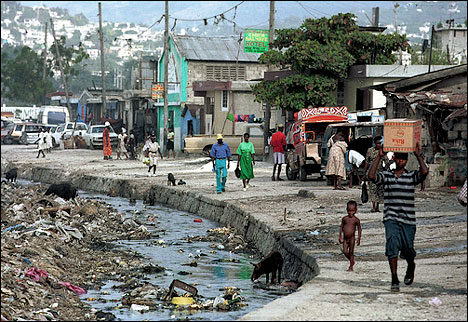 Independence, in effect, would mean de-coupling from the dollar, which no one can do when debts and oil markets are denominated in dollars.
The US political establishment is as locked into this paradigm as everyone else, however. No non-neoliberal candidate for the Chief Executive slot can even get through the Primary phase, excluded as they are by the astronomical costs of campaigns and the willingness of the major economic actors to continue that price escalation. John McCain and Barack Obama and George Bush and John Kerry and Al Gore, all took money from Wall Street; and Wall Street always butters both parties' bread in election years.
The US electoral system is one now thoroughly based on what Jamin Raskin and John Bonifaz termed "the wealth primary."
SUMMARIZING NEOLIBERALISM
No national income statistics today measure the most important asset on which classical economics focused: unearned income and unearned wealth.

-Michael Hudson
Neoliberalism has been called "globalization." That's a little deceptive, because it suggests that the principle beneficiaries of the system are scattered across the world equally. The actual system is US-controlled, and directed more than any other single thing toward consolidating and expanding the power of the American state in the world.
When the US economy runs payments surpluses with foreign countries, it insists that they pay for their foreign debts and ongoing trade deficits by opening up their markets and "restore balance" by selling their key public infrastructure, industries, mineral rights and commanding heights to US investors. But the US Government has blocked foreign countries from doing the same with the United States. This asymmetry has been a major factor causing the inequality between high US private-sector returns and low foreign official returns on their dollar holdings.
As in all generalized and highly stratified social systems, the richer entities and the poorer entities have become dependent upon one another – the poor on the rich for jobs and money to live, and the rich on the poor to do the grunt work to ensure continued accumulation. The rich also depend on the political weakness of the poor, which gives the rich access to more materials. The poor are trapped by poverty and landlessness. The rich have to constantly extend their power – using the poor as a resource – to protect themselves from fellow capitalists (or nations) in a dog-eat-dog competition. Behind the whole system is an arms race dynamic, as capitalists centers compete to survive.
In the US, which sits at the top of this global pyramid, the necessity to maintain dominance is further complicated by the fact that the US standard of living is based on the constant flow of cheap consumer inputs into the US from abroad, be these oil from Southwest Asia, household products from China, precious metals from Congo, or clothes manufactured in a Latin American maquiladora. Politicians in the US depend on the US population – which is the beneficiary of many of these "unequal exchange" inputs. Politicians cannot remain in office when that consumption level is forced to fall. So US leaders are boxed into the system in such a way that they are obliged to support, defend, and expand neoliberalism.
Neoliberalism, we have seen, is enforced in a variety of ways. It is enforced by dependency on the US dollar. It is enforced by external debt, which must be paid in dollars. It is enforced by sanctions. It is enforced by military means. It is enforced by proxy, using local elites to be the enforcers in their own countries. And it is sometimes, when its back is against the wall, enforced by coups.
Coups, however, have to be disappeared into lies and rationalizations, because the fact of a coup for neoliberalism contradicts the ideological claims of neoliberalism.
On the cover of David Harvey's book A Brief History of Neoliberalism, there are side by side photos of four people: Ronald Reagan, Margaret Thatcher, Deng Xiaoping, and Augosto Pinochet. These leaders are seen as the instrumental leaders for the development the whole neoliberal project, and together as emblematic of neoliberalism. The complexity of the relationships between them in this process is a subject excluded from this writing. I include it because it reminds us that while the ideology of neoliberalism has placed heavy emphasis on words like freedom, the actual practical development has included very heavy doses of naked authoritarianism.
The Bandaid over this gaping contradiction has been the claim that with economic "liberalization" (a word that conjures feelings of liberation and freedom), political "liberalization" will be its inevitable if eventual offspring. Absolutely nothing in the record, so far, has borne that out.
Harvey defines neoliberalism as "a class project … towards the restoration and consolidation of [ruling] class power."
Neoliberalism has been an initiative – beginning reactively in the 70s, and becoming self-organized by the time of the Reagan administration in the 80s – designed to shift the weight of social power back to the rich.
It is also a system designed in the United States, for the United States, to perpetuate US global power.
It's contradiction, according to Harvey, is the contradiction between capital's need for mobility and the geographic constraints of the state. To smooth over that contradiction, transnational institutions are required to administer a regulatory regime that transcends (though not by any means equally) interstate boundaries. And a transnational military-intelligence-covert operations establishment is required as back-up. With more than a thousand military installations around the world, the US provides the latter.
*
There is push-back from the periphery. Neoliberalism is synonymous with neocolonialism in peripheral-nation streets. Impoverishment leads to destabilization. Destabilization leads to more direct forms of social control – the truncheon and the teargas and the gun.
The US state backs up this global neoliberal regime with military power which can be employed at various places along what the military establishment calls the "spectrum of conflict." A coup d'etat finds its place somewhere on one end of that spectrum. A coup is a covert civil-military operation.
Sometimes, the colonial surrogates who are in charge need some help. And sometimes, the periphery just needs a reminder of who's in charge.
Every ten years or so, the U.S. needs to pick some crappy little country and throw it against the wall, just to show the world we mean business.

-Michael Ledeen, holder of the "Freedom Chair" at the American Enterprise Institute.
War is simply a heightened state of current neo-liberal policies of bringing a nation to its knees so as to pry open its resources for Western investment.
Hot Money Blues
Every day the equivalent of an entire year's GDP passes through the New York Clearing House and Chicago Mercantile Exchange in payment for trades in stocks and bonds, mortgages and packaged bank loans, forward purchase and repurchase contracts. Most of these trades take about as long as a roulette wheel takes to spin. They are driven neither by psychology nor by industrial technology, but are gambles based on computer-driven programs, or leveraged buyouts of existing assets.
We have a passing acquaintance now with the ideology and practice of neoliberalism. Now we need a basic aerial view of it.
*
Capital, that is, money that is invested with the hope of a return, can be generally divided into two categories: productive capital and finance capital. Productive capital is investment in making something, an actual product or service. Finance capital is money invested for a royalty. That can be loans to productive capital, but the goal is not whether anything is produced or not; it is whether there will be a return on the investment (ROI) in the form of royalties (for loans, the royalty is interest).
Finance capital can be further subdivided into two poles: investment and speculation.
Productive capital is invested in an actual enterprise that provides a tangible commodity. That can be canned tuna or vacation packages, but the investors know they have to wait for their return until the business turns a profit. The term of art for long-term investment is "slow money."
Speculation is "playing the markets," a form of high-end gambling.
The ROI for speculators does not wait for a factory to get built, break even, and begin making money. Speculative capital's royalties are in strategically buying in and out of fluctuating markets, fast. This is called "hot money."
With derivatives trading, royalties can be won or lost by making bets on the fluctuations in the markets. "Hot money," because it can't be allowed to cool off. Speculators are investing and dis-investing second by second to gain an edge on financial markets, where values can be inflated by the psychology of herd behavior (including stampedes), and by strategic opportunism. It creates vast oceans of fictional value, that is, a lot more flying money than there is material economy to roost on. So far, this always turns out badly.
This applies to the Dutch tulip bubble of 1867. It applies to the global housing bubble of the early 21st Century.
The point is, the development of neoliberalism has privileged finance capital, and it has privileged the speculative pole of finance capitalism. And so the whole project has run into serial crises, more volatile since the introduction of the microchip. In 1997, people with computers in New York plunged East Asia into a deadly economic spiral. Some people have taken to calling this "casino capitalism."
Walden Bello noted that in 2005 there was $46 trillion in hot-money circulation that year.
Most economic formulas would conclude that trillions of dollars without material assets to back them up might lead to a sell-off of the currency. Think of all the money together as a value of X. Think then of all the commodities available together as Y. If X equals Y, prices are stable. But if X equals 2Y, the prices drop to about half. Too many commodities circulating across against too little money. If 2X equals Y, prices will go up. Too much money circulating against too few commodities, and the purchasing value of each dollar has dropped by half. If you hold dollars, and they exceed the global commodities basket, the dollars should be sold down on currency markets. If not, then the dollars are circulated offline from the material economy… in speculation. This is how bubbles get inflated.
The subject of several books is how the recent and exotic permutations of the betting instruments became the anchor that dragged the entire global economy after it in the 21st Century plunge. But that is only an aside here.
The increase in debt alone should have triggered a dollar-run and terminal stock market crash. The reason it did not is that capitalists around the globe are now completely dependent upon Wall Street's survival; and they know it. The system had to be internationalized in order to continue to privatize gains (growth) and socialize losses (externalities). Now everyone lives in the dollar economy, and they have to send those dollars (lots of dollars) somewhere to save and invest. That somewhere is the US.
The US is still far and away the largest economy in the world, and size matters.
Not only is the US economy still the largest by far, it also hosts the most important new high-tech arenas of capital accumulation, and leads the world by far in research and development, while American MNCs directly and indirectly account for so large a proportion of world-wide employment, production and trade.
The rest of the world is the bank, and the US owes the bank… a lot. The bank definitely has the problem.
China owns $877.5 billion in US debt, mostly as treasury bills. Japan owns $768.5 billion. UK owns $233.5 billion. Oil exporting nations owns $218.8 billion. Brazil owns $170.8 billion (a good reason Lula de Silva – the former leftist – is adhering to the IMF blueprint). Hong Kong owns $152.4 billion. Taiwan owns $124.1 billion. Russia owns $120.2 billion. Who exactly is going to start the run on the dollar without committing financial suicide?
The world is not yet ready to abandon neoliberalism, nor ready to embrace whatever post-neoliberalism shakes out to be.
Unfortunately, the Obama administration is doing nothing new.
'The One-Trick Pony' or "Change You Can Believe In'
This treatment of the coup is about what neoliberalism has done to Latin America. That doesn't mean neoliberalism is only hurting people outside the US. The current crisis in the US, which appears to be rolling out into a catastrophic cascade, is very much "brought to you by Neoliberalism." There are serious questions now, and not from professional alarmists, about whether a new basis is available to remount as fresh accumulation regime. Neoliberalism is backed into a corner now; the gloves will come off. That is why we are at war, overt and covert, all over the world.
The neoliberal orthodoxy has not been abandoned, even after the 2007 financial blowout in the US. Barack Obama was sworn in as the crisis hit the US like an earthquake; and he summarily re-hired the exact same people who had set the economy up for it, Wall Street neoliberals: Timothy Geithner as Commerce Secretary and Lawrence Summers as Director of the White House Economic Council.
There is a sense of desperation about US policy now, foreign and domestic. Neoliberalism has evolved from transmissible crisis to core-crisis. But the US political-financial establishment has become its own one-trick pony. It just periodically bails out Wall Street when the system sheds value. Everyone else eats the price tag. Obama is bailing out Wall Street (as it has been bailed out six times since Reagan).
Bailouts make Wall Street whole; and coups are an external backstop when people begin to abandon the Washington Consensus. In 2009, Hillary Clinton managed the third US-supported coup in the last eight years. Between April 2002 and June 2009, there were three US-supported coups d'etat. That's a coup every 28.6 months. This suggests that coups d'etat are still an essential feature of US foreign policy.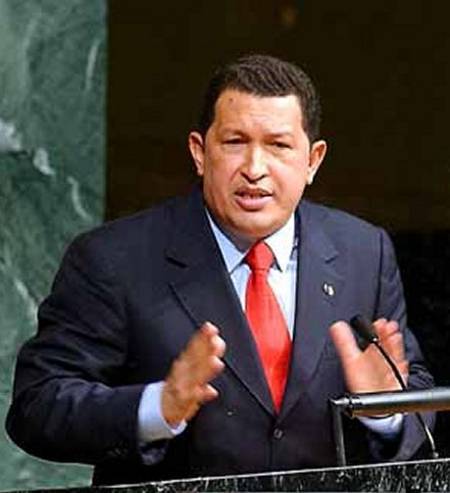 The Honduran coup is not the last act in Latin America, however. The outcome of the crisis of neoliberalism is not yet known, and the US has become a weaker (and some would argue, more dangerous) actor.
Resistance to neoliberalism has pushed Latin America further into the hands of more and more "anti-neoliberals." Iraq and Afghanistan blunted the ability of the US to intervene successfully in the region. The economic crisis that is driving the nail into neoliberalism's coffin has come home to roost with a terrible and still growing force; and it will be an even greater diversion of energy than the wars, which are still going on and going badly.
The Obama administration will – so long as it has a choice – remain neoliberal, even as we head into an unknown epoch of post-neoliberalism. Michael Lind of Salon wrote:
By the time Barack Obama was inaugurated, the neoliberal capture of the presidential branch of the Democratic Party was complete. Instead of presiding over an administration with diverse economic views, Obama froze out progressives, except for Jared Bernstein in the vice-president's office, and surrounded himself with neoliberal protégés of Robert Rubin like Larry Summers and Tim Geithner. The fact that Robert Rubin's son James helped select Obama's economic team may not be irrelevant.
There is a good reason that the foreign policy establishment of the Obama administration has changed little from the Bush foreign policy establishment (with strong representation from the Reagan era).
Hillary Clinton is a member of the same economic theocracy.
Another One-Trick Pony (The Coup Cadre)
In 2010 post-coup, Honduras, and its border states, Guatemala, El Salvador, and Nicaragua, the US Ambassadors were respectively Hugo Llorens, Stephen McFarland, (Chargé d'Affaires ad interim) Robert Blau, and Robert Callahan.
Llorens was Bush II's national security adviser on Latin America, and a shaker and mover behind the FTAA.
McFarland was another Bush appointee, sworn in by then Deputy Secretary of State and Reagan hatchet-man, John Negroponte (who now serves as a Clinton adviser).
Robert Blau (an interim Obama appointee) was an old friend of Llorens, who he worked with together under Otto Reich when he was Assistant Secretary of State for the Western Hemisphere.
Robert Callahan, another Negroponte colleague from Negroponte's Honduras days, was actually involved in the management of Reagan's cross-border "Contra" war against Nicaragua in the 80s. The latter appointment was seen by Nicaraguans as highly provocative.

John Negroponte
Not only are these committed neoliberals, their collective genealogy traces well past Bush II and into the Reagan administration's Central American covert operations era.
Neoliberalism was new with Reagan. It has matured – or some might say, decayed – since then. Clinton's State Department has a bigger problem at home than Reagan ever did with the worst economic crisis in the United States since the Great Depression. And that's part of the coup context, too. Honduras was the first post-crash coup for the US., but it was engineered by the Reagan coup-cadre – about which we will talk at length further along – demonstrating something more revealing than the shared amorality of the two US political parties with regard to Latin American: the neoliberal establishment is a one-trick pony in a changing world. It is based fundamentally not on force, which is always the last resort, but on the leverage of debt.
Life and Debt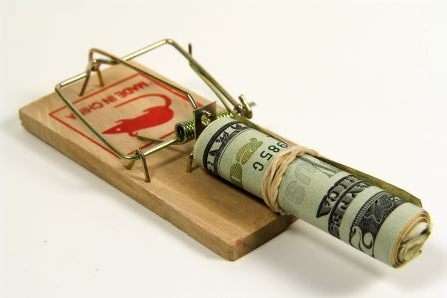 Debt as been denounced ever since the Hebrew Scriptures as an instrument for taking land, liberty, and lives. It is being used today for exactly those same purposes. Debt is not only a burden laid on the suffering, peripheral nations; debt has become the principle form of social control inside the United States. To reflate investor bubbles, easy credit was offered to the American public, the unspoken assumption being that this fictional value created by the speculative markets' rampage could not disappear. Here is an astonishingly straightforward quote from the Federal Reserve Bank of San Francisco:
U.S. household leverage, as measured by the ratio of debt to personal disposable income, increased modestly from 55% in 1960 to 65% by the mid-1980s. Then, over the next two decades, leverage proceeded to more than double, reaching an all-time high of 133% in 2007. That dramatic rise in debt was accompanied by a steady decline in the personal saving rate. The combination of higher debt and lower saving enabled personal consumption expenditures to grow faster than disposable income, providing a significant boost to U.S. economic growth over the period.
Debt=growth. Your debt = my growth. If ever there was a single unifying experience that encompasses the people of the United States and the people of Latin America, the people of East and West Asia, the people of Africa and of the Island States, it is this: Wall Street is the creditor we work our asses off to pay.
The great majority of financial income is lent out to load yet more property and income streams down with debt. The economy's bottom 90 percent is driven increasingly into debt to the wealthiest 10 percent.

This recycling of debt service and financial gains (and government bailout grants) into new loans reaches its limit at the point where debt service ends up absorbing the entire economic surplus, leaving no cash flow for new capital investment.

-Michael Hudson
Untaxed revenues are not used to upgrade technology or replace business losses. It is used to service debt.
No seed money is left, no revenue for governments to spend on infrastructure because all is earmarked to pay bondholders. Families are unable to afford an education or save for their retirement. The economy collapses.
What the Dollar-Wall Street Regime – headed by the Federal Reserve Chair and the Executive Branch – has done so far is repeatedly bail out Wall Street and reflate financial bubbles. When billions, even trillions, are lost, the public has been forced to pick up the tab.
This is the basic neoliberal formula, without the ideological window-dressing: (1) privatize the gains, and (2) socialize the losses.
Neoliberalism is about power. That power can be described in plain terms: a few people are making a lot of money by doing nothing. That money is then a claim on the rest of us and the earth. Fortunately or unfortunately, this is not a permanent condition. It is a self-cannibalizing system. It is a burned bridge of suffering. We suffer while it's there, and we will suffer when it burns.
The Obama administration inherited this situation, but his list of economic advisers is not consistent with a "change" agenda. Paul Volcker now advises Barack Obama on the economy. Paul Volcker was once the adviser to Ronald Reagan. Volker began Latin America's harsh introduction to "structural adjustment."

Paul Volker
<

Volker and Friend
The Volcker Shock
Anyone who believes exponential growth can go on forever in a finite world is either a madman or an economist.

-Kenneth Boulding
Paul Volcker is an economist who was the Chairman of the Federal Reserve under Presidents Carter and Reagan. Interestingly enough, he is now an economic adviser to President Barack Obama. His name will forever be associated with something called stagflation, a bastardized combination of the terms stagnation and inflation.
When economies are in recession (stagnation) and prices continue to rise (inflation), orthodox economists are flummoxed, because the standard practice in an economy under the control of a central bank has been to increase interest rates when employment approaches 100%, the fear being that full employment will drive wages up, creating inflation. Raising interest rates slows down investment and causes the economy to shed jobs, reducing the market power of labor and thereby lowering wages. Imposed stagnation is seen as the weapon against inflation –anathema to finance capital, because rising prices reduce the purchasing power of lenders' return on investment (ROI). Simultaneous inflation and recession cuts into the ROI of both finance capital and productive capital. It also leaves the Fed at an impasse.
The pony's one trick doesn't work.
With the stagflation of the late 70s and early 80s, Volker confronted this dilemma by coming down on the side of finance capital, and he chose to go after inflation. He raised the interest rate on all US loans to 21%, which effectively shifted much of the pain offshore. This policy devastated developing nations, and came to be known as "the Volcker Shock."
To be sure, the end of fixed exchange rates and a dollar nominally tied to gold now meant that it had to be accepted internationally that the returns to those who held US assets would reflect the fluctuating value of US dollars in currency markets. But the commitment by the Federal Reserve and Treasury to an anti-inflation priority via the founding act of neoliberalism – the 'Volcker shock 'of 1979 – assuaged that problem.
[The] 'Volcker Shock,' which raised interest on all US loans to a debilitating 21%. Developmentalist countries that had had their feet swept out from under them in the 70′s (their main industries privatised, protections removed through free trade and foreign pressure) were now in even less of a position to defect from international pressure.

In this pattern, repayment schedules and debt restructuring are allowed only in conjunction with further free market policy enactment, the dreaded conditionality of IMF loans
The Volker Shock doctrine shocked Latin America to its knees.
Latin America's trauma of the 70s,80s, and 90s hit home as debt, debt that was rolled down on top of the general population with the IMF's "austerity measures."
Latin America Gets Adjusted… and Adjusted
Since 1973, when the oil states raised prices, they were flush with excess (and now unpegged) dollars, which were repatriated to Wall Street for investment. That glut of dollars – itching to be invested by Wall Street – was used in Latin America to make massive development loans, with "flexible" interest rates (subprime loans anyone?), when the economy seemed to be on the upswing in the early 70s. Easy credit became the name of the game. Mexico, Brazil, and Argentina were the biggest borrowers. Sovereign debt in Latin America quadrupled.
By 1980, the economy slid into recession, with inflation, and Volcker raised interest rates to curb inflation, ballooning debt repayments in Latin America, grinding their economies to a halt, and throwing these large borrowers into crisis. In 1982, Mexico announced that it could not pay its debt, and Brazil, Venezuela, and Argentina followed in short order. As a result, their currencies were devalued on the speculative market, wiping out the purchasing power of the Latin American street.
This was an emergency for Wall Street too, since the Fed's decision to raise rates had just bankrupted its own cash cow in the region. Reagan's Secretary of Treasury, James Baker, was obliged to make Wall Street whole if the crisis were to be contained in Latin American and not allowed to spread to the US. The solution was debt restructuring, in conjunction with bail-out loans to which "conditionalities" were attached. These conditional loans were coordinated by the IMF and the World Bank, and each installment of each loan was released only after the recipient nation had performed one of the "structural adjustments."
Among those conditional adjustments to release the rescue loans were wage cuts to the public sector, elimination of social programs and domestic subsidies, an increase in regressive taxation, deregulation (of labor and environmental standards), privatization (especially of public utilities), drastic reduction of import tariffs, and access to the domestic market by foreign investors. The model was Chile, where nascent neoliberal practices had been adopted by the military dictatorship of Augosto Pinochet.
The United States had found a way, via the institutional framework of the IMF/World Bank, to shift the crisis onto Latin America and to re-colonize Latin America in one fell swoop.
In Latin America, the 1980s were termed "the lost decade" of development largely because, instead of continuing to grow, per capita GNP and income receded to the levels of the mid 1970s [and in Africa to that of the pre-independence level of the early 1960s]. Per capita income declines of 10 to 15 percent were common and reached or exceeded 25 percent in Argentina and Peru.

Immiserization became rampant in part because of the debt service and massive export of capital to help support the banks, the financial system, and the economy generally in the North … during the present world … economic crisis, which began in the mid 1960s (Frank 1980, 1988). In Latin America, but also in some other parts of the Third World, the 1990s threaten to become the "decade of cholera."
The late Andre Gunder Frank wrote the above in 1992, in an article decrying the debt trap into which Latin America had fallen.
All of these countries practiced export led [non]growth. Moreover, [often under IMF/World Bank pressure] they socialized the burden of the debt, which had been largely contracted and/or taken advantage of privately. Quite independently of ideology or anything else, the "Communist" regimes in the East and the "military fascist" ones in the South, as well as their respective successor "democratic" regimes in both have all handled their debt crises in exactly the same way. At the same time, the debt was and remains an instrument successfully used by the West to force the South and the East to drop out of the race to compete in the world economy.
The direction of Dollar-Wall Street policy by the 90s was annexation and integration of all capital markets. Western Europe began to integrate Eastern Europe as its new exploitable periphery, and the United States turned to regional annexation and integration policies in this hemisphere, the North American Free Trade Agreement (NAFTA) becoming emblematic of this trend for both advocate and opposition.
Where useful, Canadian and Latin American raw materials, labor and capital are to fuel the decelerating US locomotive. Moreover, this American jigsaw puzzle is already being assembled piecemeal. First the US-Canada free trade agreement. Then the US-Mexico one and the trilateral ones involving the same countries. Serving as a link in the meantime, Mexico makes a trade agreement with the Central American states, a looser one with Venezuela and Colombia, and still another one with more distant Chile. In the Southern cone, Mercosur establishes ties among Brazil, Argentina, Uruguay and Paraguay. However, these economies, and those of Peru, Ecuador and Bolivia are not likely to find much place in an economic bloc dominated by the United States. Either they pose too much of a competitive threat, like Sao Paulo; or they have little to contribute beyond drugs.
By the 1990s neoliberalism had penetrated all of Latin America, beginning with Pinochet, but eventually swallowing nationalist and social democratic regimes as well: Fujimori's Peru, Menem's Argentina, Paz's Bolivia, the Chilean Socialist Party, Mexico's PRI, Brazil's Social Democratic Party, and Venezuela's Democratic Action Party.
Crises in big nations prevented its consolidation. Mexico in 1994. Brazil in 1999. Argentina in 2002.
The ravages of hyper-inflation were checked, but this was only achieved at tremendous cost. For a decade or more, economic development was paralysed, the concentration of wealth grew greater than ever before, public deficits spiralled and the mass of the population had their rights expropriated, most notably in the domain of employment and labour relations. On top of this, national debt expanded exponentially and regional economies became highly vulnerable, helplessly exposed to attack from speculators, as these three countries each discovered to their cost.

It was neoliberalism's poor economic performance in Latin America that in many instances led to the defeats of the governments that pioneered it. These include Alberto Fujimori in Peru, Fernando Henrique Cardoso in Brazil, Menem in Argentina, Carlos Andrés Pérez in Venezuela and Gonzalo Sánchez de Lozada in Bolivia; also gone are the PRI in Mexico, the alternation of the two traditional parties in Uruguay, and the politicians who tried to perpetuate neoliberalism even beyond its collapse, including Fernando De la Rúa in Argentina, Lucio Gutiérrez in Ecuador and Sánchez de Lozada in Bolivia. It is also important to note the isolation of those leaders who struggle to keep it going, such as Felipe Calderón in Mexico, Michelle Bachelet in Chile, Alan García in Peru, or Alfonso Uribe in Colombia.
In 1994, the IMF organized a bail out of Mexico after NAFTA triggered a peso-devaluation. In fact, it was Wall Street, the creditor, who was bailed out at the expense of US taxpayers. In 1997, the Clinton-engineered Asian crisis threw Latin America into another slump. By 1998, Argentina threatened to default on its now un-payable IMF loans, and the nation collapsed into almost four years of unemployment and deflation, plunging half the population into poverty. Ripples were felt in Brazil, Ecuador, Paraguay, Chile, and Mexico.
For every action there is a reaction. The Latin Americans reacted.
The Colonel
In response to these crashes and their social costs, an entirely new "anti-globalization" movement was emerging – ironically – around the world; and It was particularly sharp in Latin America. Chilean Marta Harnecker wrote:
Latin America was the first region in the world where neoliberal policies were introduced. Chile, my country, was used as a testing ground before Prime Minister Margaret Thatcher's government implemented them in the United Kingdom. But Latin America was also the first region in the world where these policies came to be rejected as policies that only served to increase poverty, aggravate social inequalities, destroy the environment, and weaken working-class and popular movements in general.

It was in our subcontinent that left and progressive forces first began to rally after the collapse of socialism in Eastern Europe and the Soviet Union. After more than two decades of suffering, new hope was born. At first, this took the shape of struggles to resist neoliberal policies, but after a few years, people went on the offensive, conquering arenas of power.
Popular resentment about deteriorating social conditions was characterized by a strong consciousness of Neoliberalism, as a formed concept; this grasp of the international relations of neoliberalism opened the door to an emergent popular politics that successfully contested for state power, as Harnecker points out. For good or ill, since history has not yet provided us an answer to some key questions: Is state power effective, given its scale and complexity and embeddedness with day-to-day economics? And does the modernist development model, that left-leaning political leadership in Latin America have embraced, inhere with its own weaknesses, weaknesses that could force leaders back into the arms of the Dollar-Wall Street Regime, or weaknesses in industrial development altogether, i.e., dependency on foreign goods from gasoline to steel to staple foods. Time will tell if new leadership in Latin America can begin with the gains of greater political independence and move toward material independence.
One of the keys to this Latin American initiative to reorganize was the election of an ex-Paratroop Lieutenant Colonel to the Presidency of Venezuela, Hugo Rafael Chavez Frias. Mixed-race in Venezuela's racially-stratified society, and literally born in a mud hut, Chavez was elected in 1998 with 56% of the Venezuelan vote.
Chavez was remembered from his own leadership of a coup attempt against the Venezuelan government in 1992, as a member of the active duty Army and the left-nationalist formation, the Fifth Republic Movement (MVR). That coup, which failed, was organized in response to massive cuts by the Perez government to social services, after Perez had been elected on an anti-IMF/Structural-Adjustment platform. When Perez ordered the structural adjustment cuts, there were mass demonstrations, to which the Perez government responded with violence. While the coup failed, the popular movement that supported its aims metastasized. And the singing, profane, gregarious "black" colonel became the face of that movement.
Chavez himself is a professed Christian who once considered the priesthood; and he says his views on social issues reflect his understanding of the Gospels as liberation texts. He entered the Venezuelan Academy of Military Sciences at seventeen, and during his military career with the paratroopers went to graduate school for political science at Simon Bolivar University. He also wrote poetry, stories, and plays. In 1983, he organized a political organization whose first members were fellow military officers, the Revolutionary Bolivarian Movement (MBR-200). This would evolve into the Movement for the Fifth Republic (MVR) that would organize the failed coup attempt of 1992.
The 1992 coup attempt tacitly assumed that there was no route to independence through elections or legislation. The growth of this movement after 1992, however, would prove them wrong. When Chavez ran for the presidency in 1998, in spite of everything the establishment had to throw at him, he trounced his opposition.
His election was taken by the Venezuelan elite as well as Washington to be a direct and dangerous rebuke.
Chavismo
Some Latin American leaders have decided to try building a regional alternative with the Bolivian Alliance for the Americas (ALBA), an initiative of Venezuela and Cuba to construct an alternative trade alliance to the neoliberal Free Trade Area of the Americas (FTAA) agreement.
This is one factor that led directly to the coup against Manuel Zelaya; and it was explicitly stated as a reason by the Honduran coup-makers. ALBA is routinely mischaracterized by the US press as "anti-American." It is actually anti-neoliberal.
Here is an interesting quite from the International Monetary Fund's own website:
If you have difficulty distinguishing the World Bank from the International Monetary Fund, you are not alone. Most people have only the vaguest idea of what these institutions do, and very few people indeed could, if pressed on the point, say why and how they differ…

Superficially the Bank and IMF exhibit many common characteristics. Both are in a sense owned and directed by the governments of member nations. The People's Republic of China, by far the most populous state on earth, is a member, as is the world's largest industrial power (the United States). In fact, virtually every country on earth is a member of both institutions. Both institutions concern themselves with economic issues… Staff members of both the Bank and IMF often appear at international conferences, speaking the same recondite language of the economics and development professions, or are reported in the media to be negotiating involved and somewhat mystifying programs of economic adjustment with ministers of finance or other government officials. The two institutions hold joint annual meetings, which the news media cover extensively. Both have headquarters in Washington, D.C., where popular confusion over what they do and how they differ is about as pronounced as everywhere else. For many years both occupied the same building and even now, though located on opposite sides of a street very near the White House, they share a common library and other facilities, regularly exchange economic data, sometimes present joint seminars, daily hold informal meetings, and occasionally send out joint missions to member countries.

Despite these and other similarities, however, the Bank and the IMF remain distinct. The fundamental difference is this: the Bank is primarily a development institution; the IMF is a cooperative institution that seeks to maintain an orderly system of payments and receipts between nations.
The World Bank directs "development." The IMF is a debt enforcement agency. The World Bank tells nations what they can do (like convert national agriculture into export platforms to get dollars). The IMF is the world's loan shark.
Hugo Chavez was elected to the presidency of Venezuela in 1999 (referred to by the US press as "came to power," a term designed to reinforce the impression of a Latin American strong man). He ran on an anti-neoliberal platform, and was elected with 56% of the vote. He immediately called a national referendum to change the Constitution that he saw as supporting the Venezuelan oligarchy. This is exactly what Zelaya was falsely accused of before the Honduras coup in 2009 (his was a non-binding referendum on whether to convene a Constitutional Assembly). At any rate, the referendum passed the new Constitution, and Chavez was re-elected in 2004 with 62% of the vote against two opposition candidates.
For the first time since the overthrow of Chile's Salvador Allende in 1973, a challenge had arisen to US hegemony in this hemisphere. A popular leader who promised redistributionist policies at home, openly criticized the neoliberal model, and presided over an enormous deposit of oil wealth. And a lot of things began to happen.
A new constitution was adopted.
The new constitution included increased protections for indigenous peoples and women, and gave rights to education, housing, healthcare, food. It added new environmental protections, and increased requirements for government transparency. It increased in the presidential term from five to six years, allowed people to recall presidents by referendum, and added a new presidential two-term limit. It converted the bicameral National Assembly into a unicameral legislature. It also renamed the country to República Bolivariana de Venezuela. Elections for all elected government positions followed in 2000 under the new constitution, including the 2000 presidential election.
Eighty percent of Venezuelan voters passed the new constitution, and learning the Constitution was integrated into adult literacy programs. With revenues from a nationalized oil company, Chavez began a comprehensive experiment in local governance with neighborhood-based popular assemblies called Bolivarian Circles. National funds were awarded to the assemblies, who then made local decisions about spending priorities. The combination of charismatic leader, oil money as a backstop, decentralized socialist politics, and the general conjuncture in Latin America created a phenomenon in Venezuelan politics called chavismo.
(2007) Chavismo is not an adequate description of the social movement that makes up Chávez's political base, since many organizations predate his rise to political power, and their leaders and cadre have a sophisticated understanding of their relationship with Chávez. Over the last couple of years, a number of social scientists have done field work in urban barrios, and their findings confirm that this synergy between the central government and participatory local organizations has expanded, not restricted, debate and that democracy is thriving in Venezuela. Chavismo has ripped open the straitjacket of post-cold war Latin American discourse, particularly the taboo against government regulation of the economy and economic redistribution. Public policy, including economic policy, is now open to discussion and, importantly, popular influence. This is in sharp contrast to Costa Rica, where a few months ago its Supreme Court, with the support of its executive branch, prohibited public universities from not just opposing but even debating the Central American Free Trade Agreement, which soon won a national referendum by a razor-thin margin.
Chavez then committed an unforgiveable sin. He embraced socialist Cuba as a regional friend. In 2000, President Hugo Chavez and President Fidel Castro signed an accord. Venezuela would provide Cuba with 53,000 barrels of preferentially priced oil a day. Cuba would send 20,000 medical and educational cadre to work with the rural poor in Venezuela.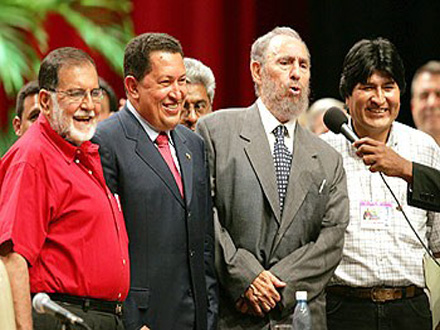 IMF Begins to Lose its Grip – ALBA
The Bolivarian Alliance for the Peoples of Our America (Spanish: Alianza Bolivariana para los Pueblos de Nuestra América, or ALBA) is an international cooperation organization based on the idea of social, political, and economic integration between the countries of Latin America and the Caribbean. It is associated with socialist and social democratic governments and is an attempt at regional economic integration based on a vision of social welfare, bartering and mutual economic aid, rather than trade liberalization as with free trade agreements. ALBA nations are in the process of introducing a new regional currency, the SUCRE. It is intended to be the common virtual currency by 2010 and eventually a hard currency. On Tuesday, July 6, 2010, Venezuela and Ecuador conducted the first bilateral trade deal between two ALBA countries using the new trading currency, the Sucre, instead of the US dollar.

-Wikipedia, ALBA
In the wake of the 2002 coup reversal, the Chavez government of Venezuela began to formalize its agreements with Cuba into the framework for the Bolivarian Alliance for the Americas (ALBA). In 2004, Venezuela crafted a trade agreement between itself and Cuba based on a standing agreement. In exchange for favorably-priced Venezuelan oil, Cuba assists Venezuela with medical clinics established in Venezuela's poorest areas. This marked the germination of the ALBA alliance, with only two member states. In 2006, gas-rich Bolivia joined. In 2008, Nicaragua joined, even though it was also a signatory to the US neoliberal initiative, the Central American Free Trade Agreement (CAFTA). In 2008, Dominica joined ALBA; he same year Honduras signed an agreement to join. After the June 2009 coup, that agreement was nullified, which would have provided cut-rate petroleum, additional medical care, and upgrading of transportation infrastructure to Hondurans. In June 2009, the same month as the coup in Honduras, Antigua and Barbuda, as well as Saint Vincent and the Grenadines joined the alliance.
ALBA was very new and very small, but it was gaining traction, and because Hugo Chavez was using Venezuelan oil wealth to create some different facts on the ground.
ALBA currently covers a joint population of 69,513,221. If the election of Andrés Manuel López Obrador had not been stolen in 2006 (citation http://www.alternet.org/story/39763/ ), and if Obrado had chosen to join ALBA, the number would have grown to 175,864, 161. If Brazil were to join, that number would explode to 261,484,727. Chile. Argentina. This is the stuff of neoliberal nightmares.
Venezuela had also set about using its ample oil revenues – boosted by rising oil prices – to assist fellow Latin American states in escaping the IMF debt-trap. This was considered apostasy by the whole neoliberal establishment, and dangerous because Venezuela had amassed foreign exchange reserves of around $30 billion.
Venezuela bought $5 billion in Argentine bonds to assist that government paying down the principle on its IMF debt. http://en.wikipedia.org/wiki/Argentine_debt_restructuring In Ecuador, Venezuela offered to buy $300 million in bonds, but when the Ecuadoran bonds strengthened, Ecuador only asked to sell $25 million. Bolivia was given a loan of $100 million to support its new land reform policies.
The damage to the IMF was not regional, but international. From a high in 2004 of $81 billion in outstanding loans, the IMF portfolio shrank to $11.8 billion, with Turkey alone accounting for 75% of that portfolio.
Paul McIvor describes the wounds of the IMF at the hands of Venezuela:
[T]he IMF's influence in the region is on the decline. In 2005, the Fund placed 80 per cent of its loans in Latin America but this year that amount is down to a mere one per cent, or $50 million. While there has been no economic miracle, enabling countries like Bolivia and Ecuador, which owe $5.9 billion and $10 billion respectively, to pay off their foreign debts, a new lender has entered the picture – Hugo Chavez and the Venezuelan petro-economy.

So far, Chavez has loaned $2.5 billion to Argentina and is close to providing $500 million to ease the Ecuadorian debt crunch and $1.5 billion to help Evo Morales stabilize the situation in Bolivia. Venezuela is also floating a bond offering jointly with Argentina, following last November's successful $1 billion issue. Chavez has proposed institutionalizing this lending with a regional organization he calls the Banco del Sur.

This is bad news for the IMF, which has been forced to consider selling off part of its gold reserves to cover losses from its lending operations. More fundamentally, it is bad news for the United States, whose Treasury is the largest shareholder in the IMF. Historically, the IMF and the World Bank have been effective in promoting the 'Washington Consensus' – a sort of economic shock treatment intended to put countries like Argentina on the path to economic growth. Typically, countries would have to submit to structural adjustments, privatization and austerity measures to obtain a loan from the IMF.
ALBA's architects appear to understand that food security/food independence is an absolute precondition of any meaningful notion of independence, Venezuela, Cuba, Nicaragua, and Bolivia signed a series of agreements on mutual agricultural development, joint food distribution, and a $100 million food security fund.
Food security and food independence are still not part of mainstream discourse on international relations, even on the left. But it is at the center of the debt-leverage regime in a world transformed by the so-called Green Revolution, where agriculture has been converted into a dollar-making machine using hydrocarbon-heavy monocropping of export commodities.
Not only has this cut into local agriculture, it has devastated much of the arable land for future local agriculture, and thereby created an even more urgent dependency on the status quo. Dependency for food. This is where the rubber meets the road in politics, as anyone who has ever witnessed a food riot can tell you. Hungry people become disorderly, fast.
Without steady, massive flows of food along the existing circuits of capital, populations would starve. This counts as an editorial aside, I suppose, but it seems unlikely that any program which attempts to break with dependency on a US-dominated world system can succeed, unless and until a locally-based, resilience-oriented food system has been developed. Recall Haiti, where the Artibonnite Valley can grow enough rice to feed Haiti, the rice is exported; and Haitians buy the inflated, subsidized rice of East Texas to survive.
The real danger in Latin America posed by the approaching hot-money abyss in the US is not a shift in statistics, but a crash resulting in the total destabilization of nations. Subsistence is still possible for the peasantry of these nations, but for the growing urban population, a cutoff in capital flows would certainly result in mass hunger and the violence that goes with it.
ALBA was not conceived as a counter to the United States. It was conceived of as a lifeboat. Time will tell, because the wolves of deflation are howling each day closer to the IMF campfire.
With the United States importing around 1/9 of its oil from Venezuela, and with the US being Venezuela's biggest oil customer, Venezuela has proven resistant to pressure; but it is also uniquely vulnerable to changes in oil prices. During the Cold War, the US convinced Saudi Arabia to drop oil prices as a strategic weapon against the Soviet Union's single biggest source of development capital – oil. On the other hand, oil proved two years ago that it is a fine investment opportunity when the prices are run upon oil to reflate a financial bubble. Higher oil prices, if necessary to extend the life of Wall Street, will also be another boom for Venezuela.
The Class Traitor
In August, 2008, President Manuel Zelaya of Honduras signed an agreement in which Honduras would join ALBA. Ten months later, he would be kidnapped and sent to Costa Rica.
He seems an unlikely "leftist," as he would come to be known. He was the offspring of oligarchs, his family being big players in the ranching and timber businesses. He joined a centrist party, had a quiet, nondescript career in the legislature, and was elected as a conservative. He was once actually the director of the Honduran Chamber of Commerce (COHEP) which was deeply involved in the coup against him. As President, he began by supporting CAFTA even in the face of widespread and vocal opposition at home.
Zelaya inherited a broken Honduran economy and a restless society.
During the first 32 months of his government, Zelaya faced at least 722 social conflicts of varying magnitude, including the national civic strikes of 2008 which paralyzed the country over demands such as price controls on basic foodstuffs, keeping potable water projects away from municipal control, and the approval of an increase in the minimum wage.
It was the organization and vigor of the social movements that forced Zelaya to take notice, but it was the new regional context that provided Zelaya with alternatives. At his domestic back, the organized resistance was explicitly against neoliberalism. At his front was ALBA.
In a country in which the two main parties can only be distinguished by the color of their logos, the popular organizations have bet on the construction of a truly different country: one which abandons the path of neoliberalism. On the way, they made their president into a politician different from the one he was when he came to power.

-Luis Hernandez Navarro
ALBA ensured Honduras a steady supply of 20,000 barrels of oil a day at preferential prices and interest rates.
The oil crisis that erupted in Honduras finally convinced Zelaya to change course. US companies, which monopolized the business of importing oil to the country, manipulated prices and created an artificial shortage in the fuel supply. Protests and strikes which left Honduras on the verge of a full-blown crisis made Zelaya temporarily expropriate oil storages owned by US companies.
Honduras also received a mass shipment of farm equipment, and had 40,000 Hondurans' vision improved or restored by the Cuban-Venezuelan project, Operation Miracle. Thousands of Honduran adults were recipients of literacy training through the ALBA "Yes, I Can" Program.
Zelaya had fallen out of a lose-lose into a win-win situation. There would be a rapid resolution to a number of social problems, and now his embrace of the ALBA initiative mollified the growing left-upsurge in Honduras. At some point along the way, perhaps after seeing the most irrational denunciations of ALBA by his newly-found opponents, "Mel" Zelaya appears to have had a Damascene conversion. I can't say whether that was the case or not with any certainty. But I am a witness to the existence of Damascene moments. Zelaya's actions as he headed into his confrontation with the US and its Honduran colonial surrogates surely seem to be consistent with the kind of true belief that takes terrible risks.
Anatomy and Sequence of the Modern Coup
The Murder of Luis Rolando Valenzuela Ulloa


Valenzuela
On July 1, 2010, Adrienne Pine, and American academic and activist working in Honduras, penned her suspicions in an article for the online site "Honduras Culture and Politics," called "Honduran suspicions of US complicity in the coup." (Part 2) With the coup still shrouded in official secrecy, she was simply recounting what she heard on the Honduran street. One of the stories on the street was that Rolando Valenzeula had been murdered.
The North American ambassador accredited to Tegucigalpa, Hugo Llorens, did know about the coup d'Etat against Manuel Zelaya Rosales, the ex-minister of the Zelaya administration, Roland Valenzuela, revealed days before his death, in an interview broadcast by the journalist Ernesto Alonso Rojas, in a local radio station of the city of San Pedro Sula.
Valenzuela was an ex-Deputy (Congressman) and the ex-Minister for Sustainable Development in Honduras for President Manuel Zelaya. On June 15, 2010, he was shot to death in San Pedro Sula (a coastal Honduran metropolis), at a restaurant by San Pedro Sula oligarch (and now fugitive) Carlos Alberto Yacaman Meza, after what was described as a shouting match. Police initially withheld his name from the public, claiming that publicizing the name would "hinder investigations." Yacaman has so far evaded capture by Honduran authorities, and is listed as an international fugitive by Interpol.
Honduran suspicions were only magnified by the ease with which the well-known and well-heeled Yacaman seemed to evade capture, by the daily reports of threats, beatings, shootings, and disappearances being committed by Honduran thugs working for the de facto government. Even with Iraq, Afghanistan, Colombia, and Palestine in the world, in 2010 Honduras was declared the most dangerous country in the world for independent journalists. But the key to popular suspicion about Valenzuela's murder was an interview he'd given.
The interview, taped the first of May and broadcast by Radio Internacional of San Pedro Sula, regained importance after President Zelaya accused the US of forming part of the coup d'Etat, and Ambassador Llorens appeared denying his participation.
There was more to the interview, however, than mere accusation. Valenzuela said that he had proof that the draft decree for the coup on June 28th was presented to Ambassador Llorens for review on the 10th of June, two and a half weeks before the actual overthrow of President Zelaya. That draft was clearly pre-dated June 28, 2009. It was signed by Micheletti, by Deputy Ricardo Rodriguez, Deputy Toribio Aguilera Coello, Deputy Rolando Dubon Buezo, and Deputy Rigoberto Chan Castillo, as well as Secretary of Congress Gabo Alfredo Jalil Mejia, who became the de facto Minister of Defense.

Gabo Alfredo Jalil Mejia
The courier, according to Valenzuela, was Jacqueline Foglia Sandoval, an ex-logistics officer for the murderous Battalion 3-16, about which we will talk more later.
Foglia graduated as a foreign cadet from the US Military Academy at West Point, and after her stint with Battalion 3-16, served as the Honduran defense attaché in the United States. She is also a member of the Honduran Council of Private Enterprise (COHEP), whose post-coup multi-million dollar lobbyist now is Secretary of State Hillary Clinton's close friend and advisor, Lanny Davis.

Lanny Davis – Keep your eye on this guy.
Valenzuela further claimed that the coup decision was taken in a Dubai (of the Arab emirates) bar where a group of six Honduran oligarchs were visiting for a corporate fair.
This is not IN-credible, given that many members of the Honduran oligarchy are themselves Arab. In fact, one of the largest enclaves of Arab immigrants in this hemisphere is in Northern Honduras, the majority Orthodox Christians (as are many Palestinians today). The richest family in Honduras is the Canahuati family. [see inset on Power in Honduras] Ex-President Carlos Roberto Flores Facussé is of Arab descent. The Mitri, Handal, Kafati, ia Asfoura, Ben-deck, Atala, Larach, Kafie, and Nasser families are all big players in Honduran business and politics. Arab families own over 40% of all the business in San Pedro Sula, the second largest city in Honduras.
But we digress.
Valenzuela described this meeting, which, given the climate for independent journalists in Honduras (and Dubai), will be difficult to prove or disprove. Valenzuela said the dossier he had to prove his allegations was handed to him by "a common citizen who is a hero."

Luis Arturo Mondragon – Honduran journalist
Valenzuela predicted during the interview that he would be killed. His prediction came true. During the interview, he had exactly 46 days to live. According to Pines article,
Zelaya never was restored because the US assured Micheletti "hold on, hold on, stay there, because we are not going to remove you", he asserted.

"Hillary Clinton swore to Zelaya that they were going to restore him", but at the same time turned over control of the situation to Oscar Arias, who Valenzuela called "the clerk of the gringos".
He said the catalyst for the coup was the upcoming non-binding referendum on a Constituent Assembly (Cuarta Urna). The day that referendum was scheduled was the day of the coup.
Valenzuela's murder may or may not be tangential to the coup, as his story may or may not be accurate. It has never, however, received any attention in the United States press.
What can be demonstrated unequivocally, however, is that the story repeated by the US press about the Cuarta Urna is a pivotal lie in a coup makers' disinformation campaign.
The Pivotal Lie
In the modern US coup, there is a Pivotal Lie to justify it, mostly for consumption in the US. For the 2009 Honduras coup, the PL had two parts. The first part was that Zelaya was seeking a second term. The second part of the lie was that Zelaya violated the Constitution in order to advance that goal. Both parts of the Big Lie were designed to create an impression – a Latin American caricature, "the strongman." Here is a typical US media account, this one from William Ratliff of the Los Angeles Times:
As Honduran lawyer Octavio Sanchez pointed out in the Christian Science Monitor, when Zelaya issued a decree ordering a referendum on changing presidential terms, he "triggered a constitutional provision that automatically removed him from office." (Google the Honduran Constitution and read it for yourself — Article 239.) Zelaya had ousted himself, so impeachment was unnecessary.
In fact, the Honduran Congressional decree citing Article 239 was not signed until three days after the coup. What 239 says is that any President who advocates changing the one-term limit will cease to be President. That is not what Zelaya did. What he did was call a non-binding referendum on whether to have a constitutional convention to alter the US-authored Constitution of 1982. This was a demand of the popular movements in Honduras.
The "Article 239 decree" is not Article 239, but a decree ostensibly using Article 239 as an excuse to go forward with the coup, written by the coup-makers, and signed after the coup, even though Article 239 itself was cited as "prior justification."
If this is confusing, it is because the whole thing was crafted specifically to muddy the waters. At the very point where the average reader, in this case in the US, no longer has the time or inclination to study the puzzle, is where that same reader is prepared to accept the Readers Digest version; and this is where a host of false premises get smuggled into the public mind. Nothing mysterious about that. These are Psychological Operations (Psyops) techniques, studied for decades by the military, political operators, public relations hacks, and advertizing agencies.
Again, (1) The "Article 239 decree" was not yet written and signed by Congress on June 28, and therefore could not be the prior justification for the coup. (2) Moreover, nothing that Zelaya did violated the actual Constitutional Article. (3) The referendum was not a referendum "on changing presidential terms." So the "read it yourself" challenge is a red herring. (4) Add to these, Zelaya's term was finished in 2010, before any constitutional convention would have been held, therefore he was in no way capable of extending his own term.
An amendment to the Constitution in 1998, however, did make the President the Commander-in-Chief of all armed forces. This part of the Constitution was actually violated by the coup itself. Prima facie.
The popular movements wanted the constitution re-written because the 1982 Constitution was a collaboration between General Gustavo Alvarez Martinez and US Ambassador John Negroponte. John Grant, writing for Monthly Review, said:
At the time, the poor nation was known as "the aircraft carrier USS Honduras" due to the attacks launched from it into neighboring Nicaragua by the Contras, the proxy force created by the U.S.

The current Honduran constitution was written in 1982 when Negroponte worked closely with Gen. Gustavo Alvarez Martinez, an Argentine-trained proponent of the death squads then killing leftist leaders. From 1981 to 1985, U.S. aid to the Honduran military went from $4 million to $77.4 million a year.
Roberto Micheletti was sworn in as the de facto President by the coup-makers. He had lost the last election to Zelaya, but obviously knew one way to reverse his fortunes.

Roberto Micheletti
Micheletti's claim that the call for a Cuarta Urna ("Constituent Assembly") violates the Constitution itself is particularly interesting, given his own record, according to Michael Fox:
The position of de facto Micheletti regime is even more ironic when we remember that in October 1985, Micheletti himself had been one of a dozen Honduran congressional representatives to back a piece of legislation calling for a Constituent Assembly in order to extend the term of then-Honduran President, Roberto Suazo Córdoba. According to a July 9 article in the Salvadoran El Faro, the representatives were looking to suspend certain articles of the Honduran Constitution. "The same [articles] that now serve the Honduran authorities to justify Zelaya's dismissal."
The pivotal lie in any disinformation campaign as part of pre-coup destabilization requires mass dissemination. The US and Honduran press – part of the neoliberal establishment – have proven willing and able to perform this task.
The Perceptioneers
American news is often criticized as info-tainment, but this trivializes its crucial role in support of the neoliberal establishment. What the corporate media does is perception management, and they do this with a coterie of "perceptioneers," the so-called experts and talking heads. Lannie Davis is a perceptioneer. Otto Reich is a perceptioneer. Wolf Blitzer is a perceptioneer. Chris Matthews is a perceptioneer. A smorgasbord of foundations and think-tanks are perceptioneers. Perceptioneers are hegemonic in the United States of America, because we are effectively bombarded by manufactured perceptions in every single aspect of our lives. They have completely monopolized the editorial content of all major "new" outlets. What's left are features, and only those that do not go outside the editorial boundaries.
Paula Chakravartty and Dan Schiller, in their article for the International Journal of Communication, entitled "Neoliberal Newspeak and Digital Capitalism in Crisis," write:
[W]e may foreground changes in the institutional structure and culture of journalism … as the rise of neoliberal newspeak became embedded as a new form of cultural imperialism. Economists who became powerful public intellectuals, such as Frederick Hayek, Milton Friedman, and Alan Greenspan, played a strategic role in the progress of "the winding path of neoliberalism from crank science to common sense." Their ability to gain access and establish legitimacy through the media was a crucial component in explaining their ascent to institutional power. As national governments embraced economic liberalization, we see a corresponding executive effect in terms of economic coverage both in the general news and the newly specialized business media, literally aimed at executives and decision makers. In a short period of time, across most of the news-producing world, the print news media began in the mid-1980s to shift in their attention from broad economy and society coverage to business and finance. For example, a study of economic journalism in France in the 1990s found an increasing professionalization of journalists trained as economists or in business schools and a distinct narrowing of perspectives along the traditional Left-Right divides. The dominant repetition of neoliberal normative assumptions contrasting the negative pole of the state and the public against the positive pole of the free market and the individual became increasingly part of the common sense across most of the media (including the online media) and corporate fields and across viable political parties, mainstream policy makers and cultural producers straddling these over-lapping fields.
The pivotal lie of Honduras was the 239-fiction, and it merged nicely with the "caudillo" (Latin American strongman) theme, by associating Zelaya with the pre-tainted Chavez.
In Venezuela in 2002, the pivotal lie was that Chavez had become a "strongman." Some hyperbolic press-folk actually used the word "dictator." The reporter in the US that set this ball rolling was Larry Rohter of the New York Times.
Larry Rohter, the Times' southern cone reporter, is understood among many as probably the worst excuse for a professional reporter they've ever read. His grasp of political and economic issues is frighteningly shallow, and the fact that he is the primary source of information on a number of countries (Chile, Argentina, Brazil, Bolivia) for a good section of the American newspaper-reading population makes his shortcomings even more grave.
So concludes unglued/despegado, a bilingual Argentinean webzine. They are not alone. Rohter's biased, shallow, and inaccurate reporting has been the subject of media watchdog groups for some time. He's back in the news now with an attack on Oliver Stone's South of the Border, and exploration of the anti-neoliberal turn in Latin America. That's because Rohter led the demonization of Chavez in the US press. The fact that Rohter was also a rabid Obama defender during the elections might throw us off if we were still confined to the old liberal-conservative paradigm. Obama and the New York Times are both neoliberal (and pro-Democrat).
We might take a moment to remember the execrable war-monger Judith Miller was also an NYT correspondent, who dutifully wrote whatever Karl Rove said during the entire run-up to the invasion of Iraq in 2003. Rather than engage in a justifiable mass mea culpa for its promotion of the war, the media chose to portray the execrable Miller as a First Amendment martyr.
The New York Times is the flagship paper for the US, and most other major newspapers as well as electronic media fall into lockstep behind the NYT with regard to what is considered "top news" on any given day. This puts the NYT in a special position as the microphone for the US media sound system. With Rohter as the "Southern Cone" reporter, it's little wonder that US Anglos have such skewed ideas about Latin America.
After the December 6, 1998 landslide electoral victory by Chávez, New York Times reporter Larry Rohter began the charge of the lite brigade, tagging Chávez as "the populist demagogue, the authoritarian man." Rohter decried "his past disregard for the rule of law." Chávez, Rohter bemoaned, "seems inclined to govern on the basis of a mystical bond he claims to have established with Venezuela's 23 million people." He compared Chávez with "populist dictators of the past." Rohter's conclusions about the Chávez presidency were decreed before Chávez had served a single day as president.

Rohter's drumbeat of simulation continued right up until the final hour. As Narco News was reporting about the unraveling of the coup d'etat ("What dishonest spin will the inauthentic journalists place on the story when the Venezuelan majority begins to fight to restore its constitutional government?" we asked, concluding, "Anything can happen. Anything,") the NY Times' Rohter was no longer concerned, as of yesterday, with "disregard for the rule of law" now that his own favored coup-masters were abolishing Congress and the Constitution in Venezuela and going door to door rounding up political opponents to their putsh.

Rohter even dredged Plan Colombia author Michael Shifter from the polluted Potomac to justify the coup: "This provides another formula to solve crises for countries that are seen as not being governable," said Shifter, as Rohter chose to crow: "Mr. Chávez was a left-wing populist doomed by habitual recklessness."
And so it began. Note the echoes in Honduras, about Zelaya. Here is Roger Noriega (who we will see in all three coups) writing for the American Enterprise Institute more than three months ahead of the coup.
To the extent power is concentrated in the hands of a caudillo (strongman), arbitrariness will drift inevitably to injustice and abuse…

From Fidel Castro in Cuba to Anastasio Somoza in Nicaragua to Juan Perón in Argentina to Juan Velasco Alvarado in Peru, Latin America has a long history of caudillos who usurp power and hold on to it by strumming populist chords. In that sense, Chávez and his acolytes Evo Morales in Bolivia, Rafael Correa in Ecuador, and Daniel Ortega in Nicaragua are following a well-worn path… [interesting he includes Somoza here, who he himself aggressively supported]

Of course, the United States must do its part: its diplomacy must never be reticent when it comes to defending democracy and the rule of the law. Solidarity is not intervention, and neo-caudillos should not be able to hide behind phony protests about "nationalism" so they can act with impunity to undermine institutions and destabilize the American neighborhood. The Obama administration also must consider the importance of the regional economy to the U.S. recovery as it makes decisions about mutually beneficial trade agreements pending with Colombia and Panama. Moreover, it can provide adequate funding of unconventional aid programs that sow the seeds of sustainable, equitable growth by strengthening political institutions and incentivizing economic modernization.
In one of his footnotes, he associates Zelaya and other potential anti-neolibeals with the pre-demonized "caudillos." Also note the neoliberal newspeak in the foregoing paragraph.
Pre-demonization, then guilt-by-association. Inuendo. Hijacking language ("caudillos"). These are standard withdrawals from the coup-makers bag of tricks.
The Heritage Foundation follows upon the coup with the same prevarications:
Zelaya vows to return to Honduras in the next few days, increasing the chances of bloodshed and political instability. Zelaya's return will breed the politics of polarization, Marxian class struggle, and the radical brew of leftist/revolutionary doctrine and practice that accompanies the advance of Hugo Chavez and his militants in Latin America.

For a recent glimpse of what rule by Chavez means, one can read New York Times reporter Simon Romero's hard-hitting look at Chavez's home state of Barinas in Venezuela, now a personal fiefdom of the Chavez family, or at the latest Government Accountability Office Report on drug trafficking in Venezuela.
Higo Chavez and his "militants." If that isn't scary, then what is? And note how the Republican-aligned Heritage Foundation eagerly reports the Democrat-aligned New York Times. Anyone still touting the virtues of bipartisanship will heartily approve of neoliberalism. In a Latin American Congress of the Americas report on the post-coup Honduran election, we read:
The coverage of the Honduran elections is especially interesting since it came on the heels of the uprising in Iran, which was triggered in June by an election widely denounced as fraudulent. President Mahmoud Ahmadinejad was accused of rigging the election to secure his victory over an opposition candidate who was less hostile toward the United States. In this case, The New York Times' coverage was exhaustive; its editorials loudly condemned the Iranian leadership for abuses and fraud.
The Times' coverage of the Honduran election, where force and fraud were exercised with near impunity and half the country boycotted the illegal election, treated all reports of abuse as if they were barely credible, and "unflinchingly accepted the coup leaders' versions of events, including their exaggerated turnout figures." The contrast between coverage of the Iranian and Honduran elections is consistent with US media bias on behalf of neoliberal dogma and anything the foreign policy establishment says in its defense.
The skewed coverage of official U.S. enemies in the Times, and the U.S. media in general, is not a new phenomenon. It is a staple of the international pages of elite papers in the United States. When the Honduran coup first took place, the Times painted Zelaya, "a leftist aligned with President Hugo Chávez of Venezuela," as an authoritarian strongman. The Chávez reference is indeed telling; the Times has long portrayed him as a reckless tyrant—going so far as to celebrate a near successful coup attempt on him in 2002 in an editorial claiming that "Venezuelan democracy is no longer threatened by a would-be dictator."23 The Times has also referred to Chávez as a "populist demagogue" and an "authoritarian man on horseback" who "has militarized the government, emasculated the country's courts, intimidated the media, eroded confidence in the economy and hollowed out Venezuela's once-democratic institutions."
Jaime Darenblum, writing for the arch-neocon publication The Weekly Standard, said of the "non-coup" in Honduras:
Let's be clear: Zelaya's illegal referendum was a transparent attack on democracy. It was part of his broader scheme to rewrite the Honduran constitution, lift presidential term limits, and extend his rule. These are the same tactics that have been used or proposed by populist leaders in Venezuela, Nicaragua, Bolivia, and Ecuador. All those countries have moved away from democracy and toward a more authoritarian style of governance.
Overthrowing an elected government using the military is a move away from authoritarianism. Darenblum's article was entitled, "A Coup for Democracy." Orwell would blush.
When I was working in Latin America with US Special Operations in the 80s and 90s, the military doctrine we followed in "host nations" was called IDAD, Internal Defense and Development. This is actually very descriptive of the twofold grip of the US on Latin America: structural and military power operating in concert.
I'll leave the reader to reflect on what "internal defense" actually means. In 2009, in Honduras, it meant a coup d'etat. The main American operatives in that coup were alumni of the Reagan administration.
The Crazy Man
It's one thing to disagree with someone's politics, but the contradiction of claiming to be a partisan of democratization while militarily ousting legitimately-elected governments has to be overcome. It's a bad story, and a coup needs a good story. Disagreement, even hostility, doesn't serve as an adequate rationalization for this apparent contradiction. Something has to trump the contradiction. That trump card is madness. Madness is a good story for a coup.
Every national campaign to demonize leaders targeted for a US-sponsored coup employs the insinuation that the targeted leader is mad. This serves to take any other discussion of whatever issues there are off the table. No reason to talk with him. He's a loon. He is crazy, ergo he cannot reason, and since he has power, that madness is clear and present danger. He represents the forces of chaos and death against the forces of order and peace. Sort of begs the question. Obviously, he must be removed. The conclusion is already built into the claim.
If this is the case, then a simple, straightforward, and relatively easy tactic is to begin a campaign of madness-representation against the target. Here are a few quotes, of which there are thousands.
"Hugo Chavez in his own madness to stop those who disagree with his hatred message…" "Nevertheless, there seems to be some twisted method in Hugo Chavez's madness…" "Mr. Chavez's madness is unfolding as the others come down to earth…" "What if Chavez' madness was contagious?" [There is that suggestion of approaching danger]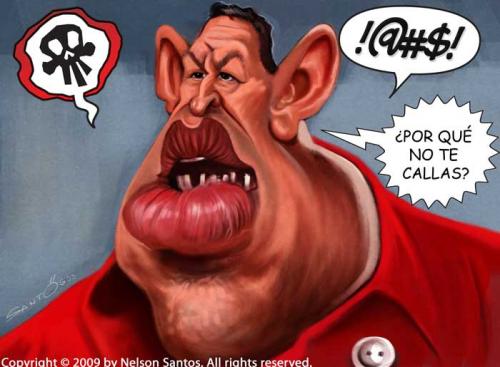 The mad thug (caricatures often racialized)
"Jean Bertrand Aristide is power hungry to the point of madness…" "Aristide as an insane dictator…" "Aristide had received psychiatric treatment at a Montreal hospital in 1980 [not true, but the rumor originated from Jesse Helms' Senate office]…" "The psychiatric records showed Aristide was a mental case dependent on…"
"[T]he real difference seems to be that Zelaya is a delusional megalomaniac…" "Zelaya's a crook and a megalomaniac [that's a two-for-one deal]…" "Democracy was protected from a megalomaniac…" "Some saw other Chávez-like traits emerging in Mr. Zelaya, including megalomania…"
Megalomania. A truly modern diagnosis of the dangerous malady. So who was to take care of the disease this time? Check with the experts.
Roger Noriega & Haiti
In the face of manifold crises around the world, Hillary Clinton has chosen to rely on the bitter tyrannosaurs of the Reagan regime.
The Reagan administration – at the outset – knew that these changes would engender resistance, and he dramatically increased military assistance to repressive regimes throughout Latin America.
Roger Noriega, quoted further above, has the dubious distinction of acting in support of three consecutive coups d'etat. We have seen the "reckless authoritarian" meme in Honduras and Venezuela. Let's look for a moment at Haiti, 2004.
Noriega, addressing Congress after the 2004 coup for which he was the main architect, said:
The commitment to strengthening democracy has been the cornerstone of our policy in Haiti since the restoration of Aristide to power – by the international community led by the United States – in 1994. This process was set back by the highly flawed parliamentary elections of June 1995, badly run local elections in April 1997, and fraudulent parliamentary elections once again in May 2000. This series of bogus electoral exercises and the Haitian government's unwillingness to govern fairly opened the door to many subsequent acts of political violence and intimidation by Aristide against his opponents.
In fact, the "highly flawed parliamentary elections" were not reported as such by the international election observers in Haiti for the '95 vote. This was a story blown up by Noriega and Otto Reich (another constant through all three coups).
The flaw was not in the elections, which were conducted according to Haitian law. Ten Senate races that were won by Aristide's Fanmi Lavalas party were won by pluralities where there were more than two candidates… according to law.
This legal process was "challenged" by the neoliberal establishment because they didn't like the outcome (Fanmi Lavalas, Arisitde's party, overwhelmingly won the nationwide elections). Calling them "flawed" is using innuendo to suggest corruption where there was none. Moreover, there has never been one scintilla of evidence that Aristide ever ordered or sanctioned any political violence.
When I was in Haiti, up until the day before the coup, the coup-spin apparatus was working overtime to gin up stories of this violence, one of a "massacre" in St. Marc. I had actually been in St. Marc two days prior to my departure, and no one there had ever heard of it. Haiti was bursting with phony horror stories of Lavalas violence, even as US-supported Haitian mercenaries convoyed from the Dominican Republic, across Haiti to Port-au-Prince, engaging murder, arson, and rape along their entire path. They were led by a Duvalierist thug named Jodel Chamblain who had been evading justice in the Dominican Republic after his conviction for the murder of Aristide partisan Antoine Izmery.
Of course, the US-supported de facto government re-tried Chamblain and acquitted him in less than a day.

Louis-Jodel Chamblain
Back in the US, the neoliberal echo chamber chimed in harmony with the coup-makers. I personally witnessed pro-Aristide rallies that numbered in the tens of thousands. It was impossible in Port-au-Prince to miss them. The streets were packed to bursting. The US press, however, completely ignored these mass actions by the general population, and chose to photograph, interview, and report on the far smaller anti-Aristide demonstrations centered around the rich enclave of Petionville.
Justin Felux wrote from Port-au-Prince (for the alternative press):
This sort of thing has been a consistent feature of the major media's coverage of the Haiti crisis. Demonstrations by Aristide's opponents always get covered whereas larger demonstrations by his supporters, if they are mentioned at all, get less, and with a more negative tone. Part of the reason is that major media outlets are obsessed with relying on the "official" sources rather than doing actual journalism. Another part of the reason is that the media in Haiti is owned by the ruling elite, most of whom harbor a pathological hatred for President Aristide. The situation is similar to what happened during the failed coup against Hugo Chavez in Venezuela, where the Venezuelan media was virulently anti-Chavez. The reporting also is skewed by the fact that most of Aristide's support comes from the slums and the rural areas where reporters for the elite media are afraid or too lazy to visit…

The Aristide supporters are presented in a negative light. It says they "jeered and cursed" and "shouted angrily." It also describes them as "hooting protesters." The anti-Aristide demonstrators, on the other hand, "sang songs" and "chanted." In addition, "The march was peaceful … There was some drinking and celebration but no violence." The message is clear: Aristide's supporters are mean and unruly whereas opponents of Aristide are amicable and peaceful.
One has to wonder if this is taught to Journalism majors.
Zelaya is a 'clone' of region's leftist leaders. A person may be elected president democratically. But once he is in power, he might rule the country in an authoritarian way. What ousted Honduran President Manuel Zelaya was trying to do was to establish a government a la Fidel Castro, just like Hugo Chavez in Venezuela, Evo Morales in Bolivia, Rafael Correa in Ecuador and Daniel Ortega in Nicaragua.

-Sergio Munoz, Miami Herald, September 29, 2009
Aside from the actual coercive force that is employed to make a coup d'etat, more than anything else a coup is a story. A story is told before, during, and after the coup that is cumulative, built on itself toward the resolution of a calculated plot. The end of the story is that a bad man has been removed from office, and justice has been served. The middle of the story, while the coup actually happens, is where we are given the "we had no choice" part of the story, upon which the end of the story – bad man gone, justice served – is based. At the beginning of the story, we have many, many anecdotes to establish the "fact" that this is a bad man.
Part 1: This is a bad man.
Part 2: We had no choice.
Part 3: The bad man is gone, justice is served.
"This is a bad man." – Corruption-mongering
In the first of a series of anti-corruption campaigns, Arcadia Foundation took up the task of investigating the dubious dealings of Honduran government officials and questionable government practices. In a series of events spurred on by the investigative efforts of Arcadia Foundation, the murky dealings of the Honduran enterprise of Hondutel were exposed. Using national (Honduras) as well as international press, Arcadia Foundation was able to shine a spotlight on 'sweetheart' deals and abuses of power within the higher echelons of the Honduran government.

As a direct result of the Hondutel scandal, top Honduran government officials were both investigated and charged with bribery and embezzlement. The United States sanctioned those connected to the scandal revoking the privilege, Marcelo Chimirri, ex head of Hondutel, to come to the United States for being connected to a "series of cases of corruption"; sending a strong message of no tolerance toward corruption.

-Arcadia Foundation
Okay, so who is the Arcadia Foundation? Who is telling us that "this is a bad man."
The Arcadia Foundation is a specialist in scandal-mongering. On their website's mission statement, the language is more anodyne.
The Arcadia Foundation promotes democracy and curbs corruption in governments all over the world. We fight on-the-ground for those with little control over their lives, who yearn for understanding and support from their governments. We provide the platform, the tools and the training for political activism and encourage dialogue and transparency between government and their citizenry.
Arcadia's "report" on Hondutel corruption actually targeted one small affiliate out of dozens, enough to supply its authors with easily repeated innuendo. The author was a Venezuelan lawyer named Roberto Carmona-Borjas. Living in Washington DC now, and working at George Washington University, Carmona-Borjas is a fugitive from justice in Venezuela for his high-level participation in the 2002 coup against Venezuela's constitutional government. By high-level, we mean he swore in the de facto President Pedro Carmonas, as the coup junta's General Counsel. With that in mind, what about this so-called report?

Robert Carmona-Borjas (FUGITIVE)
The report evidently contained allegations about corruption in the Honduran phone company, peppered with innuendo, a Reich trademark. It claimed that income to Honduras's phone company, Hondutel, had declined by nearly 50% between 2005 and 2006. Out of the dozens, if not hundreds of companies involved in Honduran telecom, Arcadia exclusively targeted one: Cable Color, a company owned by the wealthy and influential Honduran family, the Rosenthals, for diverting calls away from Hondutel, thereby depriving the phone company of revenue.
Arcadia Foundation might well be named Scandal & Provocation, Inc. Except no one seems to be able to get hold of its non-profit corporate charter; and no one seems to know exactly when it came into existence. The most interesting thing about the Arcadia Foundation is who is associated with it. There's Carmona-Borjas, of course, who teaches at Georgetown with two other Arcadia-linked personalities, Otto Reich and Elliot Abrams.
Arcadia is a front, or a homepage, like many so-called think-tanks and foundations, for constructing ideological narratives. The construction of those narratives is a means to accomplish destabilization. Arcadia is really just this handful of people, whose names include veterans of various covert operations in Latin America and the Caribbean. In 2007, Arcadia's webpage "lost" its links, and Otto Reich's picture was removed (and they now deny that Reich has anything to do with Arcadia).
What fronts accomplish is the systematic development of citable sources. It's systematic academic fraud.
So when you read about "the Hondutel investigation," which was a hit piece by Robert Carmona-Borjas, a Venezuelan fugitive with asylum in the US, you will see a citation. The information came from the Arcadia Foundation. It legitimizes the claims by citing sources, knowing that few people actually check the sources. There is a long list of right-wing think-tanks that are involved in this kind of chicanery, many with cleverly crafted names that suggest something far different than what they are, or something absolutely neutral.
List of some right-wing foundations and think tanks operating in the US

Accuracy in Academia, African-American Life Alliance, All Children Matter Inc., Alliance Defense Fund, American Center for Law and Justice, American Civil Rights Institute, American Conservative Union, American Enterprise Institute, American Family Association, American Legislative Exchange Council, American Life League, American Society for Tradition, Family and Property, Americans for Tax Reform, Black America's Political Action Committee, Lynde and Harry Bradley Foundation, Campaign for Working Families PAC, Catholic League for Religious and Civil Rights, Cato Institute, Center for the Study of Popular Culture, Christian Coalition of America, Christian Legal Society, Club for Growth, Collegiate Network, Coalition for a Fair Judiciary, Committee for Justice, Concerned Women for America, Eagle Forum, Eagle Forum Collegians, Family Research Council, Federalist Society for Law and Public Policy Studies, Focus on the Family, FRCAction, Free Congress Research and Education Foundation, FreedomWorks, Heritage Foundation, High Impact Leadership Coalition, Hispanic Alliance for Progress Institute, Hoover Institution on War, Revolution, and Peace, Independent Women's Forum, Institute for Justice, Intercollegiate Studies Institute, Judeo-Christian Council for Constitutional Restoration, Judicial Confirmation Network, Landmark Legal Foundation, Leadership Institute, Mackinac Center for Public Policy, Madison Project, Manhattan Institute for Policy Research, National Association of Scholars, National Center for Policy Analysis, National Right to Life Committee, National Taxpayers Union, New Coalition for Economic and Social Change, Pioneer Institute for Public Policy Research, State Policy Network, Students for Academic Freedom, Toward Tradition, Traditional Values Coalition, WallBuilders, Young America's Foundation
When we understand that the Arcadia Foundation, like other ostensible offices in this story, serves to conceal the actual actors, then we simply bypass the legalistic fronts and look at the people themselves.
The first question one might ask is, what is Robert Carmona-Borjas – a Venezuelan fugitive and lawyer – doing in the United States? Why has the United States government permitted not only a violent lawbreaker, but one whose crimes were actually televised while he committed them, to live unmolested in the United States, teaching at George Washington University, and collaborating with the US Department of State in legitimizing a coup in Honduras?
First of all, he is an ideologue. His writings, which are abundantly available on the web, demonstrate as much. And he is a prodigious columnist, which is an ideal craft for disseminating agitational propaganda. He is also a lawyer, and he employed that background to put legal lipstick on the pigs that were his two coups – Venezuela and Honduras. Conn Hallinan, writing for Foreign Policy in Focus, noted Carmona-Borjas' activity in the coup sequence.
The first hint that something was afoot was a suit brought by Venezuelan lawyer Robert Carmona-Borjas claiming that Zelaya was part of a bribery scheme involving the state-run telecommunication company Hondutel.

Carmona-Borjas has a rap-sheet that dates back to the April 2002 coup against Chavez. He drew up the notorious "Carmona decrees," a series of draconian laws aimed at suspending the Venezuelan constitution and suppressing any resistance to the coup. As Chavez supporters poured into the streets and the plot unraveled, Carmona-Borjas fled to Washington, DC. He took a post at George Washington University and brought Iran-Contra plotters Otto Reich and Elliott Abrams to teach his class on "Political Management in Latin America." He also became vice-president of the right-wing Arcadia Foundation, which lobbies for free-market policies. Weeks before the June 28 Honduran coup, Carmona-Borjas barnstormed the country accusing Zelaya of collaborating with narco-traffickers.

Carmona-Borjas' colleague, Reich, a Cuban American with ties to right-wing factions all over Latin America and former assistant secretary of State for hemispheric affairs under George W. Bush, has been accused by the Honduran Black Fraternal Organization of "undeniable involvement" in the coup.
We'll return to Otto Reich momentarily.
April 2009: Carmona-Borjas' Hondutel "scandal" breaks.
May 2009: "Civil Democratic Union" forms, which is the Honduran coup executive committee (which we'll also cover further on).
June 2009: Ambassador Llorens denounces President Zelaya.
July 2009: Coup is triggered on the day scheduled for the Cuarta Urna; and Zelaya is kidnapped and flown out from a highly-secured, highly-controlled American military base.
The Hidden Hand of Otto
Carmona-Borjas has to be discerned to some degree through his mentor – Otto Reich. For that, we'll roll back the calendar to 2008, the year before the coup in Honduras. Bear with us, because from Reich, we will beat two separate paths back to the United States Department of State. Nikolas Kozloff writes:
In campaign '08, Reich served as a foreign policy adviser to Republican John McCain. In an interview with Honduras' La Prensa, Reich blasted Honduran President Zelaya for cultivating ties with Hugo Chávez. Reich had particular scorn for the Bolivarian Alternative for the Americas, known by its Spanish acronym ALBA, an anti-free trade pact including Venezuela, Honduras, Cuba, and Bolivia. "Honduras," Reich remarked, "should be very careful because the petroleum and Chávez problem is very similar to those who sell drugs. At first they give out drugs so that victims become addicts and then they have to buy that drug at the price which the seller demands."

Reich went on to say that he was very "disappointed" in Zelaya because the Honduran President was "enormously corrupted from a financial and moral standpoint." In another interview with the Honduran media, Reich went further, remarking brazenly that "if president Zelaya wants to be an ally of our enemies, let him think about what might be the consequences of his actions and words."
Where I grew up, that sounds like a threat.
Reich then took the encyclopedic collection of Arcadia Foundation articles on Hondutel and suggested a "Zelaya connection." In a Miami newspaper, Reich said Zelaya "has permitted or encouraged these types of practices and we will see soon that he is also behind this." No follow through, but that's the point. Details need not be provided. The seed of doubt is sown.
Reich's target was Zelaya's nephew, an official at Hondutel named Marcelo Chimirri. The first indication of Reich's collusion with the State Department on Honduras is that Chimirri was denied a travel visa to the US after Reich and Arcadia leveled their "charges."
Bush-appointed U.S. Ambassador Charles Ford was also turning the screws on Zelaya. Speaking with the Honduran newspaper La Tribuna, Ford said that the U.S. government was investigating American telecom carriers for allegedly paying bribes to Honduran officials to engage in so-called "gray traffic" or illicit bypassing of legal telecommunications channels. The best way to combat gray traffic, Ford said, was through greater competition that in turn would drive down long distance calling rates.
There is the synergy. There is corruption, and the solution is privatization. That's a good story.
Perhaps the U.S. government was using the corruption charges as ammunition against Hondutel, a state company that Reich probably would have preferred to see privatized. The Honduran elite had long wanted to break up the company. In the late 1990s, none other than Roberto Micheletti, the current coup president of Honduras, was Hondutel's CEO. At the time, Micheletti favored privatizing the firm. Micheletti later went on to become President of Honduras' National Congress. In that capacity, he was at odds with the Zelaya regime that opposed so-called "telecom reform" that could open the door to outright privatization.
Otto Reich's hand is both ubiquitous and invisible in coup-making, suggesting he is – along with colleagues Elliot Abrams and John Negroponte – is an eminence gris in the coup-making business.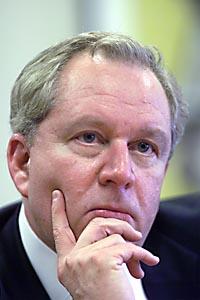 Otto Reich
Reich is a Cuban-American, his Austrian-born father giving him his Teutonic surname. He actually looks like the Salesman of the Month somewhere, pallid, a little eager-looking, and conservatively coiffed. His entire life, however, has been devoted to dominating Latin America and the Caribbean for the United States and its business class, and supporting savage official violence to secure that domination.
His family left Cuba when Batista fell. Otto was 14.
He graduated from the University of North Carolina – Chapel Hill, then joined the Army to become a Civil Affairs Officer in the then-Panama Canal Zone. Civil Affairs was closely linked, as it is now, with military intelligence. And Panama was then the Headquarters for the US presence in Latin America. He then went to graduate school and received an MA in International Affairs from Georgetown University. He returned to Florida, where he was incorporated into the political world of the right-wing Cuban exile community. Here he eventually took his first fuzzy-sounding post in a fuzzy sounding organization – Director of Council of the Americas (COA). (COA will come up again, during the aftermath of the coup in Honduras.)
COA was actually a lobbying outfit to push "free trade" agendas in Latin America, and its list of director organizations include American International Group, Chevron, Citigroup, Coca-Cola, Exxon, Mobil, Ford, GE, General Motors, IBM, Johnson & Johnson, JP Morgan Chase, Kissinger McLarty Associates, McDonalds, Microsoft, Pfizer, Philip Morris, Shell International, Time Warner, Toyota, and Wal-Mart. Otto Reich secured contacts there that would eventually make him the designated hitter for projects that required a diverse network of powers and personalities. His grooming had begun in earnest.
From 1981 to 1983, Reich was Assistant Administrator of the US Agency for International Development (USAID) in charge of US economic assistance to Latin America and the Caribbean. In 1991 and 1992, at the request of President George H. W. Bush, Reich served as Deputy US Representative to the United Nations Commission on Human Rights in Geneva.
I ask the reader to make a note. The United States Agency for International Development (USAID) is not simply a peace-corps coordinator, as many are left to believe. It directs money, through the US Embassy, to different people and organizations inside a host nation. It is under the direction of the US Ambassador there. It is an instrument of US foreign policy every bit as much as the CIA, and in fact works closely with the CIA. We will return to the USAID again, and the significance of this appointment for Reich will become ever clearer.
From 1983 to 1986, Reich established and managed the inter-agency Office of Public Diplomacy for Latin America and the Caribbean. The OPD declassified Central Intelligence Agency information and disseminated it to influence public opinion and spur Congress to continue to fund the Reagan administration's campaign against Nicaragua's Sandinista government. The OPD was highly controversial and was criticized by numerous government sources, including a staff report by the House Foreign Affairs Committee, which characterized it as a domestic political and propaganda operation. In 1987, an investigation by the Comptroller General determined that the OPD engaged in "prohibited, covert propaganda activities, beyond the range of acceptable agency public information activities". The OPD also violated "a restriction on the State Department's annual appropriations prohibiting the use of federal funds for publicity or propaganda purposes not authorized by Congress.
-Wikipedia
The veterans of the US-financed and directed Contra war against Nicaragua will turn up again and again in this narrative. They constitute the core of the US coup-cadre for Latin America and the Caribbean.
From 1986-1989, Otto Reich was US Ambassador to Venezuela. He became infamous there.
On October 6, 1976, another Cuban exile, Orlando Bosch was part of a plot by right-wing Cuban exiles to blow up a Cuban passenger liner, Cubana de Aviacion Flight 455, originating in Caracas, Venezuela. The bomb was successful, killing 73 people including a youth fencing team. Venezuela had captured, tried, and convicted Bosch. When Otto Reich was appointed to the Embassy in 1986, his first order of business was to negotiate the release of his fellow Cuban-American with another Teutonic name. Bosch sleeps peacefully in his bed today in the United States.

Orlando Bosch
The coup cadre are a violent, exclusive club.
By 2002, after a hiatus in the consulting business, Reich returned to the public stage as Assistant Secretary of State for Western Hemisphere Affairs, an office that recurs in all three coups under review, beginning with the coup against the Chavez government in Venezuela.
On the day Pedro Carmona was installed as president, Otto Reich summoned ambassadors from Latin America and the Caribbean to his office to express their support and that of the US administration for the new government.
We'll see this again, as one of the tactical phase-lines in a coup. Immediately after the execution phase, the coup-makers need to shore up their international legitimacy as quickly as possible. No nation's influence on that process is greater than the United States. What exposed this phase in Venezuela was the failure of the coup to consolidate. A combination of Chavez-supporting citizens in the street and the loyalty of most of the young officers in the military led to the fall of the Carmona de facto government in two days. When the returned constitutional government gave proof to the international media of the nature of the coup, the question was naturally raised: Why did the United States move so quickly to legitimate the coup? Either it was rash, or it was involved. The State Department doesn't make announcements that are rash. And how ready Reich seemed to go into action within hours to contact Latin American Ambassadors to count heads and twist arms. He also went into action with the press. Remember, propaganda is one of his specialties, this former Civil Affairs Officer. He went to the press and to Congress.
Reich warned Congressional aides there was more at stake in Venezuela than simply the success or failure of Hugo Chávez. He accused Chávez of meddling with the historically independent state oil company, providing haven to Colombian guerrillas and bailing out Cuba with preferential rates on oil. He also said the administration had received reports that "foreign paramilitary forces"– which they suspected to be Cubans -— were involved in the bloody suppression of anti-Chávez demonstrators, in which at least fourteen people were killed. Mr. Reich, who declined to be interviewed, offered no evidence for his assertions.

-Wikipedia
It is now 2010, and Reich, the Arcadia Foundation, and the US Department of State are still propagating the lie about the demonstrations [see inset on The Revolution Will Not Be Televised] and about Colombian guerillas. Venezuela's oil sales to Cuba were already stipulated by the Venezuelan government.
INSET

The Revolution Will Not Be Televised

In 2003, Irish filmmakers Kim Bartley and Donnacha Ó Brian completed the documentary film The Revolution Will Not Be Televised. Over seven months, including during the coup and the counter-coup, from the back streets to the National Palace, the two filmmakers had unprecedented access to the country and its government. Consequently, this film is not only a riveting account of the lead-up and execution of the coup, it is shot from inside the National Palace during the coup handover and during the dramatic events that overturned the coup-makers' plans. The historic footage alone is enough reason to see this film, but even setting that aside, the film debunks most of the prevarications of the coup supporters, and gives a far different account of the coup than we got in the United States, especially its focus in on the role of corporate media in setting up, executing, and attempting to consolidate the coup d'etat of 2002. It is available free online, and strongly recommended.
*

The very same day that the coup d'etat in Honduras began, in an emergency session of the Organization of American States (OAS) in Washington D.C., Roy Chaderton, the Venezuelan ambassador to the OAS, spoke with a simmering fury as he looked directly at Hector Morales, the U.S. Ambassador to the OAS.

"There's a person who's been very important within U.S. diplomacy, one who has re-connected with old friends and colleagues and helped encourage the coup perpetrators," he said.

"The gentleman's name is Otto Reich, former Assistant Secretary of State for Western Hemisphere Affairs during the government of George [W.] Bush. We in Venezuela have suffered this man, as the U.S. Ambassador in Venezuela, as an interventionist, we suffered him later in his position as Assistant Secretary of State…we had the First Reich, later, the Second Reich, now unfortunately we're facing the Third Reich, moving within the Latin American ambit through an NGO [non-governmental organization], to fan the flames of the coup."

Following Chaderton's furious denunciation, Reich penned a strange non mea-culpa opinion piece which the Miami Herald obligingly printed, complete with Reich's deliberate misspellings of Chaderton's name. He said that he was not the coup's "architect," which is quite some distance from a total denial.
Reich's colleague, Robert Carmona-Bojas, was in Honduras the following day, using a fake name – Armando Valladares – to stay in the Plaza Libertador Hotel in Tegucigalpa. Why, and why undercover?
Honduras' de facto government must surely have tightened things up at the airports, so we are led to believe – since he was not charged with traveling under a false identity – that he was there to meet with the de facto government in some capacity.
As the old song goes, we get by with a little help from our friends. Reich has a special friend, who is back with the State Department… sort of. That friend is John Negroponte.
Big John
John Negroponte had been on hand in Honduras several times since leaving Condoleeza Rice's team and joining Hillary Clinton's.
He met a number of opposition politicians and secured Micheletti's pledge "to go all the way". Similar guarantees were given to him by representatives of the Honduran business community, the Roman Catholic Church, the owners of TV channels, and the military elite.
Negroponte's hand was apparent through both the Bush and Obama administrations, apparently without an alteration of the foreign policy direction. As we review the list of Ambassadors in Honduras and all nations bordering Honduras, we find they are all Negroponte pups: Hugo Llorens, Stephen McFarland, Robert Blau, and Robert Callahan.
Negroponte – Clinton's adviser – is there before the coup. Carmona-Borjas shows after the coup execution and during the consolidation phase. Lanny Davis, Clinton friend and attorney, becomes the coup government's chief lobbyist, during and after the coup consolidation.
Asked if he had qualms about representing business people linked to a coup government denounced and unrecognized by the United Nations, the Organization of American States and many countries across the globe (including the United States), Davis responded, "There are facts about Mr. Zelaya that the world community may not be aware of. I'm proud to represent clients who support the decision of Secretary of State Clinton to back the mediation of President Arias in the conflict [between Zelaya and coup leaders]. But my biggest concern is safety and security of the Honduran people."
The coup General, Romeo Vasquez-Velasquez is a graduate of the Western Hemisphere Institute for Security Cooperation (School of the Americas), and a veteran of the murderous Battalion 3-16 from Negroponte's days. Reich is on the Board of the Western Hemisphere Institute for Security Cooperation (School of the Americas). Carmona-Borjas inaugurated the Hondutel scandal-campaign. After the coup, General Romeo Vasquez-Velasquez was appointed CEO of Hondutel. And so we end up back at telecoms.
Reich served – with his colleague Carmona-Borjas and Adolfo Franco – as foreign policy advisor to the McCain campaign in 2008.
New name: Adolfo Franco.
Aid and Democracy Fronts
The story that emerged outside Honduras about Zelaya's insistence on holding a public opinion poll being the trigger for the coup is only a partial one, because the effort to undermine Zelaya was proceeding on several tracks in the years leading up to the coup. A whispering campaign about corruption was one of them. Juiced with Reich's contacts at the highest levels of the U.S. government, the Arcadia Foundation coordinated a farcically one-sided media campaign against the Honduran state telephone company, Hondutel, in order to create the public perception, similar to the accusations made some years ago against Haiti's deposed president, Jean Bertrand Aristide, that Zelaya's government was hopelessly corrupt from the top on down, and that Zelaya was unfit for the presidency.

-Machetera
Again, we can ask the questions, (1) why telecoms, and (2) how does this kind of disinformation get distribution? A partial answer can be found by looking briefly at this new character, Adolfo Franco. Sourcewatch:
Adolfo Alberto Franco is Assistant Administrator for Latin America and the Caribbean at USAID. Prior to that, Franco served as majority counsel for the House Committee on International Relations. "From 1985 to 2000, Mr. Franco held a variety of positions" at the Inter-American Foundation, "including senior vice president, director of congressional affairs, general counsel and acting president. Born in Cardenas, Cuba, Mr. Franco has a B.A. and M.A. in history from the University of Northern Iowa. He graduated cum laude from Creighton University School of Law where he was on the law review," his IAF profile states.
USAID, where Reich began. Part of the Cuba-cadre, like Reich.

Adolfo Franco
Adolfo Franco will appear in our coup story during the consolidation phase of the coup, twice with a guy named Cris Arcos, a Texas-born diplomat and "consultant." Both instances, June 9 and July 9, are forums for the press in defense of the coup, again part of the effort to consolidate the coup in the US, that is take it off the table as "controversial." Cresencio "Cris" S. Arcos, Jr. is the former Ambassador to Honduras (1989-1983), succeeding John Negroponte. He is also a former vice president of AT&T. Reich is an advisor to AT&T.
Adolfo Franco was with USAID, which funnels money into foreign countries in support of US objectives there. USAID has subsidiaries for disbursement that are listed as "non-profits," even though they enjoy great largesse from US taxpayers. The overarching organization is the National Endowment for Democracy (NED), which has subsidiaries from both major parties; the National Democratic Institute (NDI) and the International Republican Institute (IRI). Of those two, the formation most involved in the coups of 2002, 2004, and 2009 was the IRI.
The chair of IRI is Senator John McCain. The three foreign policy advisors to the McCain presidential campaign were Otto Reich, Robert Carmona-Borjas, and Adolfo Franco. John McCain is known to be the Senate water boy for the telecom industry.
So here we have the IRI, funded by the State Department. What do we know about IRI? Joshua Kurlantzick writes:
In 2002 and 2003, IRI used funding from the U.S. Agency for International Development (USAID) to organize numerous political training sessions in the Dominican Republic and Miami for some 600 Haitian leaders. Though IRI's work is supposed to be nonpartisan — it is official U.S. policy not to interfere in foreign elections — a former U.S. diplomat says organizers of the workshops selected only opponents of Aristide and attempted to mold them into a political force.

The trainings were run by IRI's Haiti program officer, Stanley Lucas, the scion of a powerful Haitian family with long-standing animosity toward Aristide — Amnesty International says some family members participated in a 1987 peasant massacre. "To have Lucas as your program officer sends a message to archconservatives that you're on their side," says Robert Maguire, a Haiti expert at Trinity College in Washington, D.C.

Thomas Shannon with Stanley Lucas (Shannon is part of the Honduras story, too.)
Lucas routinely reported to none other than Roger Noriega, seen as the architect of the Haiti 2004 coup. And one of the alumni of these IRI "training programs" was coup leader Andy Apaid, whose coup committee, Convergence Democratique, was central to the pre-coup destabilization.

Roger Noriega
IRI does love irony in naming. The IRI-sponsored coup committee in Venezuela was Accion Democratica. In Haiti, Convergence Democratique. In Honduras, the IRI-group was Union Civil Democratica. All three "democratic" fronts to overthrow democratically elected governments.
A coup is capitalism by other means.
All three coups were carried out – on the American end – by Republican operatives. Otto Reich was George W. Bush's principle advisor on Latin America, and the State Department core in Central America is Republican. Not merely Republican, but Republican with strong ties to the Cuban-American right-wing. The IRI is a Republican formation. Obviously, the coup in Honduras has been on the table for some time (no, they don't just happen in a few weeks). Why is a Democratic Secretary of State, under a Democratic Chief Executive, choosing to continue the policies developed, coordinated, and carried out by this Republican network? Neoliberalism is bi-partisan. Returning to Venezuela 2002,
IRI's Latin America program was led by Georges Fauriol, who had previously worked at a conservative Washington think tank alongside Otto Reich, who has been Bush's closest adviser on Latin America policy. Reich, who according to Congress' Government Accountability Office conducted "prohibited covert propaganda" on behalf of the Nicaraguan Contras in the 1980s, is a former ambassador to Venezuela who had frequently denounced Chavez.

-Joshua Kurlantzick
Leading up to the coup in Venezuela, IRI ramped its on-the-books funding from $50,000 in grants to $300,000. IRI also used its own finding to jet opposition figures to Washington where they could meet and greet. When the execution phase was over, and Chavez was a captive, IRI's Venezuela office was the first to commend the bravery and patriotism of the de facto junta.
To Chavez's tactical credit, waiting two days to reverse the coup let a lot of people, including the US government, go on record with its support of the coup, before the legitimate government reoccupied the offices of state. There may be some who can never forgive the ex-paratrooper for outfoxing them in such a humiliating and thoroughgoing way.
In Haiti, Stanley Lucas was the IRI man on the ground. Luigi R. Einaudi, citing an OAS investigation, wrote:
[Stanley] Lucas was also simultaneously running IRI's Haiti program, which had been financing activities to seek removal of Haitian President Jean Bertrand Aristide. USAID funded IRI to the tune of more than $3 million from 1998-2003 to destabilize Haiti under the guise of 'promoting democracy', the usual term put forth by such programs. Lucas, wealthy and Haitian-born, was hired by IRI in 1992 to run their Haiti sessions for Aristide's most virulent opponents. IRI's millions and Lucas's genius applied the US intervention model formerly used in Nicaragua: unification of opposition parties.
In Haiti, IRI crafted and built the Democratic Convergence, a group of disparate opposition parties, social organizations, and groups in the country. The Democratic Convergence was elemental in provoking the ongoing tension and violence in the nation, eventually leading to the illegal and violent overthrow of President Aristide. IRI's role was beyond pivotal..
With regard to Honduras, Wikipedia notes:
The IRI received about $1.2 million from the National Endowment for Democracy in 2009 in order to support think tanks and Lobby groups opposing the president Manuel Zelaya such as the Unión Cívica Democrática, and to "support initiatives to implement political positions during the campaigns in 2009″ following the 2009 Honduran constitutional crisis. [Love the euphemism for a coup - SG]
It doesn't sound like much, given the colossal figures governments deal in, but bear in mind, these were meetings and phone calls, not some white elephant defense contract. A million dollars pays for a lot of meetings and phone calls.
Especially in Haiti or Honduras. And where we find IRI, we find AT&T.
AT&T – "Your world delivered."
The liberalization of the telecommunications industry was joined by corresponding shifts in the rules governing key sites of prospective market growth across much of the world. Powerful multilateral organizations from lending and development agencies like the International Monetary Fund (IMF) and the World Bank to the newly formed global trade adjudicating forum of the World Trade Organization (WTO) aggressively lobbied for reform and expansion of telecommunications and media sectors across the world, while simultaneously expanding and enforcing the rules of trade-based norms guiding the intellectual property rights regime. Official opinion at the World Bank and ITU sought to connect the new centrality of communication to much-heralded improvements in the lives of billions of people. Greater access and greater profits were seen to legitimate a win-win logic to this chapter of global neoliberal reform, in contrast to other areas where capitalist globalization led to more blatant forms of inequality and violence.
Lest anyone think that coups are linear processes, it's not so. A scandal aimed at a publicly-owned telecom, targeted for privatization, begins the process of delegitimizing a target government. Who will buy up telecoms when the public sector sells these extremely lucrative assets off?
Perhaps AT&T, for whom Otto Reich is a Latin America advisor, to whom John McCain has sworn fealty, and with whom Adolfo Franco was a vice president?
I met Machetera (a pseudonym) several years ago in New York. I've cited her in this article several times. Right now, Honduras is considered the most dangerous country in the world for independent journalists. She retains contact with people in Honduras, so we will use her pseudonym. She has been invaluable to English-first speakers for following developments since the coup. In a recent article on the Arcadia Foundation, she writes:
Just as there were remarkable similarities in the kidnapping of President Aristide in 2004 in Haiti, and President Zelaya in Honduras, both being put on planes with the shades drawn and flown to unannounced destinations, there were similarities in the use of telecom as a propaganda tool to turn public opinion against them and set the groundwork for them to be prematurely removed from office, and once out, kept out.
Arcadia's scandal-mongering shows synergy here, lest anyone think that coups are linear processes. The political objective – to remove a government and replace it with one more to your liking – is married to the financial objective – breaking into one of the most consistent money-making enterprises in the target nation, and consolidating monopoly-like control over a nation's communications media. Hondutel (and in Haiti, Teleco) fits the synergy bill nicely. Existing media monopolies, in the US and the target nation, can be counted on – if history is any indicator – to be an enthusiastic echo chamber.
From a neoliberal political point of view there are two advantages to a propaganda offensive centered upon telecom corruption. The first is obvious. If telecom corruption can be tied directly to a leader who is not following Washington's agenda, it promotes public support for the leader's removal. The second is a little less obvious, but equally as important. It promotes the argument that telecom companies under state control really ought not to be, especially in underdeveloped countries, and would be better off privatized.

-Machetera
Facts: Shawn Beighle, chief information officer, International Republican Institute, is a former telecom executive. While there are many corporate contributors to the IRI, AT&T is the leviathan.
While the average corporate contribution to the IRI is around $15,000 on any given year, AT&T's average is $200,000.
A small investment compared to the return when a whole nation's telecommunications infrastructure is sold off.
The IRI – a US Republican Party apparatus – and the telecommunications industry – led by AT&T in this case – have formed a partnership of political and economic plunder. Why did this whole regional project that is obviously a Republican operation from A to Z – a party which has, by the way, gained hegemony within the nation's security-intelligence-military bureaus – continue on Clinton's watch, up to and including an incredibly risky – some might say reckless – coup d'etat, yet again almost two years into a Democrat's watch? Nothing should set alarms off quicker than the word, "bipartisan."  Obama's administration is more similar to Reagan's than to any other presidency.
The Republican Party roots of this coup cadre now need some explication.
Reagan's Raiders
Beginning with Haiti, we can work back to the Reagan years; and we will see that many of the coup cadre under review on Honduras worked for both Reagan and the Bush dynasty.
Roger Noriega, then Assistant Secretary of State for Western Hemisphere Affairs. We've reviewed his biographical sketch, so we know he got his bones in Nicaragua, in the Reagan administration's campaign to destroy the Sandinista government. Dubbed "Iran-Contra" by the press, that campaign was being run by a now familiar coterie of felons which included Elliot Abrams, John Negroponte, John Poindexter, and Otto Reich.
The Vice President during this episode was George Herbert Walker Bush, former Director of Central Intelligence.
Reagan's Office of Public Diplomacy was run by Otto Reich, who zealously planted half truths, innuendos and outright fabrications in the press – for instance, that the Sandanista government was receiving a shipment of MIG fighter-bombers.
Early in George W. Bush's administration, Bush nominated on Reich to be Assistant Secretary of State for Western Hemisphere Affairs during a legislative recess, but the returning Senate refused to renew Reich's appointment. In August 2001, the job went to Mr. Noriega; but like so many of the Iran-Contra vets, Reich went back into the government, working under Secretary of State Condoleeza Rice from a special office (created just for him) called "Special Envoy for Western Hemisphere Initiatives."
Reich needs moving around form time to time. He leaves messes. Toward the middle of the second Reagan administration when the huge cocaine element of Iran-Contra broke into view, Reich's deep involvement with CIA assassin Felix Rodriguez and terrorist Luis Posada Carriles became too obvious for the administration's comfort, and off he went. In 1986 he got his Embassy in Caracas.
Reich's first mission from Bush II was his disinformation campaign against Hugo Chavez' government in Venezuela.
John Negroponte is another Cocaine-Contra figure with a great resume for disinformation. In 1981, USA Ambassador to Honduras, Jack Binns, made the error of reporting that the Honduran military was engaged in death-squad activity. This did not sit well with the Reagan administration, who never met a right-wing Latin American reactionary it didn't like. Binns was fired and his job went to Negroponte. Between 1981-1985, Negroponte's diplomatic tenure, there was a direct correlation between the level of military violence – especially that of the specially US-trained "intelligence" unit called Battalion 3-16 – and the level of military assistance provided to Honduras by the US taxpayer: an increase from $4 million to $77.4 million. This was when Honduras was being used as a launch platform for the Nicaraguan Contras.
When the Senate later questioned Negroponte in the course of the Iran-Contra investigation, Negroponte said he had no knowledge of Battalion 3-16 or its activities, indicating that he was either dead drunk for four years or not actually staying in Honduras where he was the ambassador (or, of course, that he was lying through his teeth).
Through this whole sordid period of death squads, the murders of nuns and Catholic clerics, arms-and-cocaine swaps, and felony-as-executive-branch-policy, the regional boss was Elliot Abrams, described by friend and foe alike as a snarling macho prick. Convicted for his role in Iran-Contra as Reagan's Assistant Secretary of State for Latin American Affairs, Abrams was soon pardoned by George H. W. Bush. Later, Bush the Younger named Abrams Senior Director of the National Security Council's "Office for Democracy, Human Rights and International Operations."
In 2003, Peter Kornbluh of the National Archives told a Newsday reporter:
The resurfacing of the Iran-Contra culprits has been nothing short of Orwellian in this administration. These are not 21st-century appointments. They are retrograde appointments, a throwback to an era of interventionism when the U.S. was the big bully on the block.
There was some speculation that the Bush II appointments – most intimates of the Miami-based Cuban right-wing – were a form of reciprocation for Cuban assistance with the Florida-based judicial coup that put George W. Bush into the Oval Office. But the very Republican genealogy of this cadre suggests it was more substantial than that.
During the Bush II years, it would be Roger Noriega coordinating the details of President Aristide's forcible removal from office, with Otto Reich running the anti-Aristide disinformation campaign in the Organization of American States (OAS), himself fresh back from his failed coup against Venezuela.
And so we see the same people moving back and forth over the map, and through time.
We know the IRI is a Republican Party instrument. Above the IRI in the chain of command, as it were, is the National Endowment for Democracy (NED). It has a Democratic subsidiary, so it appears very bipartisan. But, again, the NED itself was Reagan's creature, and the Reagan administration itself was explicit that the NED was a refinement in covert operations.
The NED was set up in the early 1980s under President Reagan in the wake of all the negative revelations about the CIA in the second half of the 1970s. The latter was a remarkable period; spurred by Watergate – the Church committee of the Senate, the Pike committee of the House, and the Rockefeller Commission, created by the president, were all busy investigating the CIA.

Seemingly every other day there was a new headline about the discovery of some awful thing, even criminal conduct, the CIA had been mixed up in for years. The Agency was getting an exceedingly bad name, and it was causing the powers-that-be much embarrassment. Something had to be done. What was done was not to stop doing these awful things. Of course not.

What was done was to shift many of these awful things to a new organization, with a nice sounding name – The National Endowment for Democracy.

The idea was that the NED would do somewhat overtly what the CIA had been doing covertly for decades, and thus, hopefully, eliminate the stigma associated with CIA covert activities. It was a masterpiece. Of politics, of public relations, and of cynicism.
The NED has four affiliates in the United States: the Republican Party, the Democratic Party, the US Chamber of Commerce, and the AFL-CIO. The NED counterparts to these four entities are the International Republican Institute, the Democratic Institute for International Affairs, the Center for International Private Enterprise, and the American Center for International Labor Solidarity. There is strong and growing opposition within the AFL-CIO to ACILS, which is a throwback to the bad-old-days of Cold War business-unionism.
The job of the NED is to funnel funds, training, and support to political groups in other countries in order to ensure political outcomes that are favorable to the US. Their most tried and true method has been to build, train, finance, and control political alliances as "oppositions" to popular governments considered too "left" for the US. If that sounds like the IRI's doings, it's because it is. The IRI just focuses more. The entire NED organization is committed to the Dollar-Wall Street Regime, and to neoliberalism as its lifeblood.
Allen Weinstein, who helped draft the legislation establishing NED, was quite candid when he said in 1991:"A lot of what we do today was done covertly 25 years ago by the CIA." In effect, the CIA has been laundering money through NED.

(Ibid.)
The Clinton State Department budget has more money for NED "democracy promotion" campaigns in its 2010 budget than the Bush administration had during its full eight years.
As this was written, there was a coup attempt against Ecuador's government. President Correa was temporarily expelled to a US military base. Ecuador joined ALBA.
The Helms School
US policy right now is in the hands of the ideologues. You cannot overestimate the relevance of these people in shaping US policy. In a sense the Helms school of Haitian strategy is at work here.

- Larry Birns, as director of the Council on Hemispheric Affairs
Roger Noriega's public antipathy for Aristide began while Aristide was in office the first time, when Noriega was working as a senior advisor to the OAS. This public opposition to Aristide – and Noriega's connections with Miami's reactionaries – led to an appointment to the staff of the arch-racist Senator from my very own North Carolina, Jesse Helms.
Though seldom noted, race figures heavily into the world view of our protagonists, including the members of the Latin American comprador-surrogate elite. Color still massively divides Latin American society.
Helms was a personal friend to and open supporter of Salvadoran death-squad commandante Roberto D' Aubuisson, believed to have planned the assassination of Archbishop Oscar Romero, one of the many outrages that occurred in Latin America on the Reagan watch.
Active opposition to Aristide by Helms and Roger Noriega began at the very moment of Aristide's surprise election victory in 1990, when he overwhelmingly defeated the US-backed Haitian presidential candidate, Marc Bazin, a World Bank executive. This election made Aristide the first democratically elected president in Haitian history.
Helms' antipathy to Aristide is double-edged: Helms regarded any form of independence, any popular agitation, any policy that makes inroads against the power of the rich, to be "communist."
Helms frequently referred to Aristide as a "Haitian Castro," employing the ever reliable guilt by association with a pre-demonized figure trick. And Jesse Helms just plain didn't like Black people. Foreign, Black, Catholic, or left of him – the only thing missing for the pure embodiment of evil according to Helms would be if Aristide were gay.
In the South, where political hegemony has been exercised ever since the Nixon presidency, there is a long standing belief that unions, race-mixing, and communism are identical, and this remained Helms' view. One of the Ku Klux Klan's principal appeals forty years ago (when Hoover's FBI was very much at home with the good ole boys) was that they were a bulwark against communism – which they opposed because communists promoted racial "mongrelization."
Maybe Roger Noriega shared Mr. Helms' special political pathology. But it's more likely that he is driven by his self-perception as a guardian of the empire in Latin America, and shaped by his origins in that particular region of the South… that is, Miami – ever a swamp of intrigue.
The former U.S. Ambassador to El Salvador, Robert White, was among those fired by Reagan for speaking out on human rights violations. Just days before the present coup d'etat culminated with Aristide's removal and detention by the U.S. Marines, White commented: " Roger Noriega has been dedicated to ousting Aristide for many, many years, and now he's in a singularly powerful position to accomplish it." Shortly thereafter, he did.
Recalling the Helms-Noriega efforts to prevent Aristide's return to Haiti in 1994, Dr. Heather Williams wrote in "Haiti as Target Practice":
How the US Press Missed the Story:

As senior staff member for the Committee on Foreign Relations of the U.S. Senate, and advisor to Senator Jesse Helms and John Burton, he [Roger Noriega] was party to a three-year campaign to defame Aristide and prevent his return to power; all the while CIA-backed thugs left carnage in the streets daily in Port Au Prince. In his capacity in the State Department since 2003, and for two years before that as the U.S. Permanent Representative to the OAS, he has aggressively advertised his intention to oust Aristide a second time. For example, in April of last year, speaking at the Council of the Americas conference in Washington, he linked U.S. policies in Haiti to those in Venezuela and Cuba … He added that" President Chavez and President Aristide have contributed willfully to a polarized and confrontational environment. It is my fervent hope," he added ominously, "that the good people of Cuba are studying [this]."
While there is no doubt that the Reagan administration was a shaker and mover in Latin America and the Caribbean, to really get at the roots of covert operations and coups d'etat in the United States, we have to go back just a bit further.
Plan Condor
In 1948, the CIA inaugurated its "Office of Policy Coordination,"(OPC) headed up by Frank Wisner, a Wall Street lawyer. The OPC's responsibilities included, in its own words,
[P]ropaganda, economic warfare, preventive direct action, including sabotage, anti-sabotage, demolition and evacuation procedures; subversion against hostile states, including assistance to underground resistance groups, and support of indigenous anti-communist elements in threatened countries of the free world.
In the wake of the economic crisis caused by Vietnam, the US colonial playground called Latin America took on a new significance. The story of Secretary of State Henry Kissinger's involvement in the 1973 CIA-supported coup d'etat against democratically elected President Salvador Allende in Chile is well known. What is not so well remembered is that John Negroponte was the US Ambassador to the UN in 1972, as was George Bush the Elder in 1973. Bush took over the CIA in 1975. At that time, DCI Bush launched Plan Condor, designed to wipe out political opposition to US-supported regimes in Latin America. As part of Condor, the green light was given to the then-fascist government of Argentina to slaughter 30,000 political opponents between 1976 and 1983.
Who were some of the shakers and movers for Plan Condor? Orlando Bosch and Luis Posada Carriles, the future Cuban-American bombers of a civilian passenger airliner.
The Argentinean military would eventually help train Negroponte's Honduran Battalion 3-16, an officially-sanctioned death squad inside the Honduran Army.
So the Republican genealogy of the coups of the 2000s is clear, as is the longstanding alliance between Republican foreign policy operators in Latin America and the preponderance of Miami-based Cuban-American agitators within the core cadre.
Battalion 3-16
Battalion 3-16 … was the name of a Honduran army unit responsible for carrying out political assassinations and torture of suspected political opponents of the government during the 1980s.

-Wikipedia
Trained initially by members of the Argentine military, when Argentina was a military dictatorship ridding itself of some 30,000 meddlesome citizens at home, Battalion 3-16 also received training from Pinochet's Chile. When the war for the Malvinas happened, the CIA became the unit's more direct benefactor, training the unit's members on bases in Honduras and the United States; where the Department of Defense also brought many members through the then-named "School of the Americas."
General Gustavo Alvarez Martínez commanded the unit, and co-authored the current Constitution of Honduras with Ambassador John Negroponte.
Even after revelations about 3-16's activities, the unit continues to this day, under the designation "Intelligence and Counter-Intelligence Branch."
In summarising declassified U.S. documents showing telegrams (cables) sent and received by Negroponte during his period as U.S. Ambassador to Honduras, the National Security Archive states that "reporting on human rights atrocities" committed by Battalion 3-16 is "conspicuously absent from the cable traffic" and that "Negroponte's cables reflect no protest, or even discussion of these issues during his many meetings with General Alvarez, his deputies and Honduran President Robert Suazo. Nor do the released cables contain any reporting to Washington on the human rights abuses that were taking place.

-Wikipedia (Battalion 3-16)

Billy Joya
One of the chief figures with Battalion 3-16 is Billy Joya. Beginning his military career at 14 years old, Billy Fernando Joya Améndola rose through the ranks of the state security apparatus until he was a National Security Advisor to President Zelaya, and was appointed chief of state security after the coup. Zelaya himself believes Joya to be one of the coup's main architects, and says that Battalion 3-16 is being reconstituted in its old guise to consolidate it.
Events after the coup suggest that Zelaya is right. Bombings, assassinations, kidnappings, and threats have been relentlessly deployed against anti-coup figures and organizations ever since the coup last year. Joya is the current state security tsar for Honduras.
The main agency that specializes in setting up terror networks to augment official forces in Latin America has been the CIA. Off-the-record operations and off-the-books funding gives then great latitude; and the Agency hasn't been an intelligence agency for decades. Less than 20% of its budget is for intelligence gathering, and most of that is in support of its own covert operations, which is the lion's share of the budget.
The CIA had a strong role in establishing, training, equpping and financing Battalion 3-16. The U.S. Ambassador to Honduras at the time, John Negroponte, met frequently with General Gustavo Alvarez Martínez. In summarising declassified U.S. documents showing telegrams (cables) sent and received by Negroponte during his period as U.S. Ambassador to Honduras, the National Security Archive states that "reporting on human rights atrocities" committed by Battalion 3-16 is "conspicuously absent from the cable traffic" and that "Negroponte's cables reflect no protest, or even discussion of these issues during his many meetings with General Alvarez, his deputies and Honduran President Robert Suazo. Nor do the released cables contain any reporting to Washington on the human rights abuses that were taking place."

-Wikipedia (Battalion 3-16)
The CIA sponsored death squads and secret police in numerous client states. Latin America and the Caribbean received special attention in this regard, particularly in the 80s under Reagan, but with continuity under ex-CIA Director and President George Herbert Walker Bush.
Given its emphasis on covert operations, generally in support of right-wing forces, the Agency's culture reflects its operations in its politics. As the right-wing in American politics, the Republican Party is well-represented within the Agency, both leadership and rank-and-file.
Special Forces shares WWII's Office of Strategic Services (OSS) lineage with the CIA. My own immersion in that culture bore this out: overwhelmingly white, overwhelmingly male, and overwhelmingly Republican. I was in Colombia, working as an advisor in 1992, when Bill Clinton won the election. We were bunked up with another special ops unit, and the announcement of the Clinton victory was met with jeers and howls of protest, accompanied by homophobic epithets. This was to become his unit, as Commander-in-Chief. And it did not like him. The same cultural norms apply to the CIA.
The year prior, the CIA had facilitated its first coup against Haiti's President Aristide, just eight months after he took office. Within a year, the Republican CIA would fire a shot across Clinton's bow.
The Harlan County Incident
During the 1992 election, Bill Clinton excoriated George W. Bush for his incarceration of Haitian refugees in the concentration camp at Guantanamo Bay, Cuba. Playing to his black constituents, whom Clinton would betray in his later policies at every turn, Clinton also pointed quite justifiably to the hypocrisy of allowing (mostly) white Cubans automatic entry into the US, while indefinitely detaining black Haitians.
The coup of a year earlier (1991) was consolidating apace with its slaughter of Aristide loyalists and grassroots organizers, and CIA complicity in the coup was becoming gradually more visible with a leak here and a whisper there.
Then the economy tanked after George H. W. Bush had made his famed "read my lips" remark, and Bill Clinton was elected.
Faced with the reality of Haiti's desperation and the volume of refugees fleeing the Cedras-Francois regime, and faced with the reality of Florida politics and the possibility of 100,000 or more penniless people crashing onto its shores, Bill Clinton's first foreign policy embarrassment was being forced by his circumstances to treat the fleeing Haitians even more harshly than the Bush regime had.
My own unit in 1993 was preparing for an invasion of Haiti to re-install a reined-in Aristide, but the debacle in Somalia put the whole plan on hold for a year. While Haitians had originally elected Aristide because of his opposition to predatory neoliberal policies, Clinton now convinced Aristide to support those same policies in order to stop the killing. Clinton knew very well that a US invasion would not be accepted by the people of Haiti without Aristide – their first democratically elected President, whom they now saw as a symbol of their aspiration for genuine independence.
Aristide was to be re-installed on October 30, 1993, according to an agreement between Cedras and Clinton called the Governor's Island accords. The USS Harlan County, carrying the military and State Department facilitators, arrived in Port-au-Prince on October 11th. But the officials who were designated to meet the craft had been replaced by a handful of FRAPH thugs (some of them drunk) waving pistols and threatening to fire on anyone who disembarked. So the USS Harlan County, an American warship, was turned about and sent home by a band of intoxicated bullies with Colt .45s. This was a tremendous foreign policy embarrassment for President Bill Clinton, who was at a loss to explain the situation to the public.
This bizarre incident was rendered even more fantastic by the nonchalant presence of the American John Kambourian on the docks, unafraid and unthreatened by the ostensible anti-American gang. Kambourian was leaning on his vehicle with a kind of Delphic smirk throughout this whole weird interlude. Documentary film maker Katherine Kean was on hand and secretly videotaped him.
Kambourian was the CIA's man on station. He had been sitting in the car with UN representative Vickie Huddleston, and the FRAPHists made a kind of show of banging on the hood and shouting, "Kill whites!" for the cameras. Neither Huddleston nor Kambourian seemed alarmed, nor did Huddleston attempt to leave. It was only later, when they didn't realize Kean had a running camera, that Kambourian exited the car to catch some air and suppress a smile at the little performance. The FRAPH, after all, were Kambourian's boys.
Present during the 1993 USS Harlan County fiasco was the chief of the FRAPH, Emmanuel "Toto" Constant.
Only later would the public learn that Constant was on the CIA payroll before, during, and after the 1991 coup d'etat. Little wonder Kambourian was so comfortable relaxing outside during the Harlan County "riot." Constant was taken in by the United States to live comfortably in Queens, NY collecting Happy Meal toys and (by many accounts) spending happy hours with his local cocaine dealers. His threats to expose his CIA relations pressured the US into protecting him from extradition.
Note that in this episode the CIA was subverting its own Director. There is no indication that R. James Woolsey, the newly appointed DCI was complicit in Kambourian's fake riot; in fact, it would be surprising if he were. He was a Clinton appointee, and like the next Clinton DCI, John Deutch, he served on the Boards of Directors of various big Defense contractors. The transparently orchestrated sabotage of Clinton's Haiti policy was probably the work of the field agents within the CIA who move up to become station chiefs.
Bush the Elder – former Director of Central Intelligence – had his vengeance on Bill Clinton with the Harlan County incident. Clinton was likely reluctant to call anyone's bluff on issues related to the CIA, just as Obama is loathe to confront his own military-security-intelligence establishment, where the Republican Party remains hegemonic.
In June this year, Lanny Davis wrote a hit piece against the left for The Hill, entitled "Progressive threat to the left." Nothing new there. Davis has always been a corporate DNC flak. What was interesting in the commentary was a (Freudian) slip he made in his text, where he was recommending Obama create a "Sister Souljah moment" in shutting down the left wing of the Democratic Party.
Two events last week involving elements of the Democratic Party who call themselves the "true progressives" show a danger they represent to the progressive change they say they want to effect. Together they offer President Barack Obama an opportunity for a "Sister Souljah moment" – perhaps to save the Democratic Party majority in both houses of Congress, as well as his progressive agenda in the last two years of his administration.
Lanny Davis, if the reader recalls, is now the principle lobbyist for the post-coup government in Honduras.
Davis goes back a long way with the Clintons. He was Bill's lawyer when the Monica Lewinsky scandal broke, and he was a key campaign strategist for his close personal friend Hillary Clinton. They have been friends since they met in Yale Law School. His animosity for Barack Obama, the man who spoiled his best friend's coronation, is well-known. He was the campaign consultant who went racial against Obama in the primaries, a hatchet-man to mobilize white voters to Hillary's camp, after her South Carolina racial gaff pushed the African American vote into Obama's column.
Hillary Clinton is a genuine conservative ideologue, not far removed from Jesse Helms.
In 2006, Rupert Murdoch held a fundraiser for her. She is a war supporter, and a friend to the military-industrial-secuity-intelligence complex. Conservative commentators wrote to suggest a 2008 crossover vote for Hillary Clinton in the Democratic Primary, and many Republican voters responded with primary support for Clinton. She is friendly to Wall Street and hostile to unions. Her pro-choice credentials are one of the few things that force many Democrats to cling to her, and she's even suggested that can be modified.
Clinton's Man in a Cloak
The Cormac Group, now, the illegal regime is being represented by top notch lobbyist and Clinton attorney Lanny Davis, who is using his pull and influence in Washington to achieve overall acceptance – cross party lines – of the coup regime in Honduras.

-Eva Golinger, 2009
Two weeks after the coup in Tegucigalpa, Eva Golinger, writing from Venezuela, gave the following checklist – supported in a long narrative – of key points regarding US involvement in the coup.
• The Department of State had prior knowledge of the coup.

• The Department of State and the US Congress funded and advised the actors and organizations in Honduras that participated in the coup.

• The Pentagon trained, schooled, commanded, funded and armed the Honduran armed forces that perpetrated the coup and that continue to repress the people of Honduras by force.

• The US military presence in Honduras, that occupies the Soto Cano (Palmerola) military base, authorized the coup d'etat through its tacit complicity and refusal to withdraw its support of the Honduran military involved in the coup.

• The US Ambassador in Tegucigalpa, Hugo Llorens, coordinated the removal from power of President Manuel Zelaya, together with Assistant Secretary of State Thomas Shannon y John Negroponte, who presently works as an advisor to Secretary of State Hillary Clinton.

• From the first day the coup occurred, Washington has referred to "both parties" involved and the necessity for "dialogue" to restore constitutional order, legitimizing the coup leaders by regarding them as equal players instead of criminal violators of human rights and democratic principles.

• The Department of State has refused to legally classify the events in Honduras as a "coup d'etat", nor has it suspended or frozen its economic aid or commerce to Honduras, and has taken no measures to effectively pressure the de facto regime.

• Washington manipulated the Organization of American States (OAS) in order to buy time, therefore allowing the coup regime to consolidate and weaken the possibility of President Zelaya's immediate return to power, as part of a strategy still in place that simply seeks to legitimate the de facto regime and wear down the Honduran people that still resist the coup.

• Secretary of State Clinton and her spokesmen stopped speaking of President Zelaya's return to power after they designated Costa Rican president Oscar Arias as the "mediator" between the coup regime and the constitutional government; and now the State Department refers to the dictator that illegally took power during the coup, Roberto Micheletti, as the "interim caretaker president".

• The strategy of "negotiating" with the coup regime was imposed by the Obama administration as a way of discrediting President Zelaya – blaming him for provoking the coup – and legitimizing the coup leaders.

• Members of the US Congress – democrats and republicans – organized a visit of representatives from the coup regime in Honduras to Washington, receiving them with honors in different arenas in the US capital.

• Despite the fact that originally it was Republican Senator John McCain who coordinated the visit of the coup regime representatives to Washington through a lobby firm connected to his office, The Cormac Group, now, the illegal regime is being represented by top notch lobbyist and Clinton attorney Lanny Davis, who is using his pull and influence in Washington to achieve overall acceptance – cross party lines – of the coup regime in Honduras.

• Otto Reich and a Venezuelan named Robert Carmona-Borjas, known for his role as attorney for the dictator Pedro Carmona during the April 2002 coup d'etat in Venezuela, aided in preparing the groundwork for the coup against President Zelaya in Honduras.

• The team designated from Washington to design and help prepare the coup in Honduras also included a group of US ambassadors recently named in Central America, experts in destabilizing efforts against the Cuban revolution, and Adolfo Franco, ex administrator for USAID's Cuba "transition to democracy" program.
Lanny Davis and John McCain, the Chair of the International Republican Institute and water boy for AT&T. I can't speak for anyone but myself here, but that is just an extremely interesting pair. Both with this connection to the Department of State and the coup in Honduras. Zachary Roth, writing in July 2009:
It seems like just yesterday that Lanny Davis was making the rounds of every news outlet that would have him, talking up Hillary Clinton's bid for the White House — and/or pushing the Reverend Wright story.

Not too long after, the former Clinton White House counsel popped up to do damage control for hawkish Democratic congresswoman Jane Harman over the AIPAC leak story.

And now the hardest working conservative Democrat in show business has a new gig: lobbying against the Honduran leader recently deposed in a military coup.

The Hill reports that Davis has been hired by the Honduran branch of CEAL, the Latin American equivalent of the U.S. Chamber of Commerce, to urge US lawmakers to support, rather than oppose, the military removal of President Manuel Zelaya, Honduras's democratically elected president.
One of Davis' clients was the military government of Pakistan under Perez Musharraf. Davis is definitely a big money man, and bullet-and-baton regimes seem not to ruffle him in the least. But he is treated by the media as a kind of "objective" analyst. Glenn Greenwald writes,
If Lanny Davis were just another Beltway lobbyist/lawyer piggishly feeding off our political system by serving whatever corporate interests happen to rent him, all of this would be too common to bother noting. But Davis parades around as — and is treated by media organizations as being — some sort of political pundit as well. He's presented by numerous media outlets as an independent analyst who opines on the news of the day — yet does so almost exclusively in order to promote the interests of those who are paying him, relationships which are often undisclosed.
This is what makes Davis a perceptioneer nonpariel. He is cloaked.
Connect the Dots
John Negroponte links Clinton to the American coup cadre; and Lanny Davis connects her with the Hondurans. Lanny Davis and John McCain are connected by their McCormac Group cooperation in post-coup perception management after the coup; and John McCain and Hillary Clinton are connected via the State Department/IRI relationship. McCain is connected to Negroponte via Carmona-Borjas, Arcadia Foundation, and Negroponte's friend Otto Reich.
This is networking.
Clinton's third finger in the pie is, of course, US Ambassador to Honduras Hugo Llorens, her direct representive in that nation, reporting directly to her. It becomes apparent, looking at this meshwork of relations, that there is only one person who is in both the legal and organizational position to exercise executive authority over US participation. That person is Secretary of State Hillary Clinton. To determine the exact content of her responsibility we need to study the coup itself.
The Coup in Tegucigalpa
There's a lot of work to do for a coup to be consolidated.
The consolidation phase had failed in Venezuela – in large part through the strategic error of listening to a few bought Generals telling the coup-makers the armed forces would follow the leader. It didn't hurt that this is what the coup-makers wanted to believe. The young officers and the rank-and-file stood by the new popular Constitution, and one of the three legs to the coup collapsed.
It's formulaic in the extreme to break coups down this way, so I'll declaim early. The three-leg theory of coup-making is necessary but certainly not sufficient to explain this highly complex enterprise. Those three legs are the three dimensons of destabilization: economic disruption and imposed scarcity, political turmoil, and the willing participation of the most powerful military/security institutions. One, two, three:
economic destabilization,
political destabilization,
military/security destabilization.
If all three conditions are not present, the coup will fail. In Venezuela they had learned, the hard way, that one sector resisting overthrow has the weight of history and inertia with it. There were a lot of big eyes in the National Palace two days in, when those young paratroops, many of them seen as racial inferiors by the coup-makers, suddenly appeared in the room with the de facto Carmonas government.
Coup consolidation must be planned, re-planned, and prepared to have its plans replaced by contingency plans. Because the consolidation phase is hectic, a marathon of caffeinated scheming and prevarication. When that happens, there will be slips.
July 1, the streets still teeming with demonstrators and burning with teargas, a State Department spokesman let it be known that the Embassy was aware of what was about to happen. This is not a catastrophe. One can simply say one misspoke.
Few noticed it was said, and the way to make that sort of thing go away is to let it fade from memory. For the few who did notice, this was a key revelation: foreknowledge. Because foreknowledge threatens plausible denial later on. It also told them to look more closely, because there might be a lot more than foreknowledge.
Assistant Secretary of State for Western Hemisphere Affairs Thomas Shannon and Deputy Assistant Secretary of State Craig Kelley, were in Honduras the week prior to the coup and maintained meetings with the civilian and military groups that later participated in the illegal overthrow of a democratically elected president. They state their mission was to "urge against" the coup, but evidently such verbal pressure was insufficient to discourage the actors involved in the coup, particularly considering the actions manifested by Washington contradicted those harsh words.

-Eva Golinger
(Shannon was appointed Ambassador to Brazil in January 2010. He was pictured earlier from the old days, hanging out with Stanley Lucas in Haiti.)
Veteran coup-watchers were very alert to the first pronouncements from Washington, because there are discernable tea leaves there. The most discernable were the first things that Secretary Clinton said, as well as what she didn't say. What she did say was "all parties," a signature phrase that attempts to lend moral parity to both sides in a conflict. What she didn't say was the word "coup." What she did not demand was an immediate return of President Zelaya to his elected office. This was exactly the point where I became sure that this coup, at least many of its parts, were "Made in the USA."
President Obama had much harsher things to say about the coup; and for a moment many of us paused. Only further into the consolidation did Obama seem to drift back on message, then disappear from the matter altogether.
The reason, aside from being able to deny there was a coup, for not calling the coup a coup, is that an acknowledged coup triggers US law requires the US to suspend relations: economic, diplomatic, and military. To this day, the US State Department refuses to call it a coup.
Clinton met Zelaya on July 7th in Costa Rica. After the meeting, in which she promised him he would be restored, she went before the cameras and microphones.
I just finished a productive meeting with President Zelaya. We discussed the events of the past nine days and the road ahead. I reiterated to him that the United States supports the restoration of the democratic constitutional order in Honduras. We continue to support regional efforts through the OAS to bring about a peaceful resolution that is consistent with the terms of the Inter-American Democratic Charter. . . . We call upon all parties to refrain from acts of violence and to seek a peaceful, constitutional, and lasting solution to the serious divisions in Honduras through dialogue. To that end, we have been working with a number of our partners in the hemisphere to create a negotiation, a dialogue that could lead to a peaceful resolution of this situation.
What was actually said there? Look closely. There's not much. "[T]he United States supports the restoration of the democratic constitutional order in Honduras." It does not say the restoration of the Zelaya government. And emphasis on the term "constitutional" is no accident, since the Pivotal Lie was that Zelaya ceded the presidency by violating the Constitution. The coup was successfully spun as a "constitutional crisis."
OAS members would complain that Washington's people were dead set against Zelaya. The spin machine was in action, and the memories were fading.
This is what I call "the vague period" after a coup, when diplomats appear less often, looking busy and preoccupied with the complicated matters of state, and they say as little as possible about the situation, and what they do say is that they are in various processes for resolution. I submit the Clinton statement above as evidence of vague.
The vague period buys time. Time erodes memory and interest at home, while outcomes are manipulated out of sight.
Getting the Story Straight
Journalist Jean-Guy Allard has revealed the origins of the current US Ambassador in Honduras, Hugo Llorens . Per Allard, Hugo Llorens, a Cuban national by birth who arrived in the United States as part of Operation Peter Pan, is "a specialist in terrorism. . . . In 2002, George W. Bush's White House strategically placed the astute Llorens as Director of Andean Affairs at the National Security Council in Washington, D.C., which converted him into the principal advisor to the President on Venezuela. The coup d'etat in 2002 against Venezuelan President Hugo Chávez occurred during Llorens' tenure, who was working together with Assistant Secretary of State for Western Hemisphere Affairs, Otto Reich, and the very controversial Elliot Abrams. In July 2008, Llorens was named Ambassador to Honduras."

On June 4, 2009, just weeks before the coup d'etat against President Zelaya, Ambassador Llorens declared to the Honduran press that ". . . One can't violate the Constitution in order to create another Constitution, because if one doesn't respect the Constitution, then we all live under the law of the jungle."

-Eva Golinger
Those declarations were made in reference to the national opinion survey on the possibility of convening a constitutional convention during 2010, which would have taken place on June 28th if the coup d'etat against President Zelaya hadn't occurred. The commentaries made by Llorens evidence not only his position against the survey, but also his interference in the internal affairs of Honduras.
Llorens is one of the Cubans, with the same sympathies, same mentors, same base in Jeb Bush's Florida. He was a banker before he entered the foreign service. He's a fanatic free trader, and was a very significant actor in getting the Free Trade Area of the Americas (FTAA) established. So he is not as likely to cozy up to a General as he is to the host nation Chamber of Commerce. He's a money guy.
Remember those slips that happen during the hectic consolidation phase? Llorens made one. In an interview the day of the coup, he was asked what had happened.
"It's a clear cut case of a coup."

"A military coup?" his interviewer asked.

"Well, whatever you call it."

When asked by journalist Allan Fisher if the Embassy knew it was going to happen, Llorens replied. ""No, no, not really."
What you called it mattered, because the official line to this day – if anyone can pin them down to give an answer about what happened – is that it was anything but a coup. This is such a ticklish question because a good shithouse lawyer would ask the following:
Was it a coup?
Answer yes, and the follow up question is why did the US not follow the law, then, by breaking diplomatic, economic, and military relations?
Answer no, and the question is, how was it not a coup?
The boilerplate reply is term limits, constitution, blah blah blah, which then opens the door on a genuinely rigorous debate on what exactly Zelaya did wrong.
No one in the Obama administration or the Clinton State Department wants to have that debate, because they will lose as surely as two and two makes four.
State Department spokesman, Ian Kelly, had to mount the tight rope. Right after the above-quoted Clinton statement, on June 29, US State Department spokesman Ian Kelly responded to reporters' questions on Honduras during one of the regular and almost daily press briefings on any topic. It seems obvious from the excerpts of the transcript below that the US, in order to save face and combine pragmatism with principle (to use Clinton's words), had to join with the OAS orientation. This seemed to have been done in a half-hearted manner as reflected in the responses by Kelly to be seen below (the US "signed-up" to the OAS resolution). The exchange below also exposes another theme, the first of a long series of reporters' questions and ambiguous State Department answers, extending for a period of close to six weeks. What was at stake for six weeks? The answer is: whether the US legally classifies the coup as a military coup d'etat or not. This legal classification of the coup as a military coup d'etat would imply cutting off all military and other assistance to their allies in Honduras.

QUESTION: So Ian, I'm sorry, just to confirm – so you're not calling it a coup, is that correct? Legally, you're not considering it a coup?

MR. KELLY: Well, I think you all saw the OAS statement last night, which called it a coup d'etat, and you heard what the Secretary just said. Having said that, we're also very cognizant of the particulars of U.S. law on this. So let us get back to you on the legal definition issue. I don't want to necessarily make policy up here.
There is no right answer.
Coups, recall, have three aspects: economic, military/security, political. The political aspect has a national and international aspect. The international aspect is the world of diplomacy. Just as the coup as a whole has a preparation phase, an execution phase, and a consolidation phase, one important consideration – that was botched in both Venezuela and Haiti – was diplomatic consolidation of the coup.
Was it a coup? We don't know. Yes. No. All wrong answers.
This is the reason there was such an intense emphasis on diplomatic consolidation by planners for the 2009 coup.
In 2002, they had their asses handed to them by Chavez; then in short order the whole US role was exposed.
In 2004, even though they had overwhelming force against disorganized opposition, but they had difficulty legitimating the coup. Members of the Congressional Black Caucus raised hell, and it embarrassed Bush apologists who were hawking a version of the Iraq War as respect for democracy.
This time it would be different. The message was carefully crafted, then taken on a carpet-bombing campaign in the US.
The Flip
We normally think of this kind of propaganda as having been generated by the government, who then defends it from the skeptical grassroots. But what's been perfected by US coup cadres has been a way to flip the script on this impression.
The opinion-making perceptioneers went to work overtime before, during, and after the coup, putting their version out. But their version was not red meat for the rightist base; it was designed to seem sensible to liberals in particular. That's why such an emphasis was placed on the phony – but successfully marketed – constitutionality story. By the time the coup happened, I saw this party line in the liberal blogosphere; and liberals were defending the coup using precisely the constitutional argument. The fact of a Democratic administration made many feel compelled to defend the coup, and they were easy to convince that the administration had nothing to do with it.
This kind of inoculation perception-management was perfected under the Clinton administration, when they successfully sold the Balkans war to liberals.
In Honduras, the perception preparation was so thorough that the Obama government seemed the moderate ones who opposed the coup, while liberals en masse put their stamp of approval on Zelaya's removal. This way, the government appears to come closer to the people's position (pro-coup) as the process advances.
So Llorens slip didn't do much damage. No one was forced to invoke Section 7008 of the US Foreign Operations Law. The coup was consolidated with a show election. There was no Cuarta Urna. And Honduras withdrew from ALBA.
Game over.
… Llorens wasn't alone in the region. After his nomination as US Ambassador in Honduras — the position that he was assigned to due to the urgent necessity to neutralize the growing presence of leftist governments in the region and impede the regional potency of ALBA — several other US ambassadors were also named in neighboring nations, all experts in destabilizing the Cuban revolution and executing psychological warfare.

The diplomat Robert Blau arrived first to the US Embassy in El Salvador, on July 2, 2008, named as second in command. In January 2009, Blau became the Charge d'Affairs at the Embassy. Before arriving to El Salvador, Blau was Subdirector of Cuban Affairs at the Department of State in Washington, after working for two years at the US Interests Section in Havana, Cuba, as a Political Counselor. His work with Cuban dissidents was so successful that Blau was honored with the Department of State James Clement Dunn Award for Excellence. Llorens and Blau were old friends, after working together as part of Otto Reich's team in the State Department.

-Eva Golinger
Achieving a coup quorum
The gang was all here in Honduras, from the American side. This particular treatise will not deal with the Honduran side of the coup in much depth, with the confidence that others – cited here – have already done an admirable job of it. This piece is concentrating on the US dimension, for US readers and for anyone who is interested in the swamp of US politics. It is a rather interesting swamp.
That said, let's at least take a peek at the Honduran side of the operation.
Just one month before the coup against President Zelaya occurred, a coalition of different organizations, business associations, political parties, high level members of the Catholic Church, and private media outlets was formed in opposition to Zelaya's policies. The coalition was called the "Democratic Civil Union of Honduras." Its only objective was to oust President Zelaya from power in order to impede the future possibility of a constitutional convention to reform the constitution, which would allow the people a voice and a role in their political process.
The "Democratic Civil Union of Honduras" is composed of organizations including the National Anticorruption Council, the Archbishop of Tegucigalpa, the Honduran Council of Private Enterprise (COHEP), the Council of University Deans, the Workers Federation of Honduras (CTH), the National Convergence Forum, the National Federation of Commerce and Industry of Honduras (FEDECAMARA), the Association of Communication Media (AMC), the Group Peace & Democracy, and the student group Generation for Change.
Remember, the Democratic Civil Union is what we have called the Honduran coup general committee, and it was the recipient of IRI largesse. It's counterparts in Venezuela and Haiti were Democratic Action and Democratic Convergence. Lanny Davis is now COHEP's lobbyist, as Roger Noriega is a lobbyist for the Honduran Manufacturing Association (Asociacion Hondurena de Maquiladoras, AHM), a constituent member of COHEP.
The Democratic Civil Union was formed two months before the coup execution. This gives everyone a chance to get their actions de-conflicted and coordinated before, during, and after the coup execution. To pay for all the meetings and phone calls and faxes and travel, the IRI was standing by.
Five days before the coup, the Democratic Civil Union of Honduras announced that they "trust the armed forces will comply with their responsibility to defend the Constitution, the law, peace, and democracy." The de-conflicting and coordinating are complete. You can pull the trigger now.
When the coup took place on June 28th, they [the Civil Democratic Union] were the first to immediately claim that a coup had not occurred, but rather "democracy had been saved" from the hands of President Zelaya, whose crime was to attempt to give voice and visibility to the people. Representing the biased middle and upper classes, the Democratic Civil Union has characterized Zelaya's supporters as "hordes."

-Eva Golinger
While the Union put on its dog-and-pony show in support of the coup in a Honduras that exploded into protest, the spin machine in the United States played to a much more anesthetic audience. Even so, there was no effort spared in making sure the message was correctly crafted and heard – uncritically – by as many people as humanly possible.
The Unlikely Duo
John McCain and Clinton-loyalist Lanny Davis. A Republican and a Democrat, and they operated like a single mind during the aftermath of the coup in the US. In October 2009, Ron Nixon and Ginger Thompson wrote a piece about lobbying efforts on behalf of the de facto government and the rather obvious campaign to legitimate the coup.
The campaign has had the effect of forcing the administration to send mixed signals about its position to the de facto government, which reads them as signs of encouragement. It also has delayed two key State Department appointments in the region.

Costing at least $400,000 so far, according to lobbying registration records, the campaign [to legitimize the coup] has involved law firms and public relations agencies with close ties to Secretary of State Hillary Rodham Clinton and Senator John McCain, a leading Republican voice on foreign affairs.

-Ginger Thompson and Ron Nixon ("Leader ousted, Honduras hires US lobbyists," New York Times, October 2009)
That connection was the Cormac Group, a one-stop lobbying shop for the extremely rich and powerful. Through it, Lanny Davis became COHEP's apologist. Roger Noriega became the sweatshop owners' AHM's apologist. McCain began organizing delegations. And the choreography for this effort seems to have been by Daniel Fisk, yet another former Deputy Assistant Secretary of State… who now works for McCain's outfit, the International Republican Institute.
The campaign was an impressive full court press, going after newspapers, Congress, talk shows, C-Span hits, and the blogosphere. There was even a fair amount of Obama-bashing – including the ludicrous claim that he is a socialist – which ironically or not supported the appearance of resistance to the coup by the administration itself. This leaves us to speculate, since no answers to the questions this raises are forthcoming. Was this apparent tension and contradiction part of the choreography? Or was there real conflict in the Palace?
The reason I frame the choice this way is that the language of the State Department immediately following the coup is too predictably crafted, given past experience with analogous coups, to conclude that the State Department was either caught by surprise or that it really, really condemned the coup. Once we exclude the no-knowledge/non-participation premise, we are left with the above choice: there was actual internal confusion and adjustment of the government position, or there was an actual conflict between the administration and the coup-supporters. Given the Hillary Clinton was both knowledgeable and a participant – which is strongly supported by the evidence – then either of the above two options is feasible. The latter – conflict between the executive branch and the coup-supporters – can only be possible, then, if the key government coup supporter – Hillary Clinton – is at odds with her boss, Barack Obama.
I speculate it was both. I think she tripped him up at first, then presented him with a series of faits accompli that obliged him, as chief clerk for neoliberalism and American power, to get harmonized with the consolidation process.
Let's look more closely now at the coup-legitimation campaign. Ginger Thompson and Ron Nixon, writing in October, 2009:
After the June 28 coup, President Obama joined the region in condemning the action and calling for President Zelaya to be returned to power, even though the Honduran president is an ally of Mr. Chávez, America's biggest adversary in the region.

But Congressional aides said that less than 10 days after Mr. Zelaya was ousted, Mr. Noriega organized a meeting for supporters of the de facto government with members of the Senate.

Mr. Fisk, who attended the meeting, said he was stunned by the turnout. "I had never seen eight senators in one room to talk about Latin America in my entire career," he said.

As President Obama imposed increasingly tougher sanctions on Honduras, the lobbying intensified. The Cormac Group, run by a former aide to Senator McCain, John Timmons, signed on, records show, as did Chlopak, Leonard, Schechter & Associates, a public relations firm.

For his part, Mr. [Otto] Reich sent his thoughts to members of Congress by e-mail. "We should rejoice," he wrote to one member of the Senate Foreign Relations Committee, "that one of the self-proclaimed 21st Century socialist allies of Chávez has been legally deposed by his own countrymen."

As is often the nature of lobbying, some messages have been sent without any names attached. Floating around Senate offices in the last few weeks, for example, was a list of talking points aimed at undermining the nomination of Assistant Secretary of State Thomas A. Shannon as ambassador to Brazil. Two Congressional aides, who requested anonymity to speak candidly about matters related to the coup, said that Mr. Fisk wrote the talking points.
The Sandwich
In conjunction with this campaign, where Lanny Davis was ubiquitous on the interview/talk show circuit, Davis managed to put together a publicized "debate," under the auspices of the Council of the Americas (COA). From COA's website:
Council of the Americas (COA) is the premier international business organization whose members share a common commitment to economic and social development, open markets, the rule of law, and democracy throughout the Western Hemisphere. The Council's membership consists of leading international companies representing a broad spectrum of sectors, including banking and finance, consulting services, consumer products, energy and mining, manufacturing, media, technology, and transportation.
It's a privatization lobby.
Presenting in this "debate," in which all participants concluded that the coup must stand, were Cris Arcos (former Ambassador to Honduras and a vice president at AT&T), Adolfo Franco (ex-NED), and Jim Swigert of the NDI, a subsidiary of the NED, and the forum's token Democrat.
That was July 8, a week and a half after the coup. Make a note.
Arcos, Franco, Swiggert.
On the 9th of June, 19 days before the coup, Lanny Davis had coordinated a public forum on Honduras, under the auspices of COA, which included
Cris Arcos,
Adolfo Franco,
and Jim Swigert.
June 4: Llorens denounces Zelaya.
June 6: Cormac rolls out an anti-Zelaya press conference.
June 28: Coup.
July 7: Cormac rolls out post-coup anti-Zelaya press conference.
Republican Senator John McCain, an ex-US presidential candidate, helped coordinate the visit of a coup regime delegation to Washington last week. McCain is well known for his opposition to the governments in Venezuela, Bolivia, and other countries in the region considered "anti-imperialist." McCain also maintains very close ties to the Cuban exile community in Miami. McCain is also Chairman of the Board of the International Republican Institute (IRI) that has funded the coup participants in Honduras. McCain offered the services of a lobby firm in Washington, closely tied to him, the Cormac Group, which organized a press conference for the coup regime delegation at the National Press Club on June 7th. McCain also helped set up several meetings in Congress with the traditional Cuban-American representatives and those general "Chávez-haters," such as Connie Mack, Ileana Ros-Lehtinen, and Mel Martinez.

-Eva Golinger
June 9: The Arcos, Franco, Swigert travelling show.
June 28: Coup
July 8: The Arcos-Franco-Swigert Travelling Show returns.
Like a sandwich, with a visit from two officials as the lettuce and tomato.
A week prior to the coup, Assistant Secretary of State for Western Hemispheric Affairs Thomas Shannon and Deputy Assistant Secretary of State Craig Kelley meet with coup makers.
If there's no smoking gun here, there is sure a lot of gunshot residue on the hands of this public-private alliance.
The Gunhshot Residue
As part of this offensive, Lanny Davis arranged a special hearing before the House Foreign Relations Committee, attended by high-level members of Congress and overseen by Democrat Elliot Engel (congressman from New York). Testimonies were given at the hearing by representatives of the coup regime from Honduras and others who have supported the coup — directly and indirectly — such as Michael Shifter from the InterAmerican Dialogue, Guillermo Pérez-Cadalso, ex-Honduran Foreign Minister and Supreme Court Judge, and the infamous Otto Reich, a Cuban-American well known for his role in the majority of destabilization activities against leftist and progressive governments in Latin America throughout the eighties. Reich, who was named Special Advisor on Latin America to President George W. Bush, also played a key role in the 2002 coup against President Chávez.

-Eva Golinger
The attempt to pass a resolution in Congress immediately in support of the coup was led by Republicans, but Clinton had a better idea for the consolidation process, i.e., to stick with politically neutral utterances, while making a show of negotiations, holding Zelaya himself off to the side, allowing things to cool off in the US, then waiting for an election to put the democratic mask back on the Honduran government. Again, how much of this was shadow-boxing we may never know. Everyone looked for the same outcome, end Zelaya and end Honduras' ALBA membership; and they got it. No reason the Right's grassroots shouldn't get a little red meat in the process, at the "socialist" Obama's expense. All's well that ends well, eh?
The real gunshot residue for US involvement is the airplane.
President Zelaya was beaten then bundled off into an airplane that flew him to Costa Rica.
I'll start briefly with the question of how they got clearance to land in Costa Rica on a matter of this diplomatic gravity without prior coordination. They didn't. President Oscar Arias was inevitably contacted and forewarned, we don't know whether hours or days or months in advance, but planes don't take off with an unidentified cargo, cross international frontiers, and legally land in Costa Rica. This was a kidnapped head-of-state. Surprising a future host with that would be insanely unpredictable. That is why it did not happen. Arias knew… something.
So there's that. But the other question has to be posed. How did Zelaya, in an arrest posture, enter a United States Air Force Base, get manifested on a flight, have that flight checked in and logged, then cleared for takeoff, where it then flew into foreign airspace? It happened, so how did it happen?
Is it possible that Honduran military, with a kidnapped head-of-state, infiltrated past the armed guards and checkpoints and ground surveillance radars of the US-controlled Soto Cano Air Base, sneaked their handcuffed president aboard a plane (whose plane, and how did it get onto a US Air Base?), then cranked the engines and flew away?
A United States armed forces base abroad is the most formidable physical security plant you're likely to see outside of a maximum security prison; and military bases aren't designed to keep people in, like prisons, but to keep people out. And a group of armed men with a high-profile detainee don't show up at the gate one day and ask to use an airfield.
Now that we've looked at what doesn't happen on a military installation, let's look at what does happen. Before anything happens that involves any movement of airplanes that is not internal to the resident armed forces, someone's staff has to talk to someone else's staff to organize and coordinate any atypical action. You can put the pieces together any way you want, but one conclusion in inescapable: Sotocano's staff participated in a covert operation to kidnap and exile a head-of-state. They didn't plan the operation except for their little part; but they were involved.
They answer to the military chain of command inside the United States; and that chain of command answers to civilian authorities in the government. The use of Soto Cano for the transportation of a kidnapped man is an irrefutable fact. Someone else, above them, had to order their participation, and someone had to act as a higher echelon coordinator (this coordinator will also have a staff). Inferential to my hunch, but facts nonetheless.
Soto Cano Air Base
With the current coup crisis in Ecuador, it's hard to overestimate the gravity with which the US received thenews from Manuel Zelaya that he planned to send the US military home from Soto Cano. Ecuador, after all, did expel a US base recently.
Comayagua Province was once the name of Honduras; and its capital city was also called Comayagua. The city is still there; and it is host now to a massive US military installation called Soto Cano Air Base. It is also home to the Honduran Air Force and the Honduran Air Force Academy, which is a visible reminder of the co-dependency of the Honduran armed forces with the United States.
It's an interesting relationship in light of the unconstitutionality-accusations hurled at Zelaya to rationalize the coup. It is interesting because the Honduran Constitution expressly forbids permanent foreign military installations.
In 1991, I worked at Soto Cano. That's 19 years ago. It was built in 1981 (when Negroponte was Ambassador). That's 29 years ago. Before that, when it was a mere airfield, the US used it in 1954 to execute the coup against Jacobo Arbenz, the democratically-elected leader of Guatemala. How long does it take before it's permanent?
It houses something called a task force, Joint Task Force-Bravo to be exact, which is one of three task forces under the command of the US military's Southern Command (SOUTHCOM). Joint just means it involves more than one branch of the military. A task force is a generic unit, a force available for any number of tasks. What they are running in Honduras is essentially a land-based aircraft carrier. It doesn't do the missions, whatever missions might be assigned to SOUTHCOM; it's there with an up and running support system for the various elements in the armed forces that do do the missions. It can be used for civil-military operations, for training missions, for direct actions and for covert operations. It is literally a place to feed, equip, fuel, and arm whatever force is needed within air range of Soto Cano, whether that would be a fixed wing intelligence flight in support of the Colombian military, a few sorties of troop helicopters, or an air attack.
If Honduras ordered the US out, Soto Cano would have to close. Strategically, that would tear a giant hole in the US capacity for military coverage in Central America and even southern Mexico. Given the US loss of Panama in the 80s, Soto Cano is a critical strategic piece, without which every contingency plan in the region would have to be pulled off the shelf and re-engineered.
Ecuadoran President Rafael Correa
This fear became paramount after 2007, when President Rafael Correa of Ecuador ordered the closing of the US military's Manta Air Base, which had been used to support operations in Colombia. Phil Stewart, writing for Reuters in October 2007:
Ecuador's leftist President Rafael Correa said Washington must let him open a military base in Miami if the United States wants to keep using an air base on Ecuador's Pacific coast.

Correa has refused to renew Washington's lease on the Manta air base, set to expire in 2009. U.S. officials say it is vital for counter-narcotics surveillance operations on Pacific drug-running routes.

"We'll renew the base on one condition: that they let us put a base in Miami — an Ecuadorean base," Correa said in an interview during a trip to Italy.

"If there's no problem having foreign soldiers on a country's soil, surely they'll let us have an Ecuadorean base in the United States."
Ecuador is also a member of ALBA. Double jeopardy.
The closing of Manta was not well-received; and Correa's parabolic remarks about reciprocity certainly had Negroponte and Reich baring their teeth. It makes Washington generally very, very nervous. The US has no power to stop Correa, because Venezuela stands as a rearguard to ensure Ecuador can weather any economic punishments from the north.
The coup attempt against Correa failed.
Soto Cano must remain open. It has proven itself again and again, beginning with its role as the central base from which the entire Contra War was coordinated. Losing it is the strategic equivalent of a limb amputation.
So let's add something now to the motive-column for the Honduran coup: Zelaya had promised to close Soto Cano.
On May 31, 2008, President Manuel Zelaya announced that Soto Cano would be converted into an international civilian airport. The construction of the airport terminal would be financed with a fund from the Bolivarian Alliance of the Americas (ALBA).

-Eva Golinger
Soto Cano, as we noted, is also the Honduran Air Force's headquarters. The means the office of the Commander of the Honduran Air Force is on Soto Cano. The Commander of the Honduran Air Force is General Luis Javier Prince Suazo, graduate of… you guessed it, the Western Hemisphere Institute for Security Cooperation, also known as the School of the Americas (where Otto Reich is now a board member).
There were two principle military commanders in charge during the coup execution. One of them was Prince. The other, another SOA grad, was General Romeo Vasquez Velasquez, the equivalent of the Chairman of the Joint Chiefs, Vasquez had been fired as part of the preparation for the coup, after he refused (knowing he would be fired, because he was insubordinate) to let soldiers distribute ballots (a common practice in cash-strapped Honduras) for the upcoming Cuarta Urna.
As a matter of common sense, these two men had constant contact with both the US Embassy's military attaché and with liaisons from SOUTHCOM.
SOUTHCOM got a new commander in July, just days before the coup, General Douglas Fraser, the first Air Force General to hold the reins of this theater command.
Transnational terrorists – Hezbollah, Hamas – have organizations resident in the region [Latin America]. I stay focused on it just because I'm paid to be skeptical. What I see right now is support – financial support – to parent organizations in the Middle East."

- General Douglas Fraser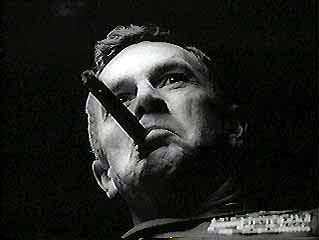 When I first read that, I experienced a Stanley Kubrick flashback to Dr. Strangelove.
Honestly, I don't know why this guy was put at the helm in Soto Cano (the old commander was already scheduled for a theater command elsewhere). Coincidence, or changing command to cut paper trails, or both. But there he is. He is in charge of Soto Cano right now. I wish I had his phone number. He is sitting on the paper trail that paved Zelaya's expulsion. Let's look at a few of the other Honduran coup makers.
The Colonial Surrogates
If you want to understand who is the true power behind the Honduran coup, you need to find out who is paying Lanny Davis.

-Robert White, former US Ambassador to El Salvador
If you begin with the military sector, the Honduran coup makers can be sub-divided generally by tasks: military tasks, financial tasks, political tasks, and media tasks. The old "send guns, money, and lawyers" trope. Just add, "send well-heeled media."
The money is where Robert White said to look, specifically where the money comes from to pay Clinton loyalist Lanny Davis. Davis' client is the Honduras chapter of the Consejo Empresarial de America Latina (Latin American Business Council, CEAL). CEAL-Honduras is composed of a list of sector-specific business associations (Roger Noriega represents the one for manufacturing). Among its members, there is another multi-sector formation that constitutes the political arm of CEAL; and that is the Consejo Hondureno de la Empresa Privada, or COHEP.
COHEP consists of 62 member organizations, which means there is still another layer to go down to see who exactly runs COHEP, which is a privatization-advocacy organization – slash – national chamber of commerce. It's US counterpart is actually an organization we have seen: Council of the Americas, where Lanny Davis organized the "propaganda sandwich."
The 62 organizations fall into one of the following categories: associations, industrial, agro-industrial, and services. These are further subdivided, for example, industrial breaks down into manufacturing and distribution, natural resources, health care, and textiles.
COHEP's executive director is Benjamin Bogran; and after the coup he was appointed Minister of Commerce. Beginning in 2008, he waged relentless attacks on Honduran membership with ALBA.
The president of COHEP, appointed this year, is Santiago Ruiz (agribusiness magnate). Vice president, Alejandro Alvarez (construction tycoon). Other key members: Aline Flores (President,Industrial Chamber of Commerce – Tegucigalpa), Oscar Galeano (arms importer), Jesus Canahuati (President, Honduras Textile and Apparel Manufacturers Association), Asterio Reyes (coffee baron), Roque Rivera (President, Honduran Banking Association), Eduardo Atala (banking, telecommunications), Abrahm Bennaton (banker, and now Economics Minister), Flavio Tinoco (agribusiness, meatpacking), Alexander Hedman (transportation, trucking, railroads), Edison Cardenas (food and beverages), Leonel Giannini (Nationalist Party Deputy), and so the list goes on.
As does post-coup Honduras. Where Hillary got her bones.